Sending emails every day to find new backlink opportunities is tiring, especially when all your efforts could generate only a handful of quality links to your website. 
But what if I tell you there are hundreds (or maybe thousands) of easy backlinks waiting just for you.
And I am not talking about guest or forum postings; this is different, quick, and super easy.
It is called Unlinked Mentions.
Now, what are unlinked mentions? Unlinked mentions are online mentions of your brand that do NOT link back to your website.
For example, here's a mention of our website on another domain that does not link back to us: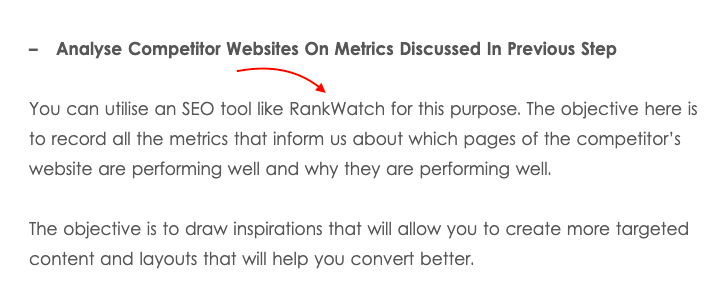 Remember, websites don't mention you by mistake. So, if a website mentions your brand on their platform, that means it knows about your business but didn't link back.
Reaching out to such websites and requesting a link back from them is 100% ethical, and since they are aware of your brand, the success rates are pretty high.
Although, before reaching out, you must know how to find such unlinked mentions.
That's what you will learn in this article, along with:
How to Find Unlinked Mentions?

How to transform Unlinked Mentions to Backlinks?
So, hang in there.
How to Find Unlinked Mentions?
Link building is a hefty task. Yet, it is the most important of all SEO practices.
Quality backlinks can drive organic traction to your website, improve its SERP performance, authority and trust.
While all these benefits sound very appealing, finding your brand's mention among millions of sources and trillions of conversations is a tough nut to crack.
That's where WebSignals helps you.
Just set up a project for your brand. Visit Unlinked Mentions in the dashboard's left-side menu to find all your brand mentions that aren't linking back.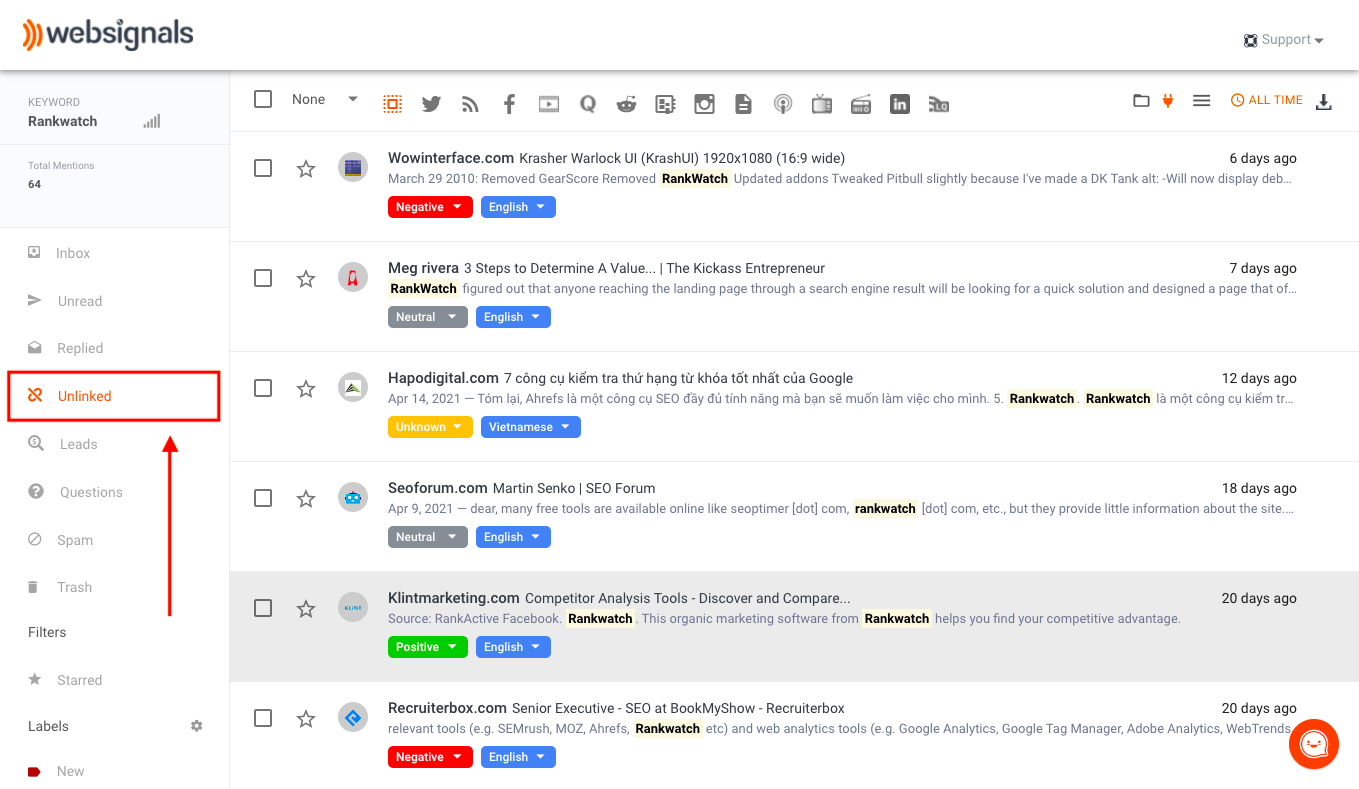 What is WebSignals?
WebSignals is one of the most powerful brand monitoring tools in the world. It consistently monitors 122+ million sources to find online mentions of your brand.
You can use WebSignals to:
Offer efficient customer service.

Perform detailed market research.

Monitor your competitors' online performance.

Enhance your online reputation.
…and much more.
While there are countless other ways of using WebSignals to grow your business, Unlinked Mentions still proves to be the most effective for SEO professionals.
Why Use WebSignals to Build Links?
WebSignals' advanced algorithm helps you find potential link-building opportunities for your brand within minutes – something that would otherwise take days.
It puts a jetpack behind your search for possible backlinks and greatly reduces the efforts you put into building links from scratch.
A few clicks and a few words to find what you're looking for.  So simple, isn't it? This is what makes WebSignals the ultimate tool to find unlinked mentions for your brand.
How to Build Links Using WebSignals?
Generally, when marketers set up their WebSignals project hoping for better link relevancy, they don't go beyond this point:
It's justified since it allows you to start monitoring mentions quickly. BUT, it's not an optimal setup.
Here's a simple 5-step process to set up your WebSignals project to find the most relevant mentions for link building opportunities:
Step 1: Switch to Advanced Settings
First, you must switch from basic to advanced settings: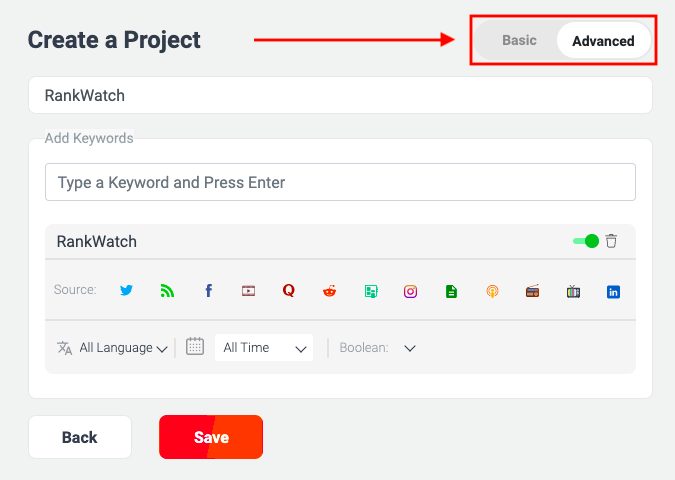 Step 2: Select Sources
Then, select the sources that you wish to monitor. Since our goal is to build links, we will enable the Web and News sources only and disable the rest.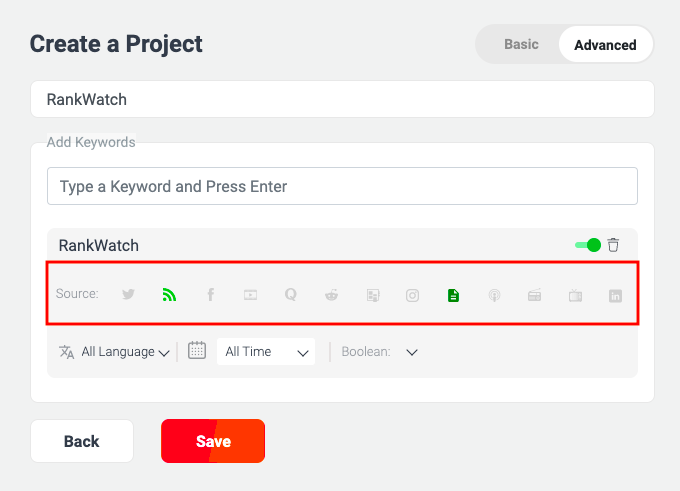 Step 3: Select Languages
WebSignals collects mentions in over 180 languages. You can monitor your native and other foreign languages based on your target audience. 
However, I'd suggest that you select 'All Languages' since backlinks from foreign languages help improve your ranking potential.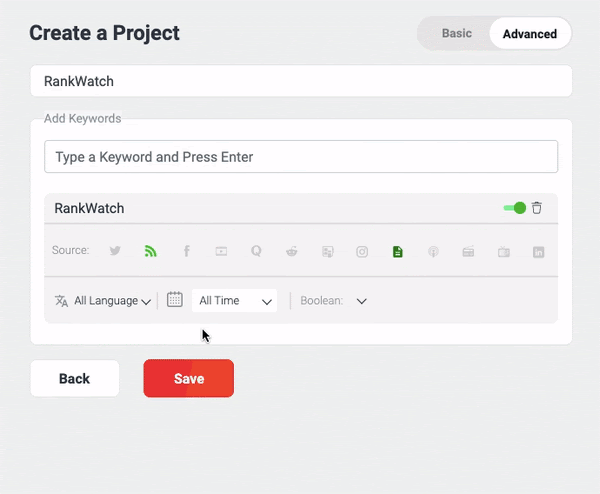 Step 4: Select Time Period
You can track mentions from the last seven days to a year. But there's also an option for 'All Time' that collects historical mention data.
I wouldn't risk missing any potential link-building opportunity, so I am choosing All Time. 
Similarly, you can select the time period based on your goals.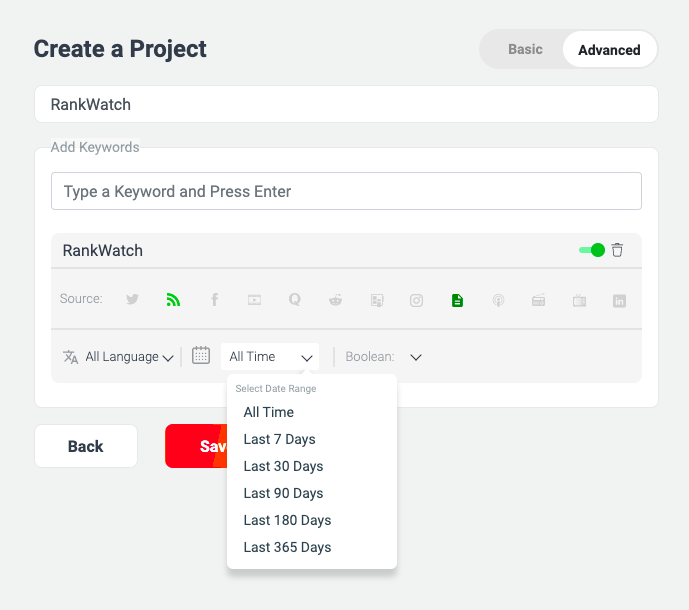 IMPORTANT. There are filters available in the dashboard as well. So, even if you choose All Time, you can still narrow down your mention data to 7 days, 30 days, 90 days, and so on.
Step 5: Add Boolean Operators
What are the general spelling mistakes users commit when searching for your brand? 
Perhaps there's an alternate variation to your brand name that people use.
It might not be common with all the brands, but it does happen.
For example, our users sometimes search for RankWatch with space 'Rank Watch' or without the 't' – Rankwach.
These are the common misspellings and variations of our brand that other websites might use as well. 
WebSignals' boolean operators –AND, OR, and NOT– ensure that it is no longer a problem.
AND Operator: Use it to collect mentions for every variation of your brand name. So, I will add Rank Watch here.
OR Operator: Use it to collect mentions for the common misspelling of your brand name. So, I will add Rankwach here.
NOT Operator: Brands use their name mostly on their domains. And that data is only useful for internal links and not backlinking. So, it would be best if you informed WebSignals to exclude your domain when collecting the mentions; therefore, I will add https://www.rankwatch.com/ to the NOT operator.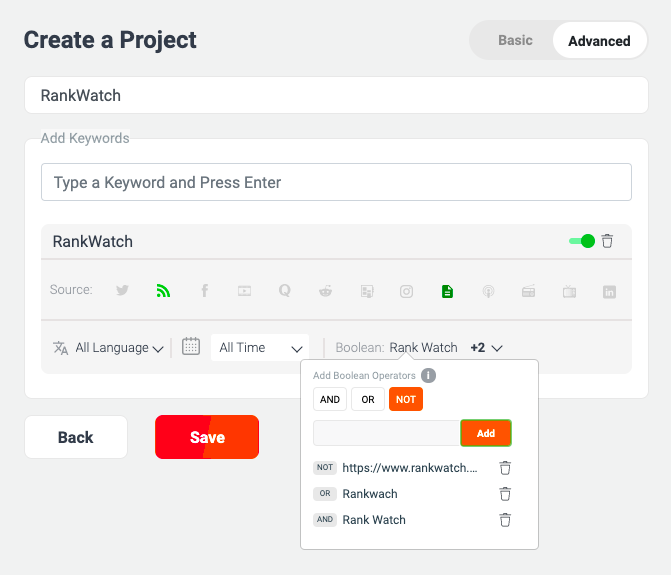 Review all your customizations, click on 'Save' and access the Unlinked dashboard via the left-side menu.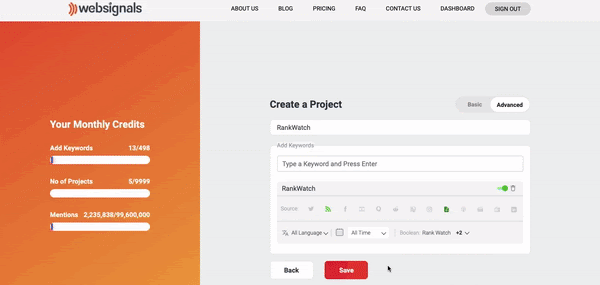 Now, sort the list by domain score. 
Domain Score is a measure of a website's ability to rank better in the SERPs. The score ranges from 0 to 100 where a higher score corresponds to higher ranking potential.
Go to the Hamburger menu on the right, sort the mentions by 'Domain Score', and click on 'Apply'.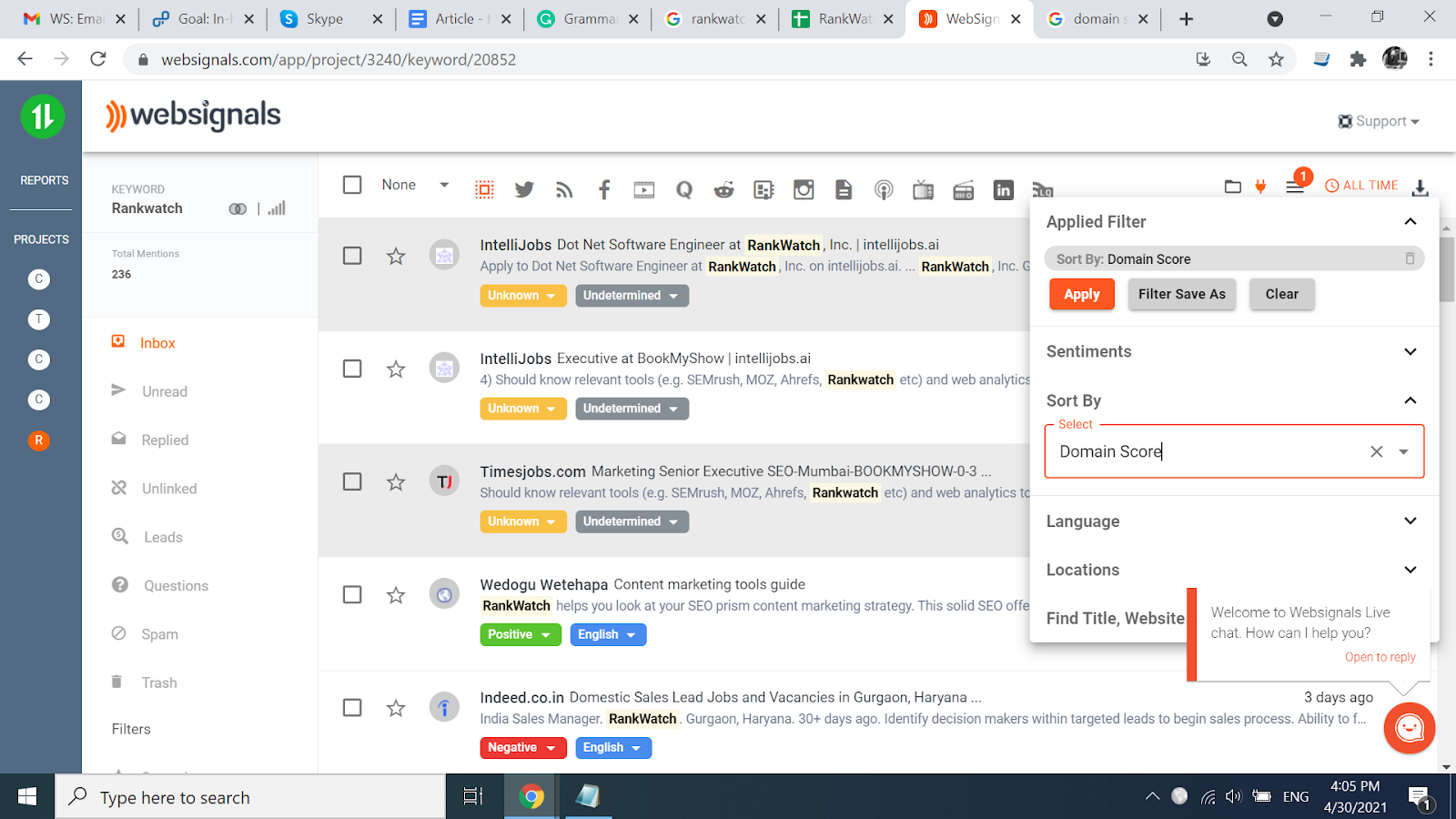 Now, all unlinked mentions will be listed based on their Domain Score (in descending order).
While building links, we should focus more on websites with a higher Domain Score, which WebSignals would list on top.
Then, select the relevant domains and reach out to them for backlinks.
How to Reach Out to Websites With Unlinked Mentions?
Here are 3 quick and efficient ways to reach out and request the selected domains for backlinks:
1. Contact Us Pages
The easiest way to connect with a website is through their Contact Us page because almost all websites have one.
So, just visit the contact page of your selected domain and request them to link back.
For example: Here's an unlinked mention of RankWatch on Capterra: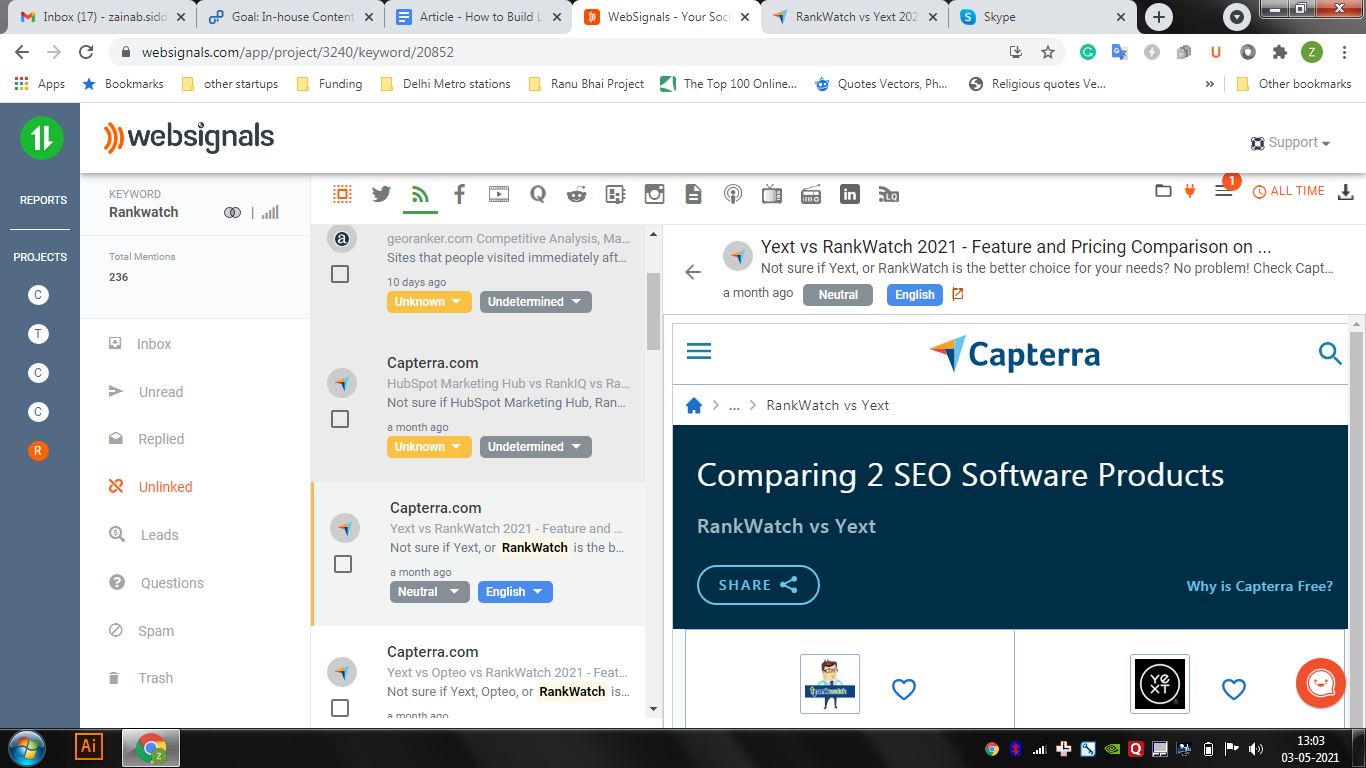 We visit the website and head to its footer menu, where most websites place their Contact and other important pages.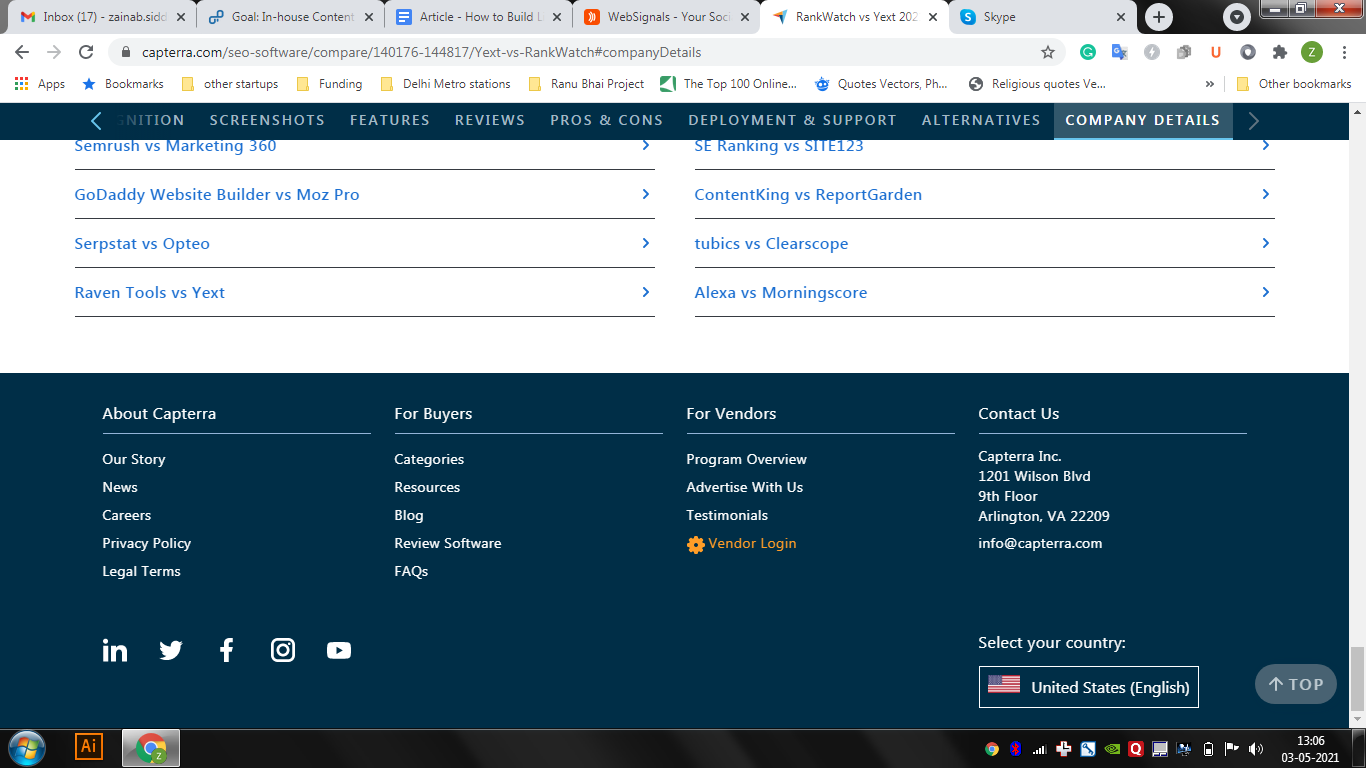 Generally, websites have a separate Contact Us page with an embedded form, like this: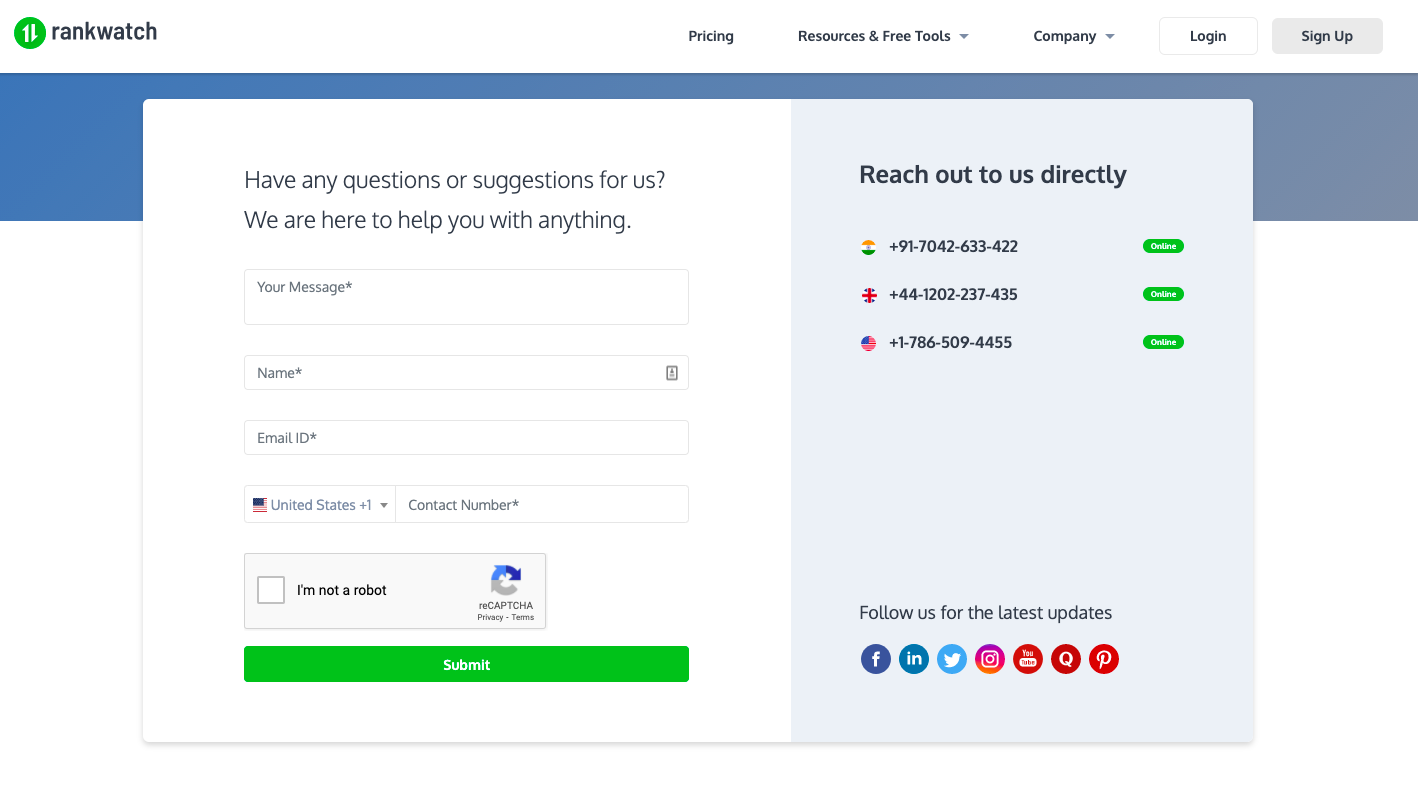 But Capterra provided us with their business location and email address, which makes it more convenient for us to contact them.
Now, all we have to do is send them an email requesting to link back.
Suppose you find an unlinked mention on a website that doesn't have a contact us page. Then, how will you reach out to them?
Two words: Email Extractors
You can use email extractor tools like Hunter, Email Extractor Pro, etc., to find email IDs associated with a particular website.
Alternatively, there are chrome extensions, like Email Extract, Email Extractor, etc. that can extract email IDs of any website.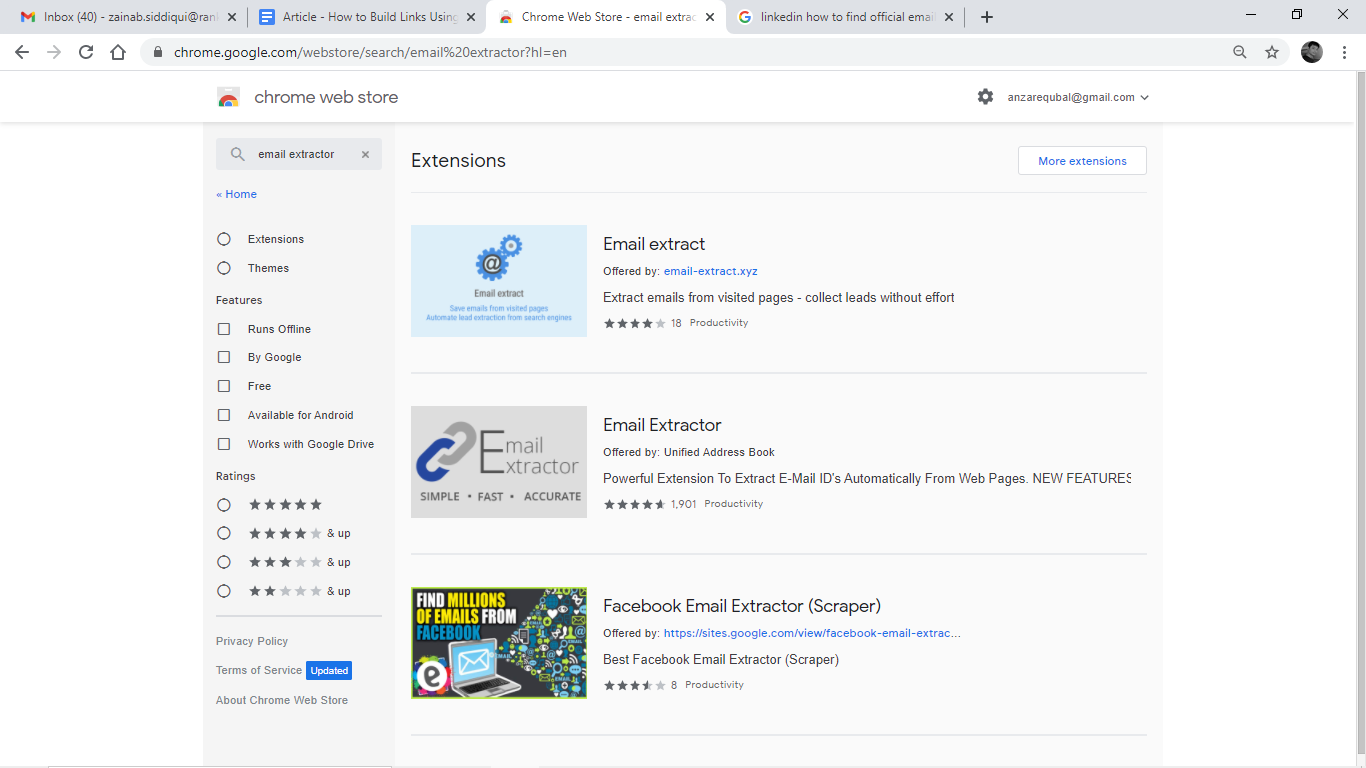 Once you've found the email IDs associated with the website, you can get in touch with them and request a backlink for your brand mention.
LinkedIn has more than 57 million companies on its platform. You can use it to reach out to the selected domains.
Just search for the company you want to contact, find its employees and hunt for the right person among them.
For example, you want to contact someone at Capterra. You can perform a LinkedIn search for Capterra and apply the 'People' filter.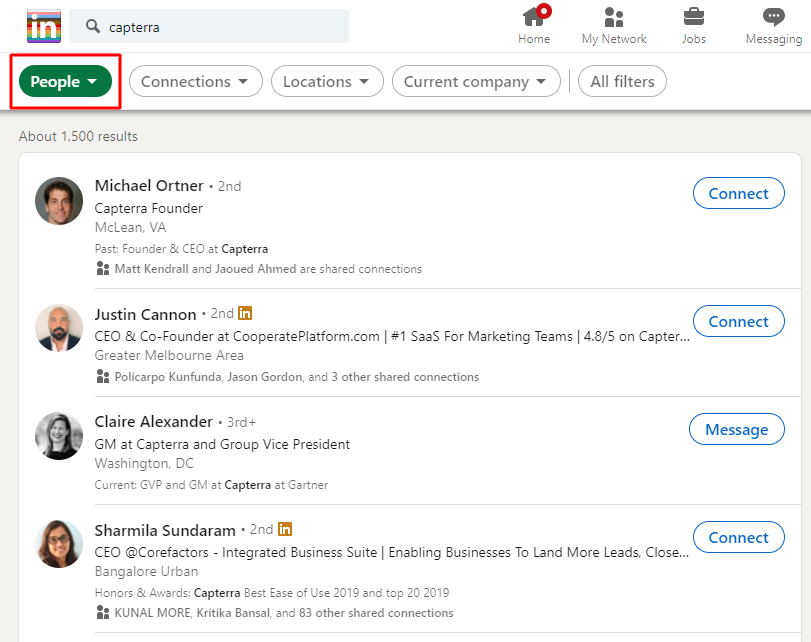 When you find the right person, the next step is to find their official email address. You can use tools and extensions to extract business emails from LinkedIn profiles. 
Advanced Ways to Build Links Using WebSignals
There are several unique ways to build links using WebSignals. They will help you gain more link building opportunities.
1. Grab 'Write For Us' Opportunities
You can earn relevant high-quality backlinks by contributing articles to other sites. 
But, it is not always easy to find websites that accept guest posts or featured articles.
Using WebSignals, you can find such opportunities in no time. 
All you need to do is create a project for keywords like 'Write for Us' or 'Writing Opportunities'.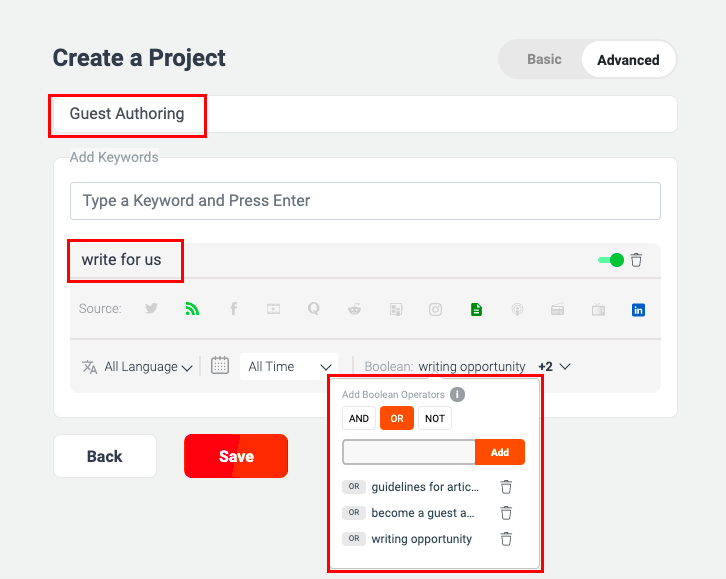 For a more extensive search, use the boolean operators to add more relevant terms. You can add 'Guest Writers', 'Guest Authors', etc.
Soon, WebSignals will populate a list of websites with guest writing opportunities.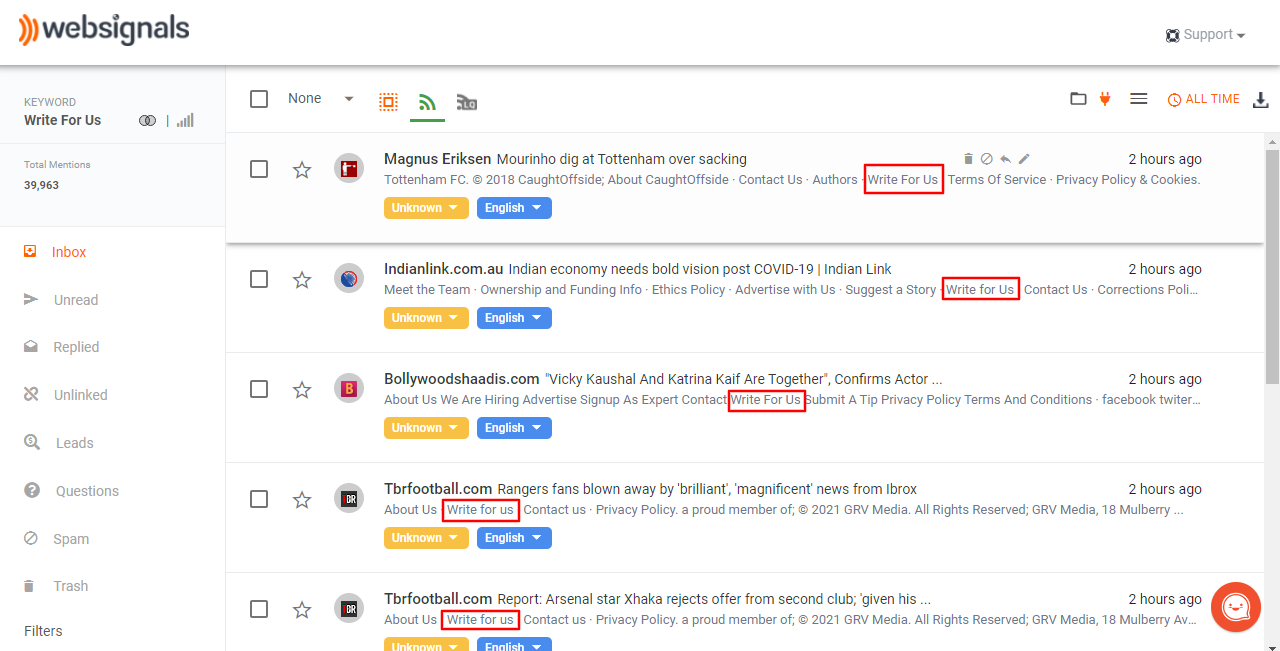 You can sort them by Domain Score. Now, the most authoritative sites will be on top. Then, select the websites you want to write for.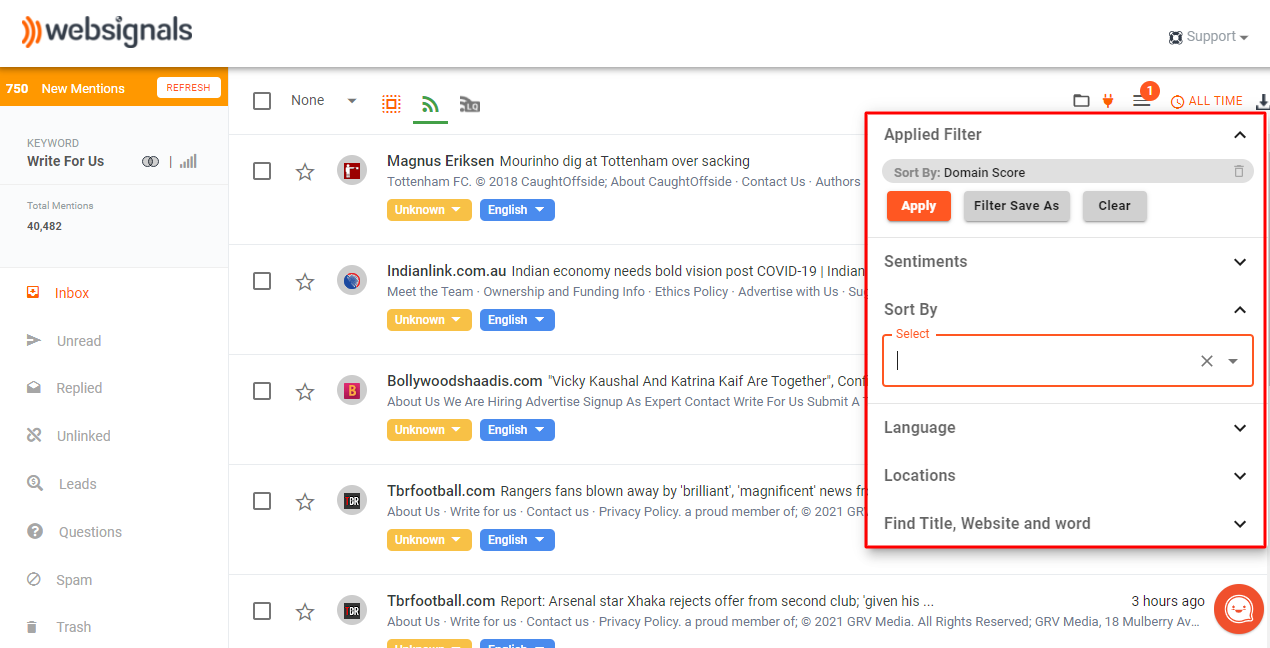 With this, you can build as many links as you want. Keep contributing to other sites!
2. Link to Brand-Specific Keywords
WebSignals can also be used to search brand-specific keywords. 
Brand-specific keywords are phrases that include your brand name or variations of it. These keywords are also unique to your domain.
For example, the brand-specific keywords for RankWatch include: 
RankWatch Website Analyzer

RankWatch Backlink Checker 

RankWatch SEO Tool
Similarly, you can determine the brand-specific keywords for your brand. You can use WebSignals to find websites that mention these keywords.
Start by creating a project with a brand-specific keyword.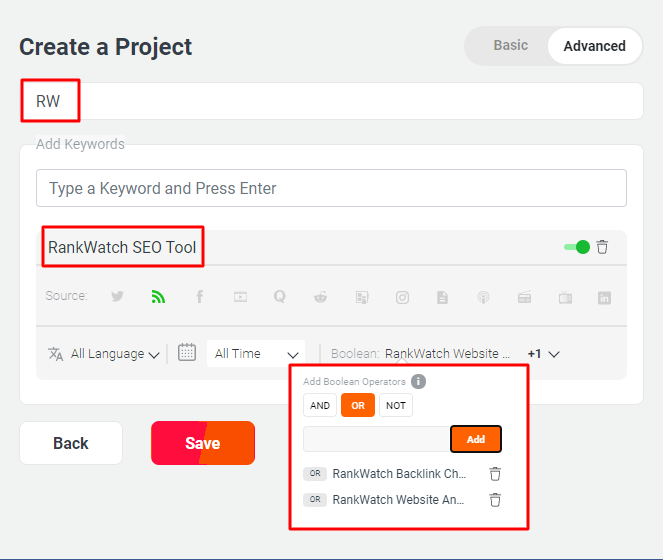 Next, use the Advanced settings to add related variations, which in this case is RankWatch Website Analyzer and RankWatch Backlink Checker.
Shortly, WebSignals will list all the brand-specific mentions.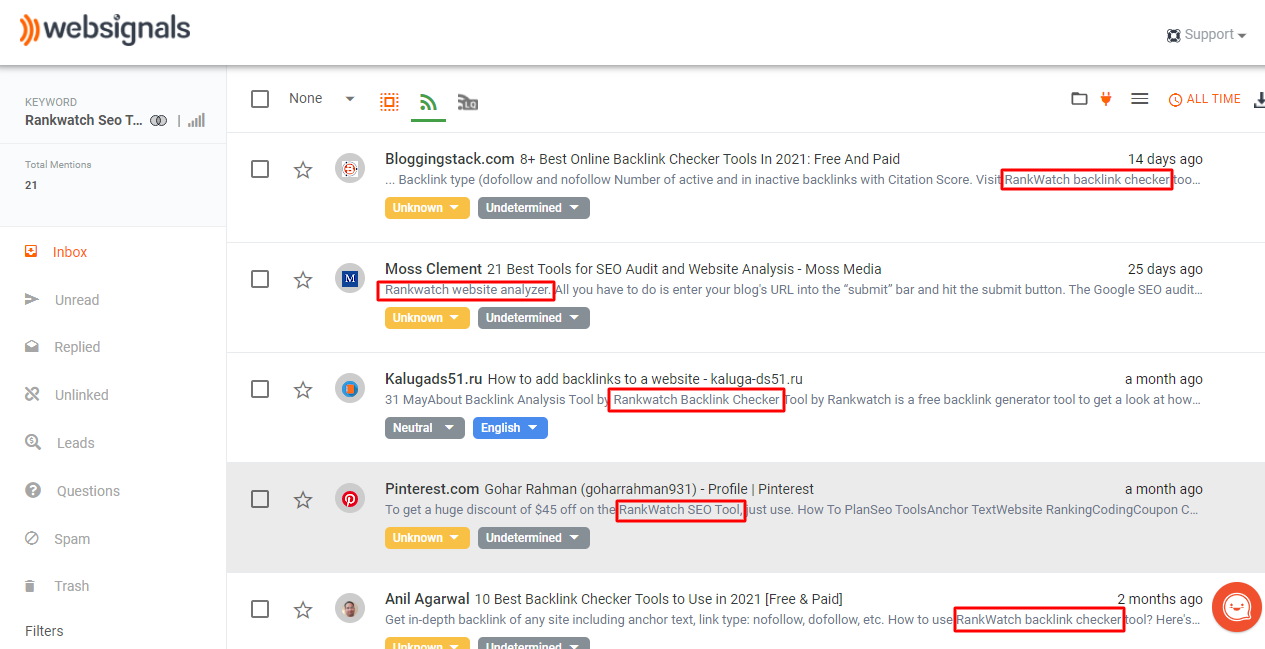 Click on the Unlinked tab. Here, you will find all brand-specific mentions that don't link back.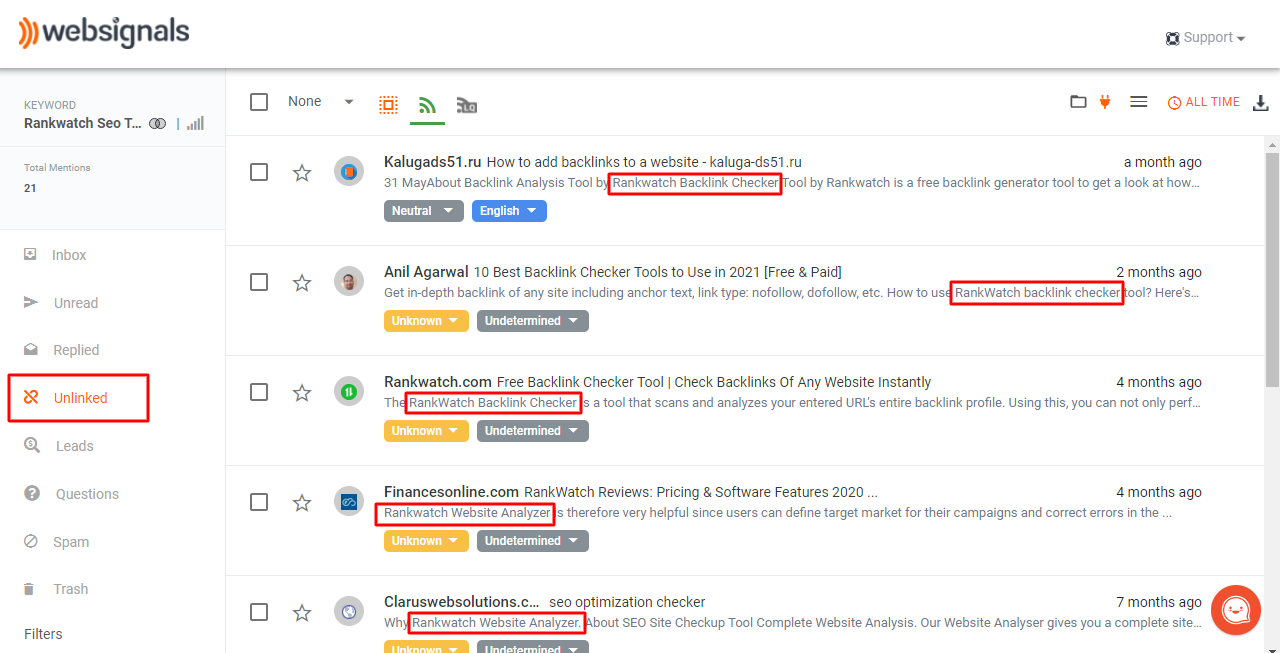 Now, select domains for getting backlinks and write to them. Since the brand-specific keywords belong to you, the conversion rates are quite high.
And with so many brand-specific keywords that don't link back, you can build ample links.
3. Turn industry-specific keywords into backlinks
Next, you can search industry-specific keywords on WebSignals and turn them into backlinks.
If you don't know what industry-specific keywords are, they are terms related to your industry. 
Don't confuse them with brand-specific keywords. Here's an example to help you tell the difference: 
RankWatch has a product named 'Website Analyzer', which is unique to it. So, it is a brand-specific keyword. 
However, RankWatch's target industry is 'SEO tools', so 'SEO tools' would be an industry-specific keyword to it.
For RankWatch, the industry-specific keywords include:
SEO Tools

SEO

Search Engine Optimization

Digital Marketing
You can determine the industry-specific keywords for your brand on similar lines.
When you track these keywords using WebSignals, you will find many instances where you can link your site.
To understand it better, search industry-specific keywords of your brand and add them to your project.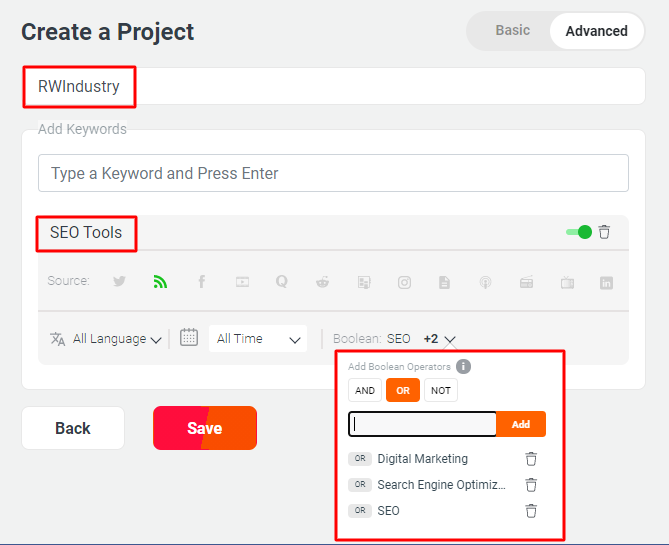 Switch to Advanced and add SEO, Search Engine Optimization, and Digital Marketing using OR boolean operator. Click on 'Save'.
You will now find the mentions.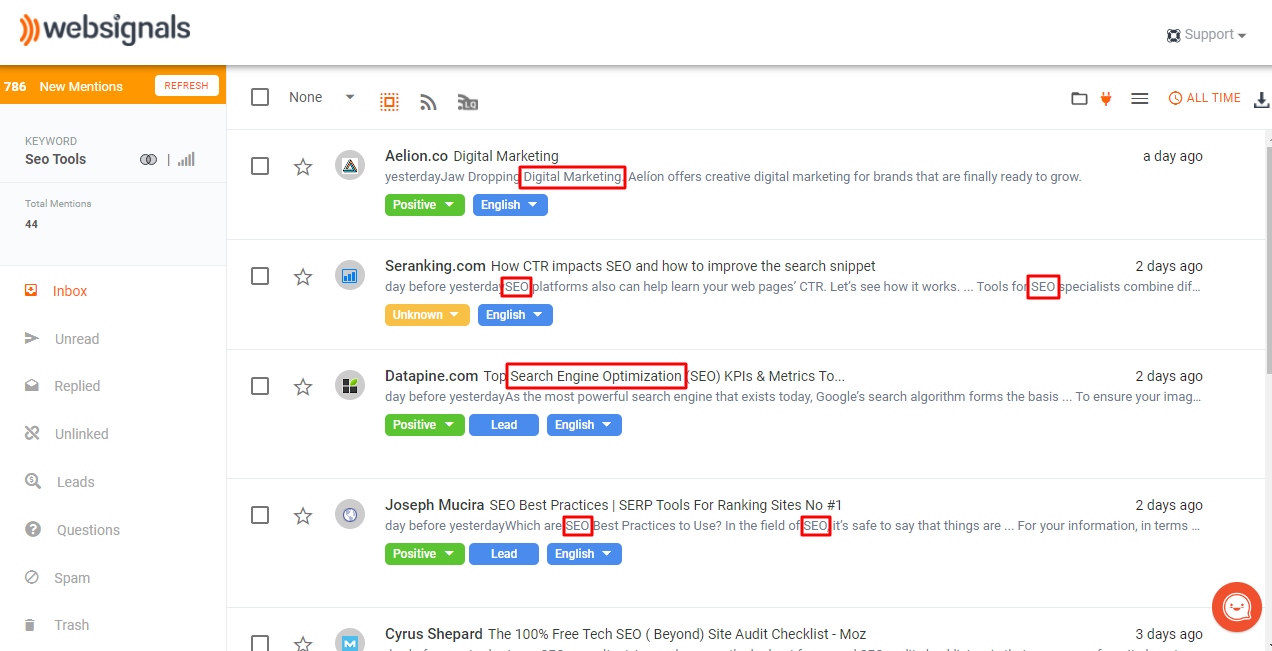 Now, proceed to the Unlinked section to find mentions that offer potential link-building opportunities.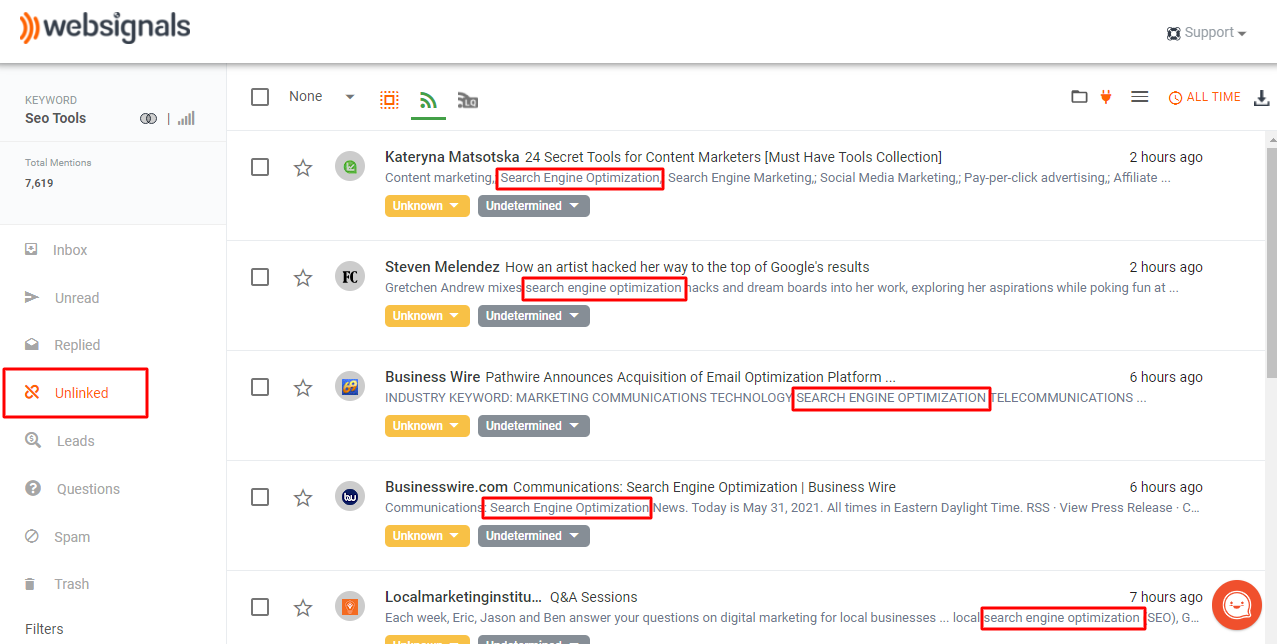 Find and select mentions where your site can be linked. Once it's done, you can reach out to the selected domains, requesting them to link to your site.
But, it would not be as easy as it was with brand-specific keywords.
Since industry-specific keywords are broad, any brand with valuable content can link to them.
To beat the competition, you will have to produce quality content. The value in your content will help you earn backlinks.
4. Use reviews and testimonials for link-building
Customers leave reviews and testimonials on social media platforms, websites, blogs, articles, etc. 
While doing so, they include your brand's name in the text. But, they don't link to it. 
You can track such reviews and testimonials using WebSignals. 
While doing so, focus on reviews and testimonials on websites, blogs, and articles, which have better authority. 
When you find relevant opportunities, request the author to kindly edit the text and add a link.
Here's how you can use WebSignals to find unlinked reviews and testimonials. 
As usual, start with creating a project and add your primary keyword.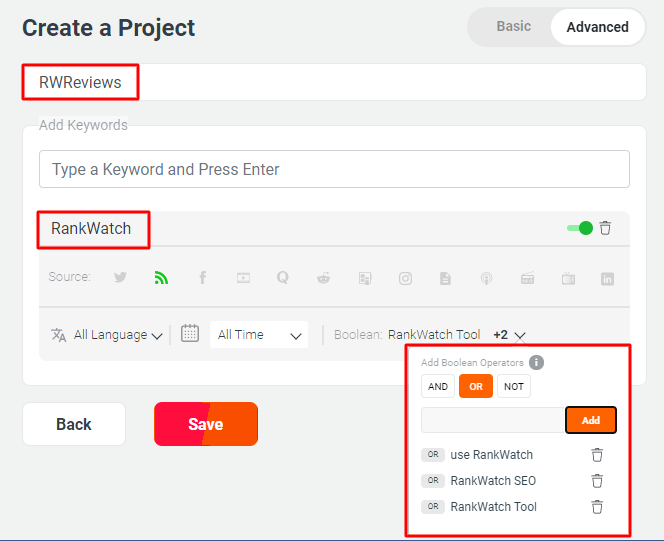 To ensure that you get reviews and testimonials add other relevant keywords using the Advanced settings. 
WebSignals will now list all mentions of RankWatch.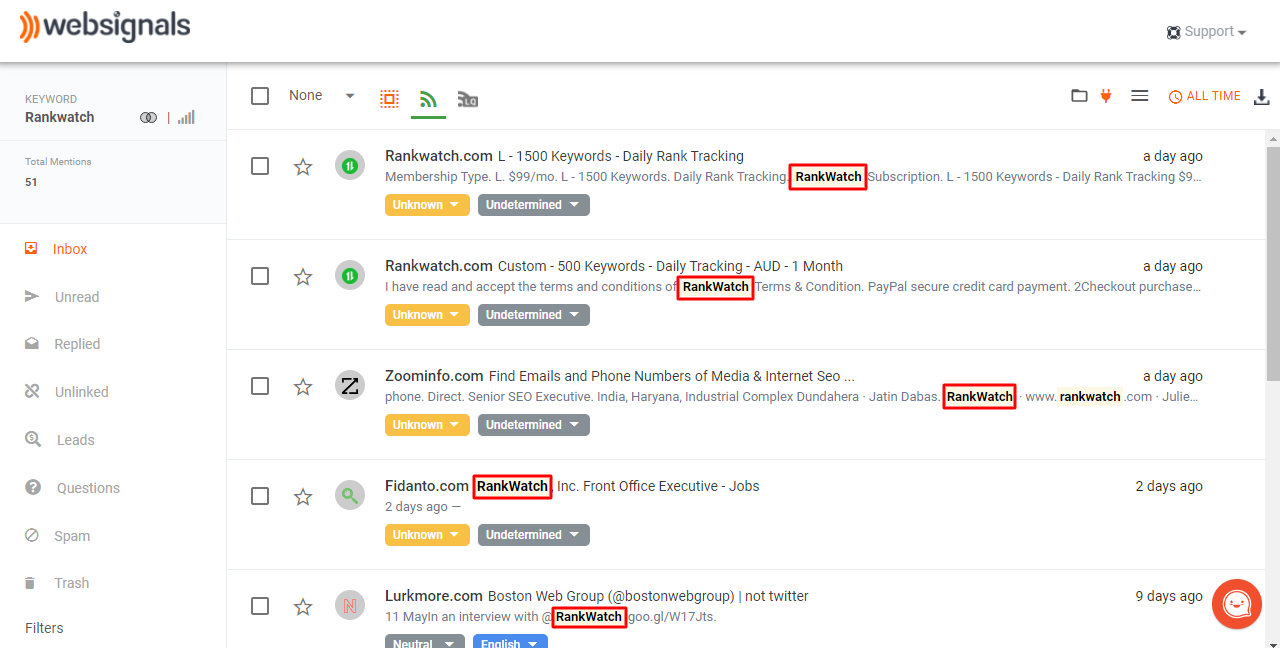 Next, select the Sentiments filter and from the drop-down, select Positive. This will filter out all positive reviews and testimonials.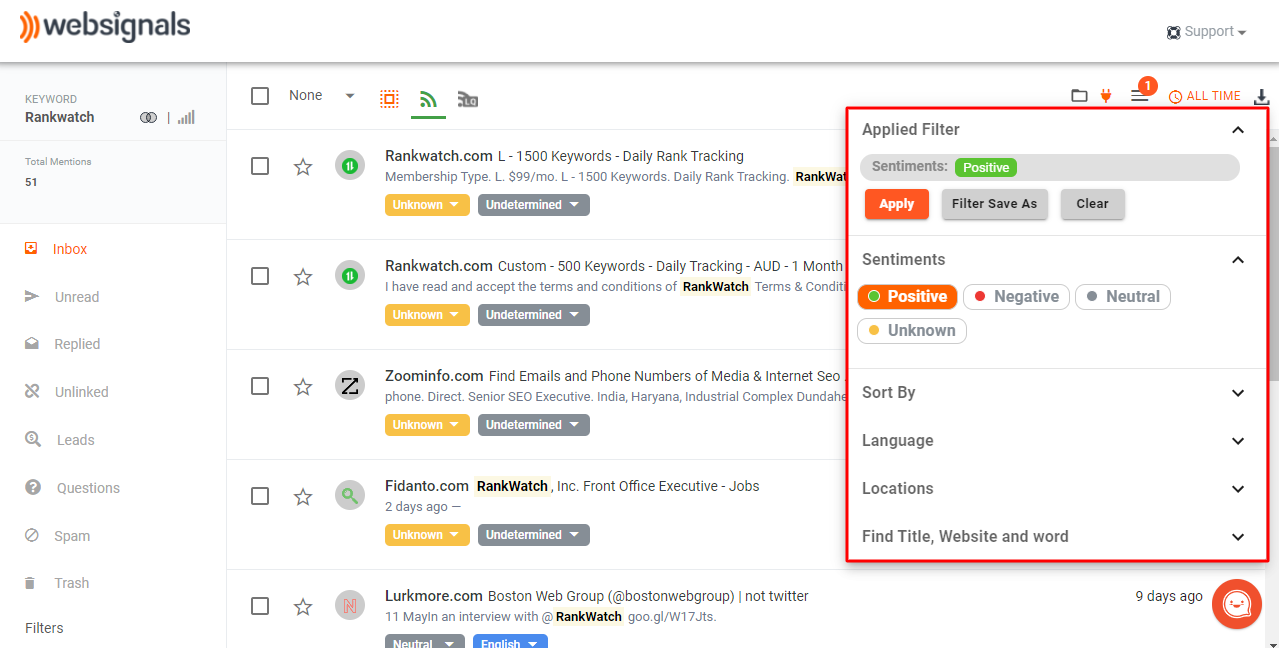 Go to the unlinked tab to find all the reviews and testimonials that don't link back to your site.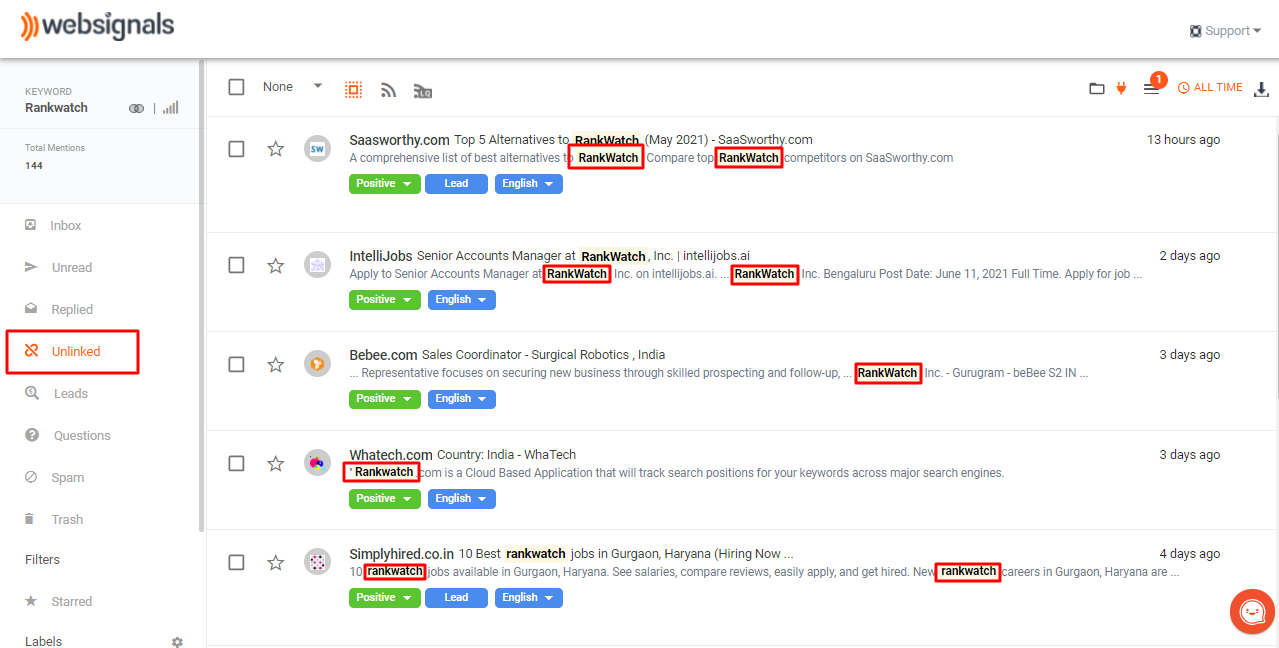 Now, scan the reviews and find the ones you want to link to. Reach out to the author or website and request them to place a link there.
The more backlinks you get, the better it is!
5. Get content ideas that attract backlinks
Believe it or not, 94% of all blog posts have zero external links. Why? Because there's a sharp increase in the amount of content produced every day.
If you want to stand out and attract backlinks, you need to produce unique, fresh, and valuable content. You need to find new topics and create engaging posts around them.
But finding topics isn't easy?
Don't worry. WebSignals will make your search smooth. 
Using WebSignals, 
Track popular keywords in your industry. 

Observe what people are saying about them.

Discover unique and fresh topics from the discussions.

Create valuable content around those topics.
Once your content goes live and readers find it useful, it is likely to earn backlinks.
Let's find a subject for a post on Covid-19 using WebSignals. Add covid19 as the primary keyword when you create the project.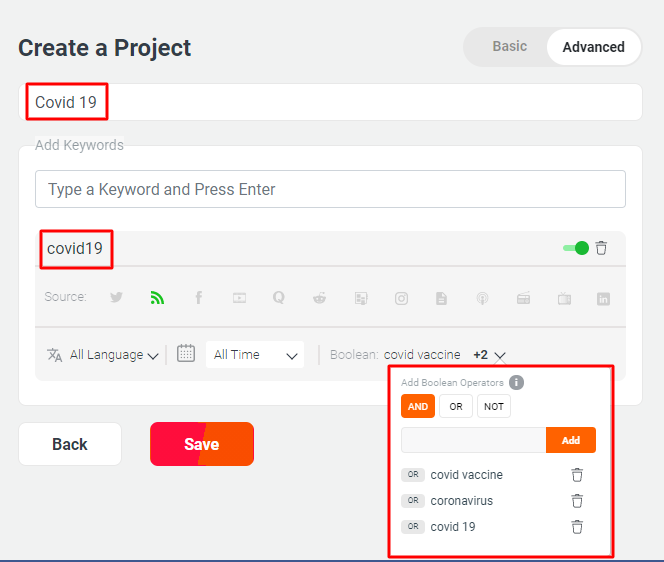 Add covid vaccine, coronavirus, and covid 19 using the OR boolean operator. WebSignals will list all the mentions of your keyword in no time.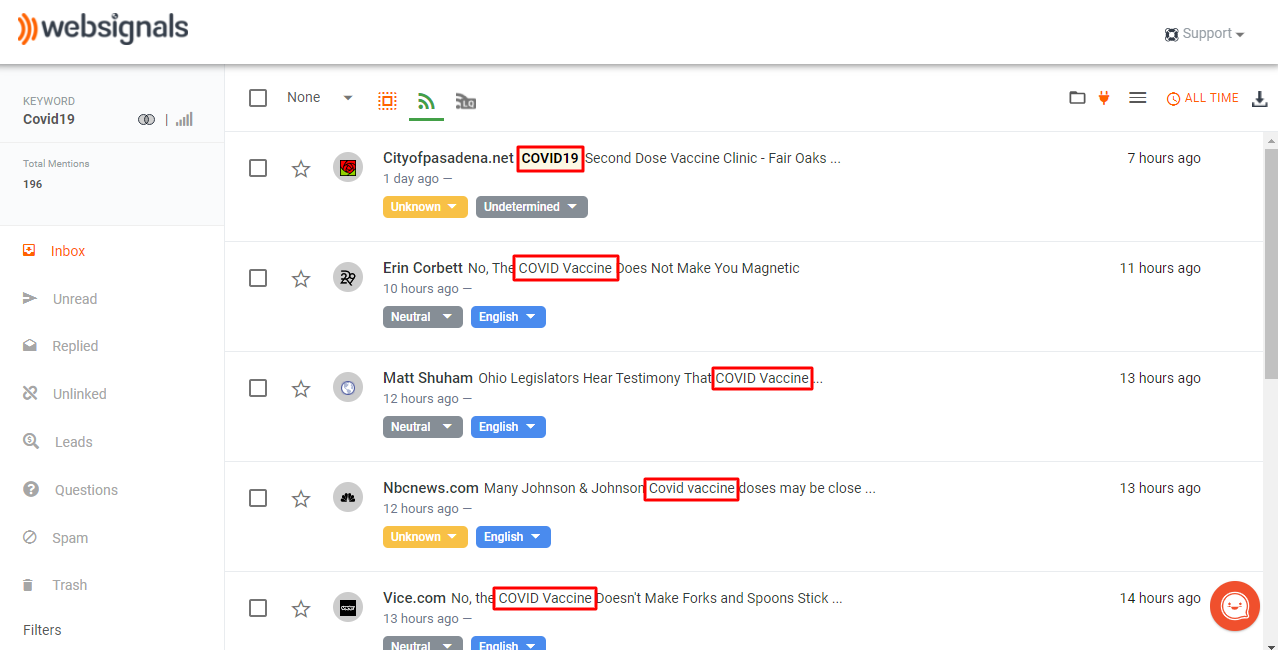 There are several ways in which you can find topics for your post. I am showing you one way here.
Go to the Questions tab. Here you will find questions for your Why posts, What posts, and How posts. (And they are more likely to get backlinks.)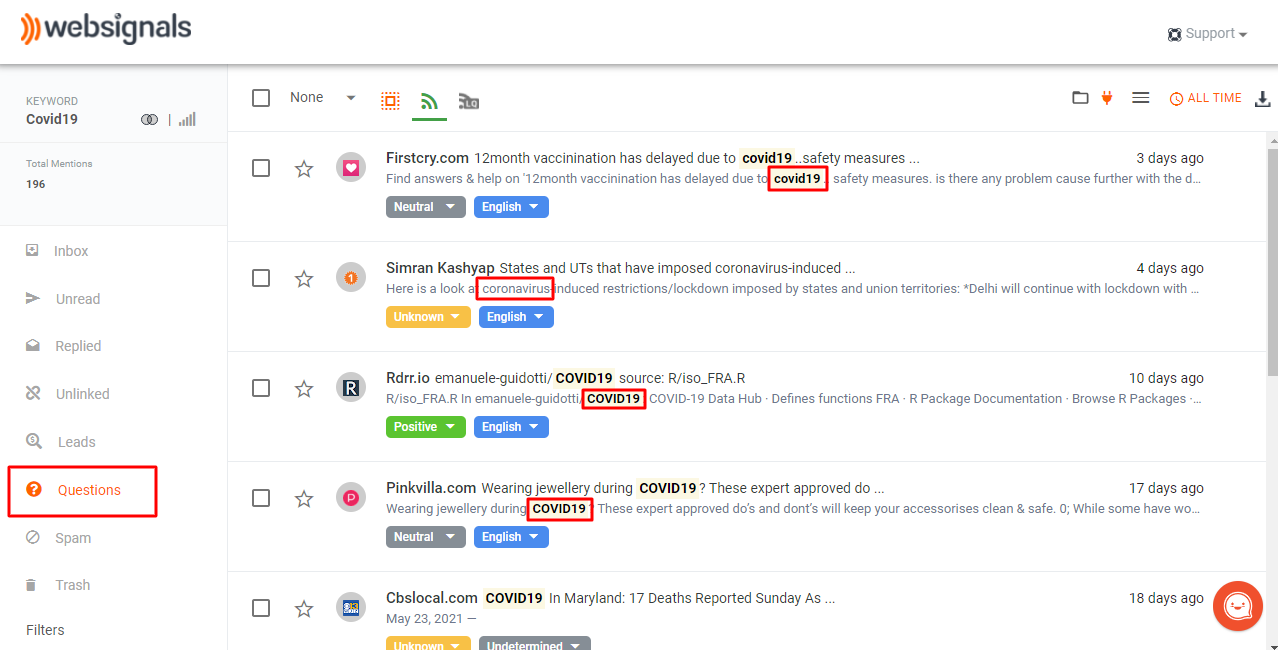 Select questions from here. Create compelling and informative content pieces answering them.
Keep repeating this exercise to create more and more useful content. This will help you build links for your site.
6. Remove low-quality links
SEO experts stress on building high-quality links for your site. Because they align with the Google Quality Guidelines.
A high-quality backlink is one that comes from a high authority site, which is trusted by search engines. 
On the contrary, low-quality backlinks are those that come from not so trusted websites. You call them bad or spammy because they negatively impact your SEO.
Hence, it is important to get rid of the low-quality links.
Using WebSignals, you can find links from low-quality and spammy websites with ease.
WebSignals allows you to filter mentions based on their source. It provides an option titled low-quality posts to filter out mentions from low-quality sites. 
Start off by using your main keyword to create a project.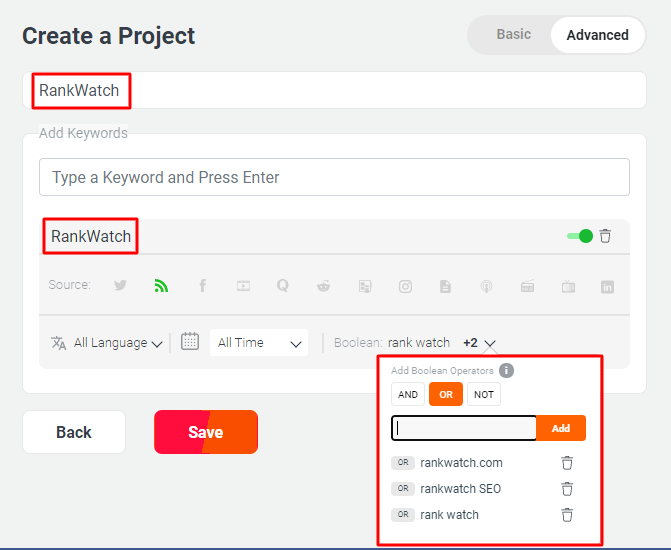 For a comprehensive search, which ensures that no low-quality links are left out, add the secondary keywords. 
WebSignals will now populate all mentions of these keywords. To filter spammy links, click on the icon titled Low-Quality Posts.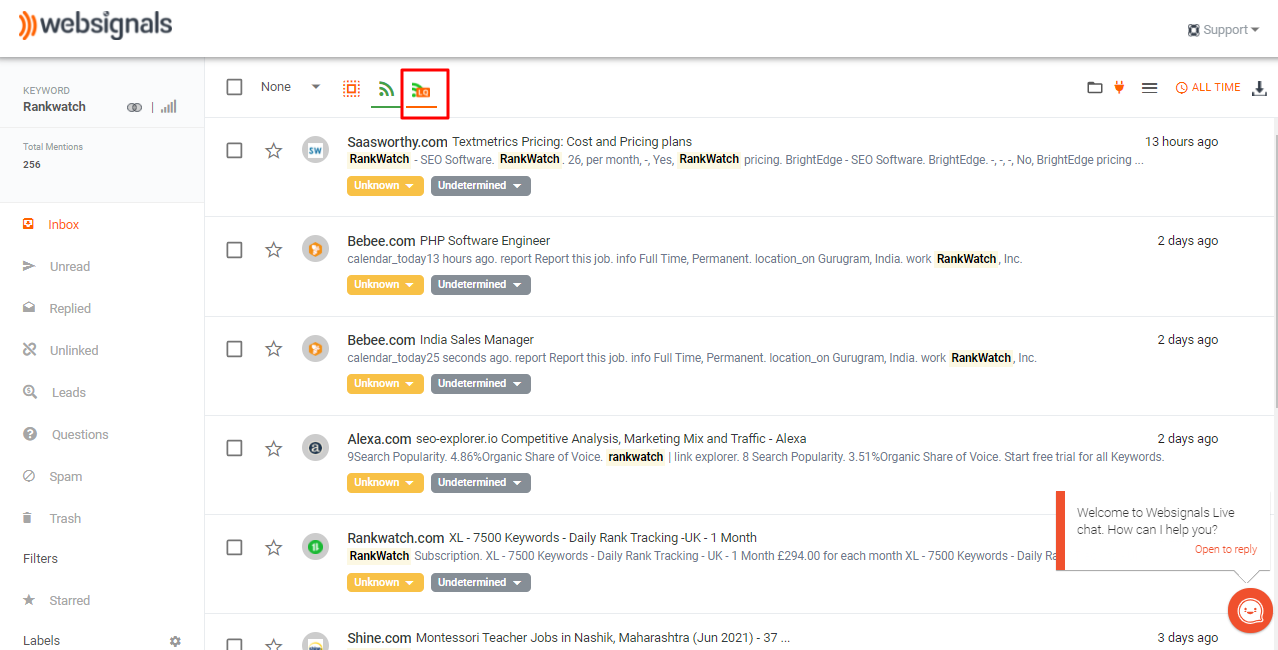 You will find all the mentions from spammy sites. From these, find the linked mentions and contact the referring domains to get them removed.
As you reduce the quantity of low-quality links, your site's reputation will improve. And there's a good chance that more and more high-quality sites will link to you.
7. Find Industry Influencers
Influencers not only drive huge traffic to your site but also help you increase your sales. They can help you build backlinks as well.
WebSignals helps you find the top influencers in your industry along with the topics they write about. 
By accessing the Reporting Dashboard of WebSignals, you can find all the influencers who have mentioned your keywords. 
But, the most important of them all are writers.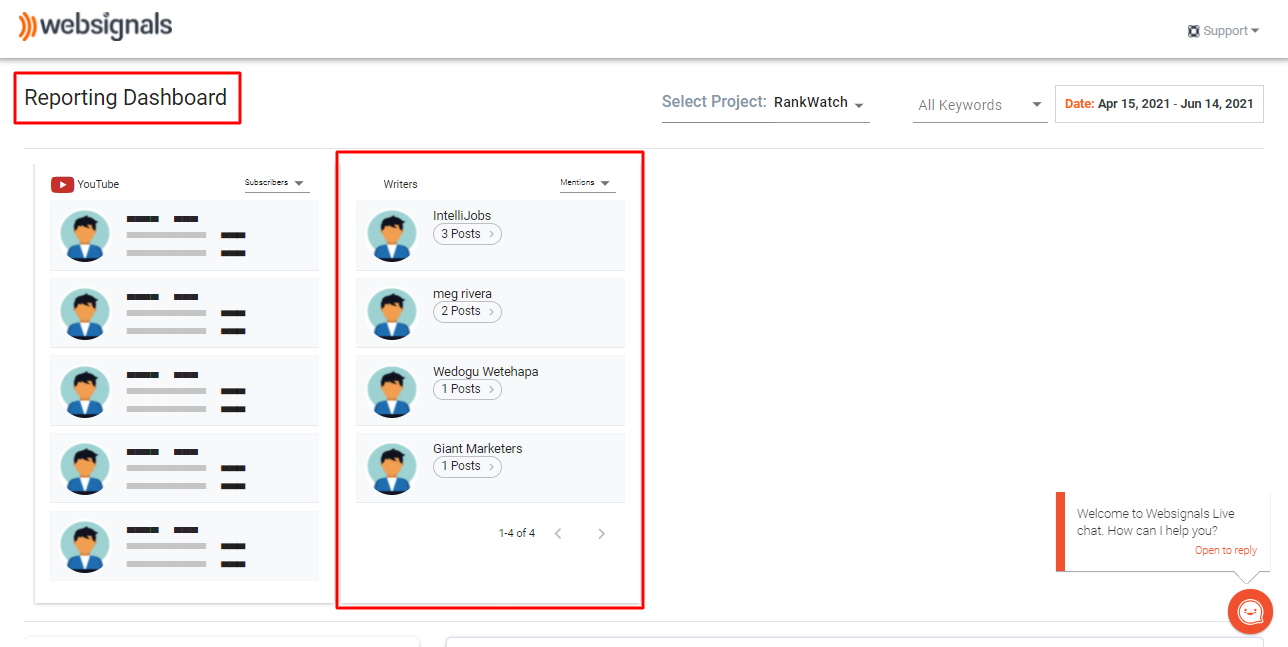 You can approach and build relationships with them to build links in the future. 
When you have product launches or feature updates, you can contact them to write about you and link to your site.
Also, if you have a sizable readership on your website, you may take their interview and ask them to link to it.
Either way, it's a win-win situation.
Bonus Tip: Check Backlinks To Your Site
While you are making regular efforts to build links to your site, it is a good practice to check the number of backlinks you get and lose over time. 
Using the free backlink checker tool, you can easily conduct a quick backlink analysis of your site. 
Not just that, you can even check the backlink profile of your competitors.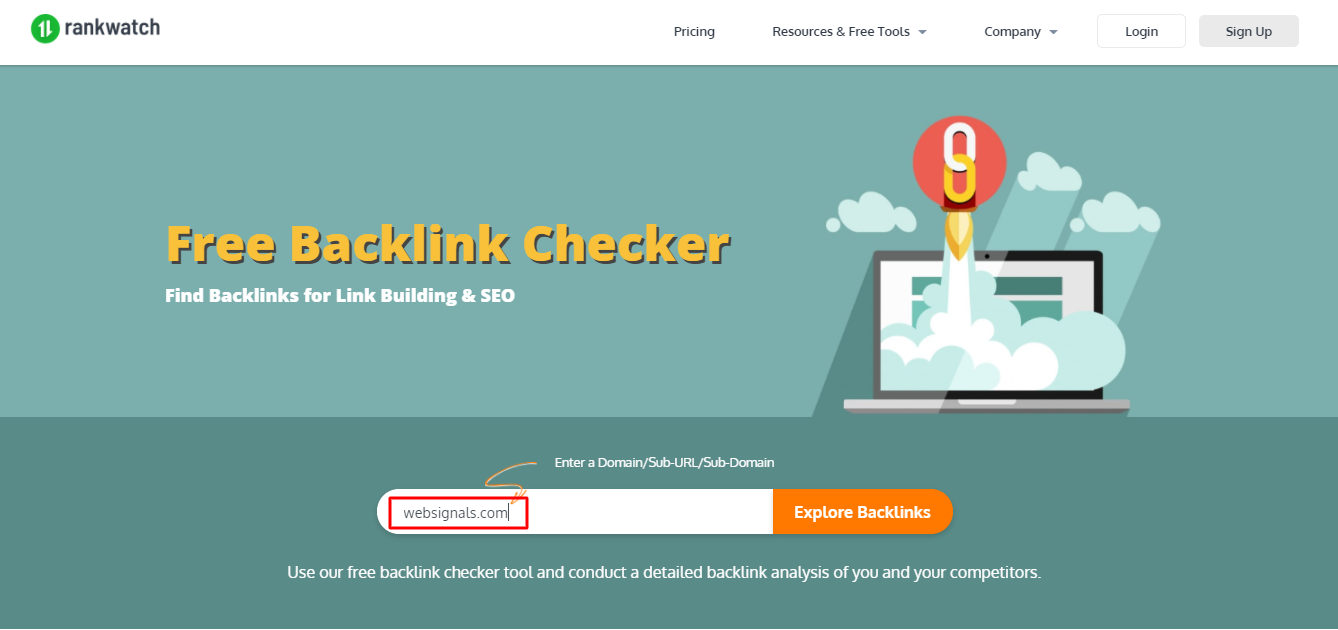 Just enter the domain name and get an in-depth backlink analysis within seconds.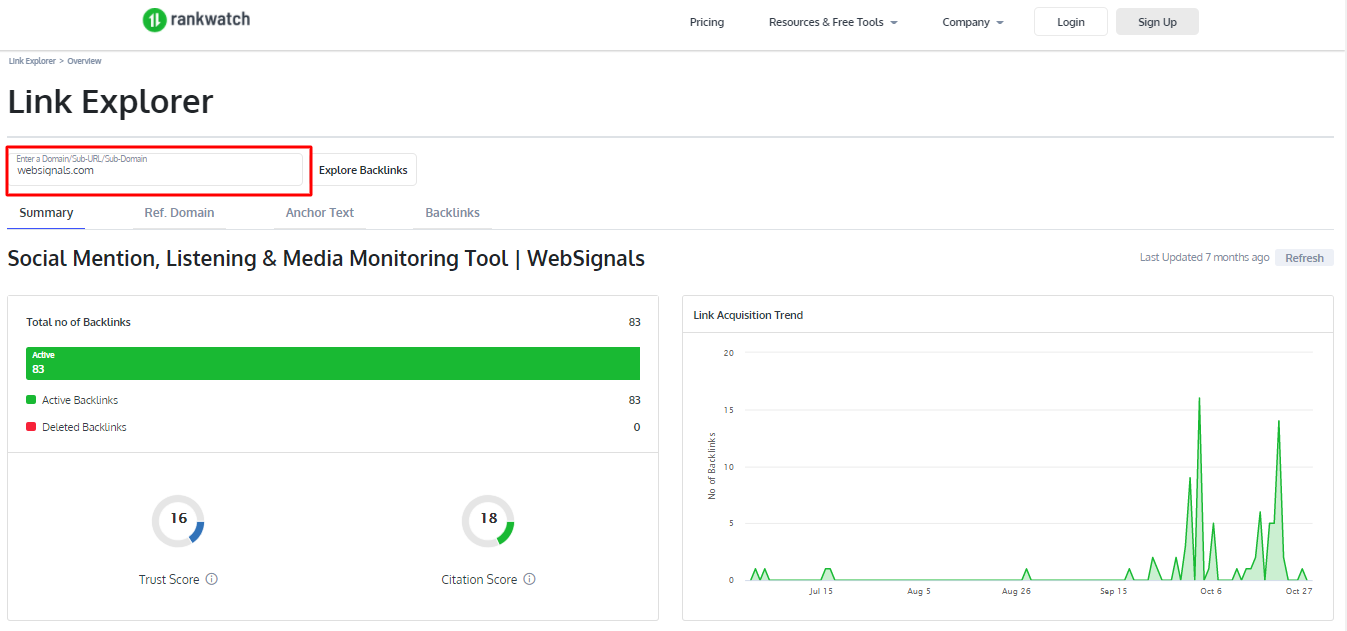 This tool will become increasingly useful as you build more and more backlinks. It can be a source of motivation as you advance in your link-building journey.
Final Thoughts
Link-building is one of the toughest SEO tasks, because it is not in your control. 
However, when you have a brand monitoring tool like WebSignals by your side, it becomes a lot easier.
By tracking down all the relevant unlinked mentions, you have ample opportunities to get backlinks to your site. 
Did you gain results from the link building tips mentioned above? If you were able to find another way to build links, we'd love to know about it as well.