Web monitoring can be both powerful and dangerous at the same time.
It's powerful because of the multitude of opportunities it offers to timely reach out to your target audience in an authentic and helpful manner.
But it's dangerous because of the wasted resources caused by the lack of comprehensive and smart strategies.
As a brand, you must maintain a balance between your goals and web monitoring strategies.
To do that, you need data that goes beyond quantitative aspects, such as demographics of your target audience, and focus on the qualitative aspects as well, like:
Who are the influencers of your community?

What is your community discussing about you and your competitors?

Who are your brand advocates?

What does your community think about you?

What does your community think about your competitors?

What are the issues faced by your prospective clients/users?

How can you stand out as a brand while being relevant to the culture?
Gathering this type of information allows you to create a powerful web monitoring strategy yielding better results and higher success rates.
Here are 48+ simple (but effective) ways to use web monitoring tools:
1. Brand Monitoring
Your brand is your existence – in the ever-changing world of the internet, you have a chance of sustaining your business only if you have a strong brand image.
The real question is – how to create a strong image for your brand?
The first step is to check who is mentioning your brand online. This helps you get a sense of the conversations around your brand and your customers' interests.
WebSignals collects mentions from 122+ million sources, including major social media platforms, forums, websites, TV, and radio.
This helps you dive deep into tracking your brand mentions and unearth crucial data points to help grow your brand.
Millions of sources. One simple tool.
How to Monitor Your Brand's Online Performance?
Here's how EASILY you can monitor your brand's online presence:
Log in to your WebSignals account (don't have a WebSignals account? Register here for free).
To create a project, type in a Project Name, add Keyword(s), and press 'Enter'.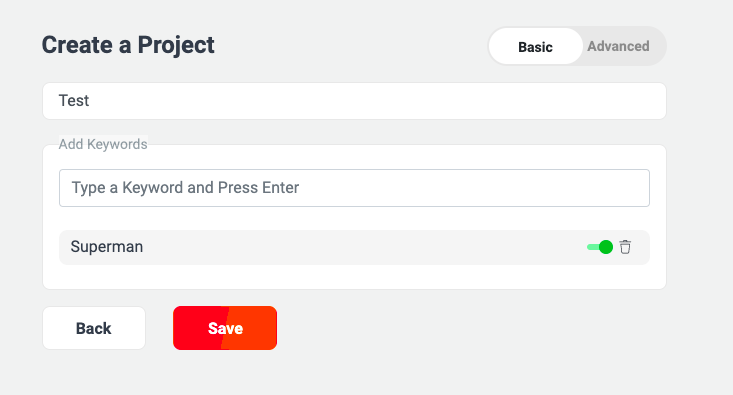 Click on 'Save' to submit. Wait for a few seconds, and WebSignals starts displaying the mentions of your keyword.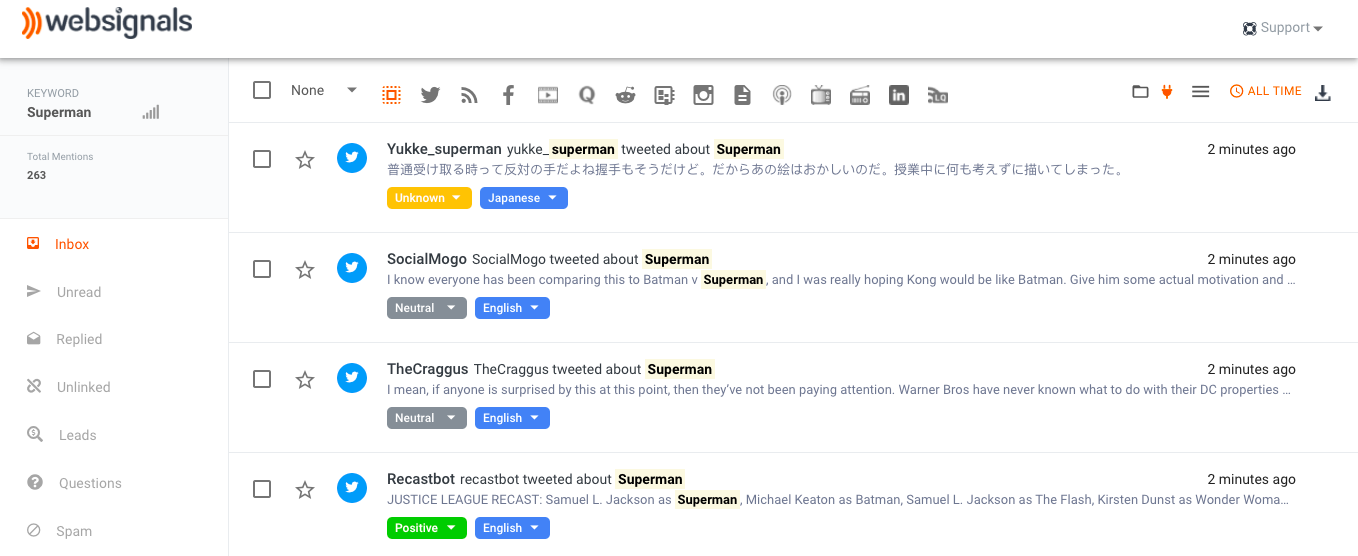 These mentions are imported from 122+ million sources on the internet, including platforms like:
Twitter

Web (includes Pinterest, blogs, and other websites)

Facebook

Video (includes YouTube, Vimeo, etc.)

Quora

Reddit

Online Forums

Instagram

News (includes BBC, CNN, CNBC, etc.)

Podcast

TV

Radio

LinkedIn

Low-quality Web (posts on websites with low authority)

Personalized Monitoring
By now, you must be thinking – if WebSignals has such a massive database, my mention data might be vague and generic.
Well, wrong.
In fact, WebSignals allows you to not only scour through millions of mentions with just a few clicks but also personalize the results as per your requirements. It does so through multiple advanced settings for gathering your data.
When Setting Up Your Project
Setting up your WebSignals project is a cakewalk – enter a project, a keyword, and you are done. But, it's time to go beyond that and unleash WebSignals' full potential through Advanced Settings.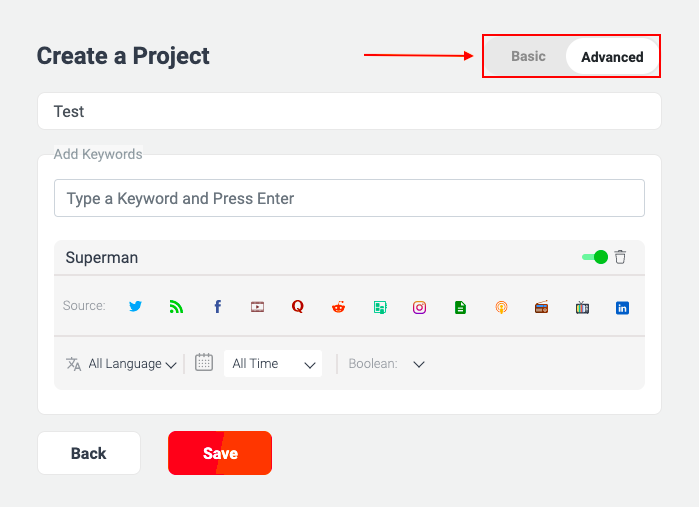 Your project's Advanced Settings allow you to envelope around the mentions that matter for your business.
WebSignals collects mentions in almost 180+ languages. And if you want to track mentions in a specific language, you may do that as well. For example, if you want to track mentions in Chinese, you can select 'Chinese' in the drop-down menu.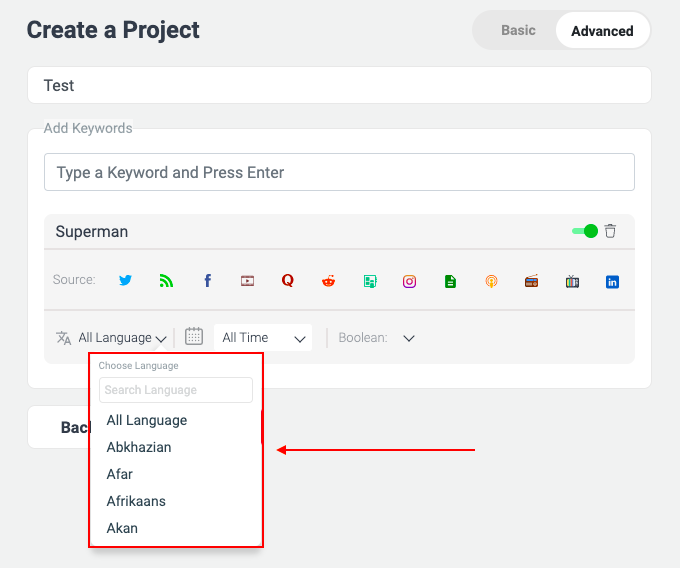 Do you want to track mentions of a keyword only for the last 7 days? Just select 7 Days from the filter, and WebSignals will collect mentions accordingly. Going further, you can choose among 30, 90, 180, 365 days, and All time.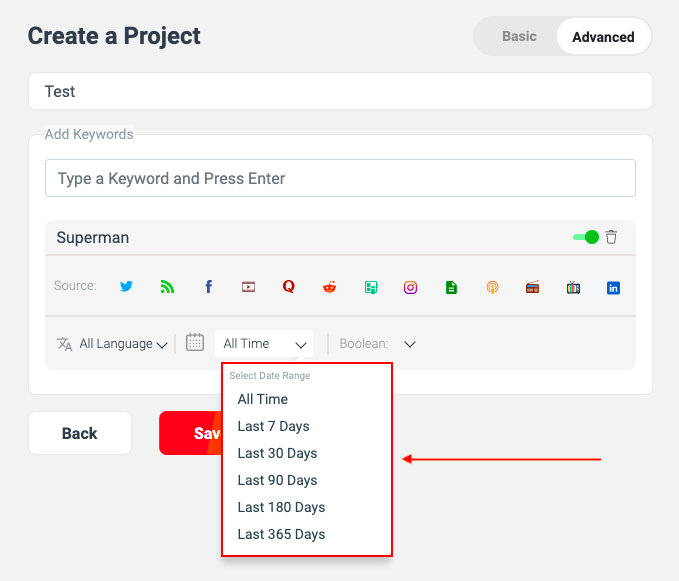 You may want the mention tracking to be broader because sometimes keywords have variations based on the user's search/mention pattern. For example, some search for 'Superman' and there are those who prefer using 'Man of Steel' or 'Clark Kent'. In each scenario, the intent is the same. So, we designed our tool to learn that and collect mentions accordingly. You must only provide the possible search/mention variations, and WebSignals will find the mentions for you.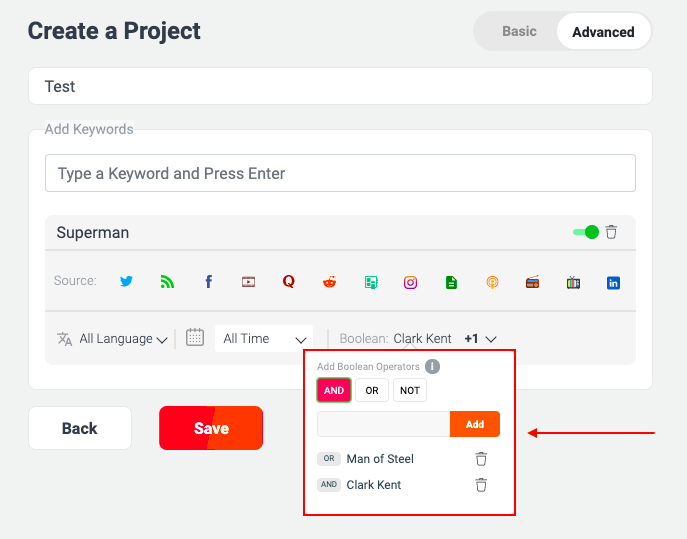 But that's not it.
Now, you can exclude a domain from tracking the mentions as well. Enter the domain URL under the 'Not' section. Doing so, WebSignals will not track the mentions of a keyword on your specified domain.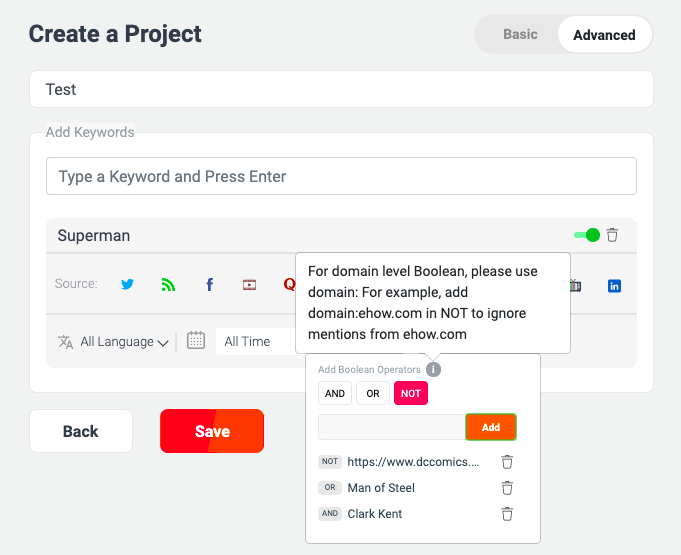 When Analyzing Collected Mentions
WebSignals imports mentions into its feed as per your project settings. But wait, there's more to it (much more indeed).
It's time to play around and work with additional settings to personalize your feed even further.
WebSignals elegantly curates all of your mentions and categorizes them based on the source, allowing you to study mentions by platforms.
Select your chosen platform, and WebSignals will update the feed accordingly.

You can select single and multiple platforms as well.
For Superman, we have selected Twitter, Facebook and Quora as our primary platforms.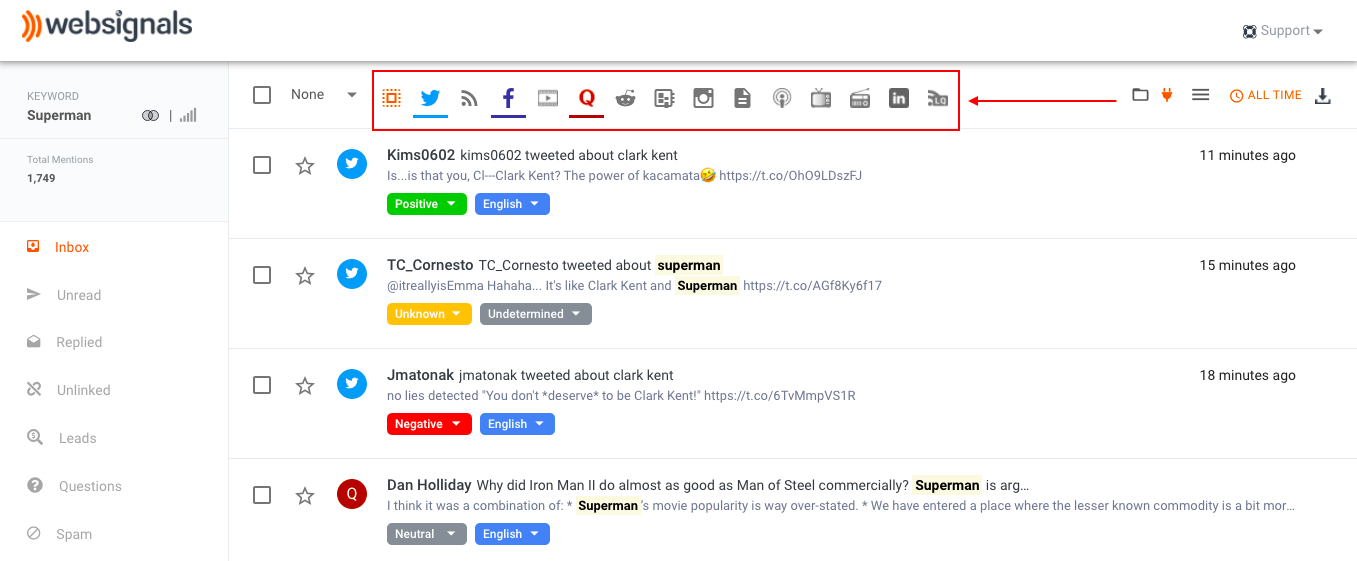 This helps you cut through the clutter and focus on the platforms vital to your brand.
Beyond the Advanced settings, you can further filter the feed by time period. Although, here, you are given more flexibility. You can filter the data by 15 days and 24 hours (up to yesterday); this helps you focus on the most recent conversations related to your brand.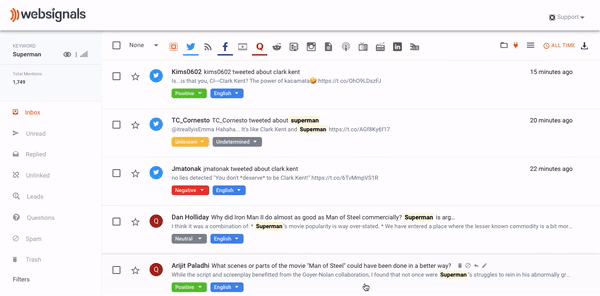 Advanced Filtering Options
WebSignals' dashboard is equipped with an Advanced Filter that allows you to narrow down the mentions even further. Here are the multiple filters that you can apply:
For every brand, handling negative mentions before they get any air is a priority, and WebSignals allows you to do that with ease. Just select 'Negative' under the sentiments filter, and it will only show negative mentions of your brand in the feed. Now, you can quickly handle them. Apart from this, you can also filter the mention by Positive and Neutral.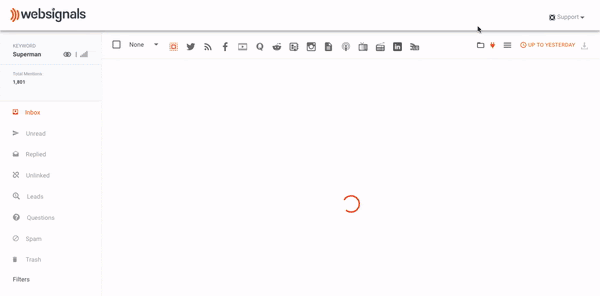 If you want to find your most reputable mentions or list them from recent to oldest, click on the 'Sort By' segment and select among 'Date' or 'Domain Score'.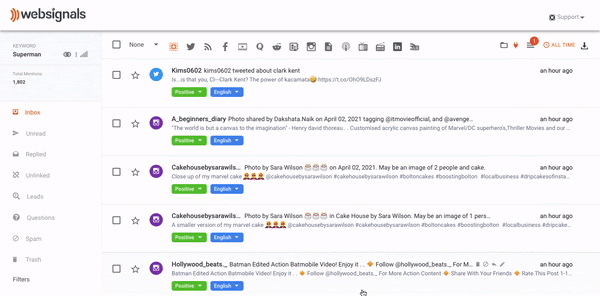 Suppose you have selected 'All Languages' when setting up your project, but now you want to track mentions in a specific language. In that case, you can choose your preferred language in the Language filter, which you can modify indefinitely.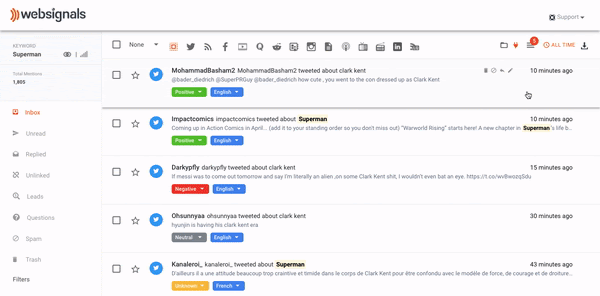 You may choose to see mentions only from a country you prefer. This means that you can now target a certain demographic with your brand monitoring campaign. Choose 'Global' if you want to include results from all the countries.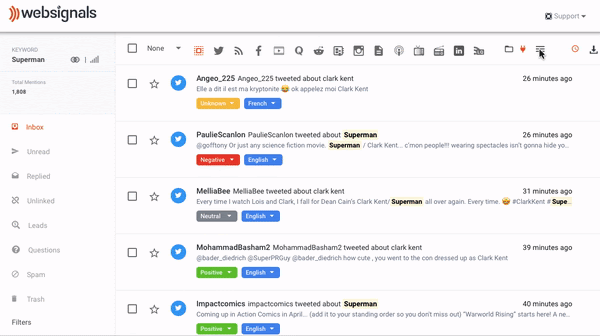 Title, Website, and Page Filter
After applying these filters, what if your feed still has too many mentions? Don't worry. You can narrow down the mentions even further through the Title, Website, and Word filter. Enter a website URL or a Page URL, and WebSignals will only show the mention of your keyword on the specified website and page. You can do the same for the Title, too.
Note: You can save your favourite filters to use later. To do so, click on the 'Filter Save As' button below the selected filters. Access your saved filters by clicking on the folder beside integration options.
Access your saved filters by clicking on the folder beside integration options.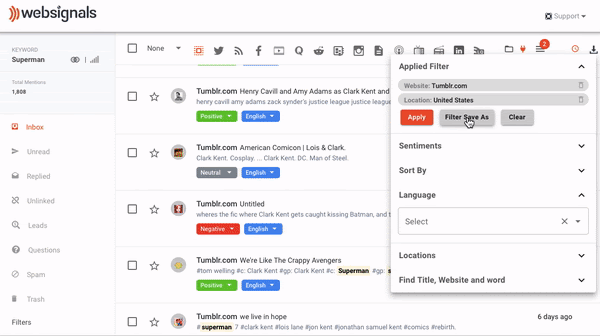 It often becomes crucial for a business to use automation services for its repetitive tasks.
WebSignals helps you automate data transferring between applications through its integration options. You can share WebSignals' mention data with automation tools like Pabbly to create data-driven strategies and ensure your brand's 360° growth.
Connect webhooks by clicking on the Plug Icon beside filters and selecting Pabbly on the resulting page. 
Note: To access this, you need to create a Pabbly account.

WebSignals keeps you updated about conversations around your brand by sending a daily report containing a detailed summary of your mentions to your registered email ID.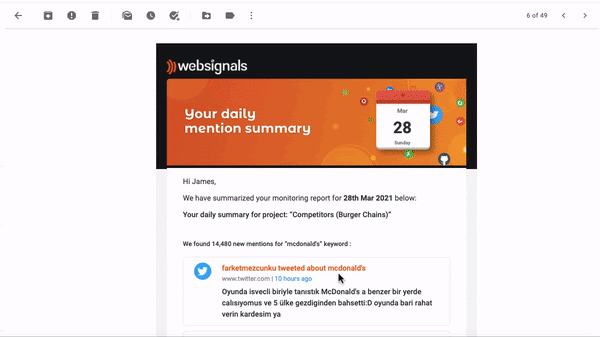 To enable daily monitoring on WebSignals, go to My Account and enable Daily Email Notifications.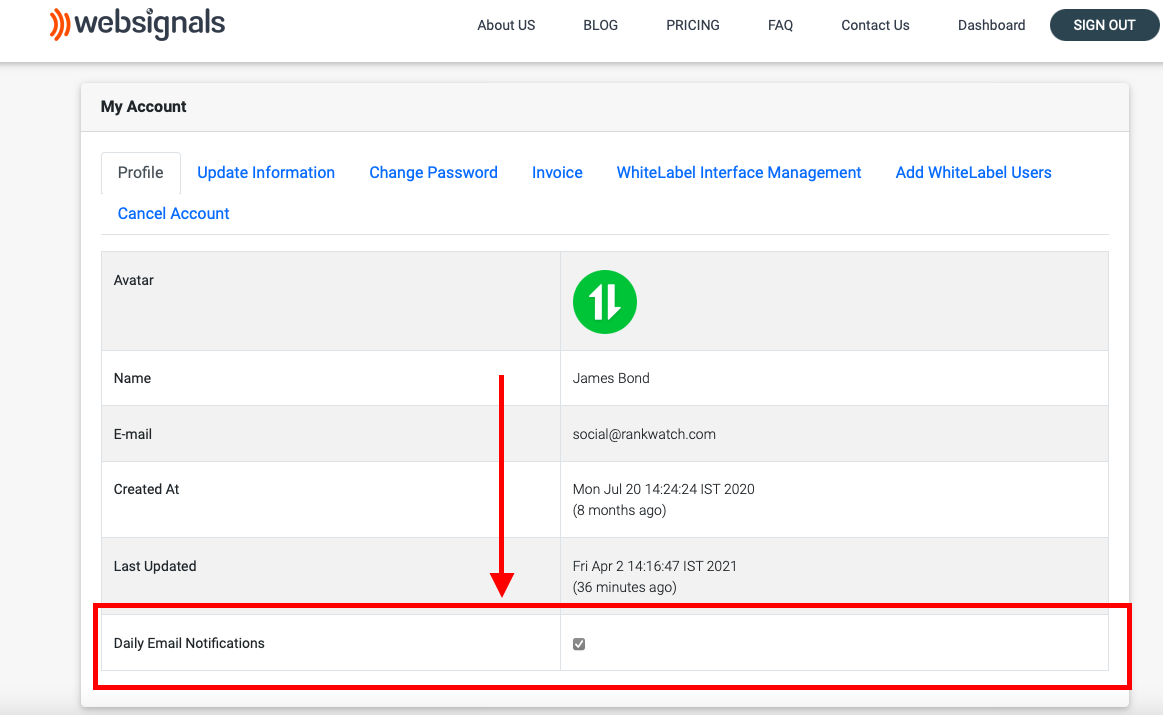 2. Competitor Intelligence
Competitor intelligence is like a business' immunity system – it helps you keep an eye out for potential opportunities of growing severe and potential threats from your competitors.
It provides you with relevant data points so you can adapt and improve your business accordingly.
With WebSignals as your companion, you essentially get an immunity booster to energize your business results.
How to Gather Competitor Intelligence Using WebSignals?
Begin by setting up alerts for your leading competitors.
Open WebSignals, set up a project with the brand names of your competitors.
NOTE: Don't know who your competitors are? Use RankWatch Competitor Analysis and find your top competitors.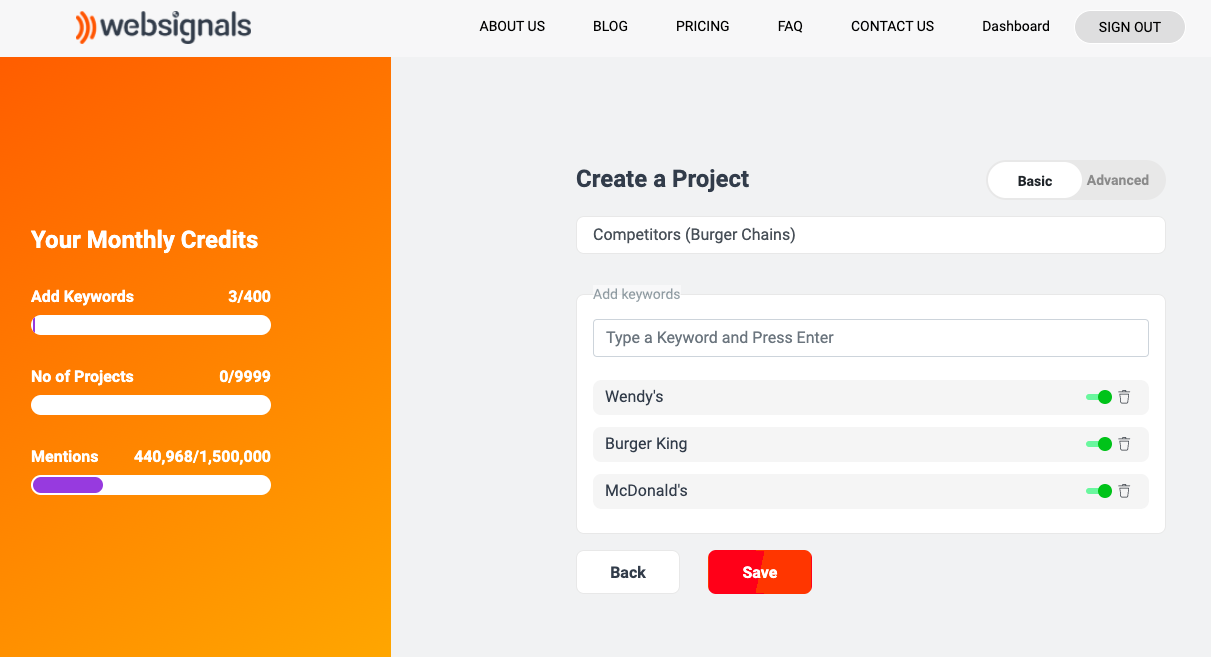 After creating a project with your competitors, click on 'Save' to submit. It will take a minute for WebSignals to collect the mention data of your competitors.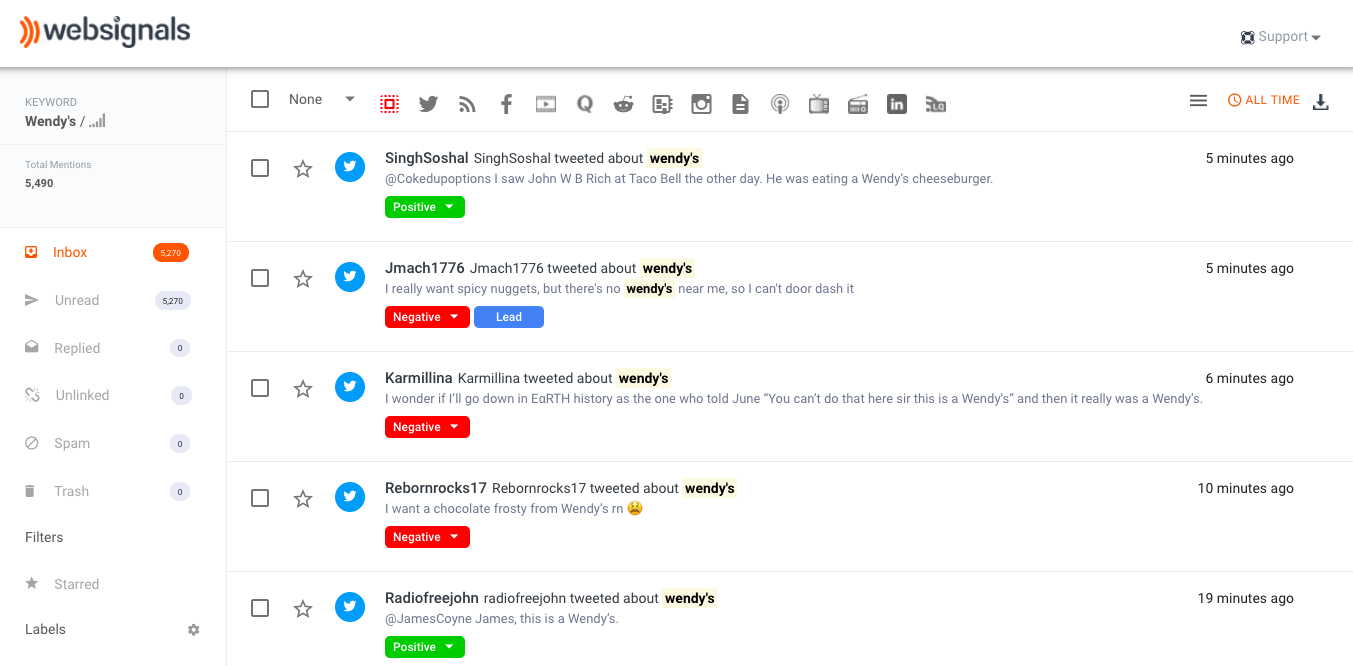 How to Use Competitor Intelligence?
Analyze Your Competitors' Mentions
Since you are competing with established players in the game, there will always be customers who are either happy or unhappy with their products/services.
You can use WebSignals to analyze what people are saying about your competitors, learn from their mistakes and modify your strategies.
Use Case: You want to open a fast-food franchise and compete with giants like McDonald's, Wendy's and Burger King.
Simply search for their name and select from a list of options in the 'Sentiments' filter of the dashboard. 'Positive' mentions help you uncover things that your competitors are doing better, whereas 'Negative' mentions will help you know what they are doing wrong.
Here we have listed all the negative mentions of McDonald's.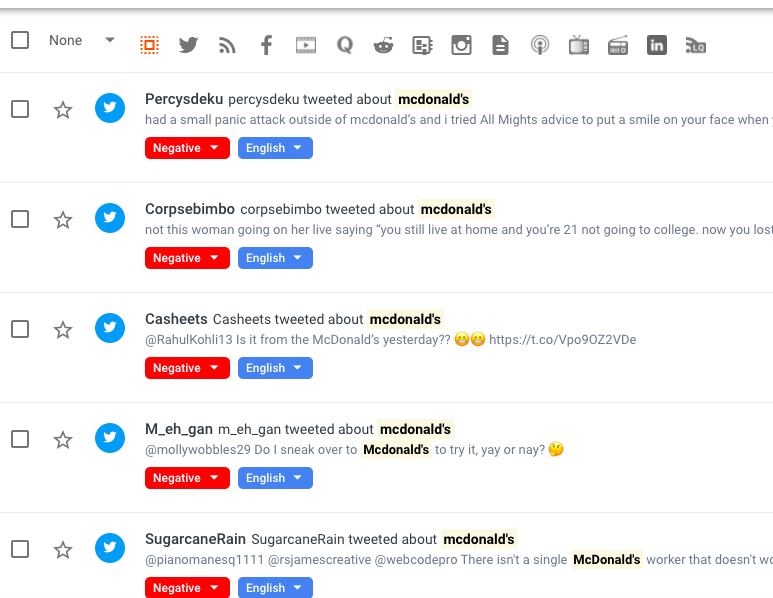 Examine Your Competitor's Online Reputation
The online reputation of a brand can either make or break a business. Statistically speaking, 3 out of 4 consumers trust a company more if it has positive reviews. And 60% of consumers prefer not to use a business if it has too many negative reviews. 
Conducting a detailed sentiment analysis of your competitors' mentions will help you gauge their online reputation and understand whether their consumers are happy with their services or not.
Study Your Competitor's Strategies
Your competitors can often be your greatest mentors. 
Observe and analyze their moves throughout the web to gauge their strategies by looking at their criticisms, praises, and how they respond to them.
You can get a better sense of what your competitors will do next if you have already studied their previous moves; this helps you become an industry leader.
By setting up daily alerts for your competitors, you can always stay a step ahead of them.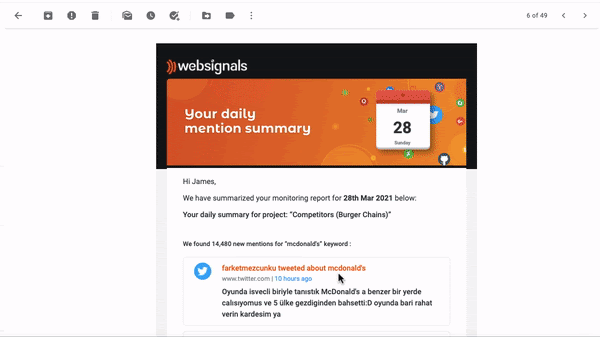 Find Out Your Competitor's Influencers
Influencer marketing is projected to be an industry worth over $13 Billion in 2021. 
Since influencers drive such huge numbers in terms of followers, brands are often quick to decide which influencer to choose for their campaign without considering if they are even compatible with each other.
However, when you choose the right influencer for your campaign, it can make a massive difference in ROI.
Use Case: In the reporting dashboard of WebSignals, you can find your competitors' potential influencers by looking at their mentions and follower count.
First, create alerts for your competitors on WebSignals, then go to the 'Influencers' in the Reporting Dashboard to find the potential influencers of your competitors.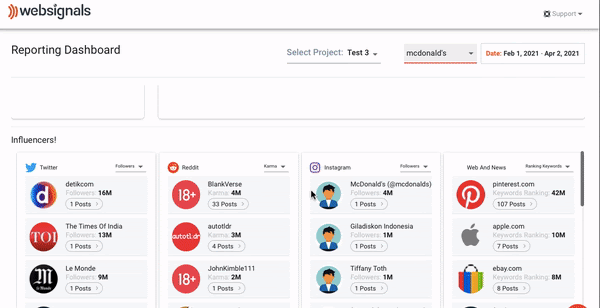 Monitor the C-level Executives of Your Competitors
The top management of a company often drives its culture and reflects its values.
By observing the C-Level Executives of your competitors, you can predict their next big move and create a suitable strategy for your own brand as well.
So, how do you keep an eye on them?
Simply Google the founders and C-level executives of your competitors and create an alert for them in WebSignals.
Use Case: Here, we have searched for mentions of Daniel Schwartz – CEO of Burger King. Being a leading fast-food chain, understanding its CEO's moves would help us structure our business strategies.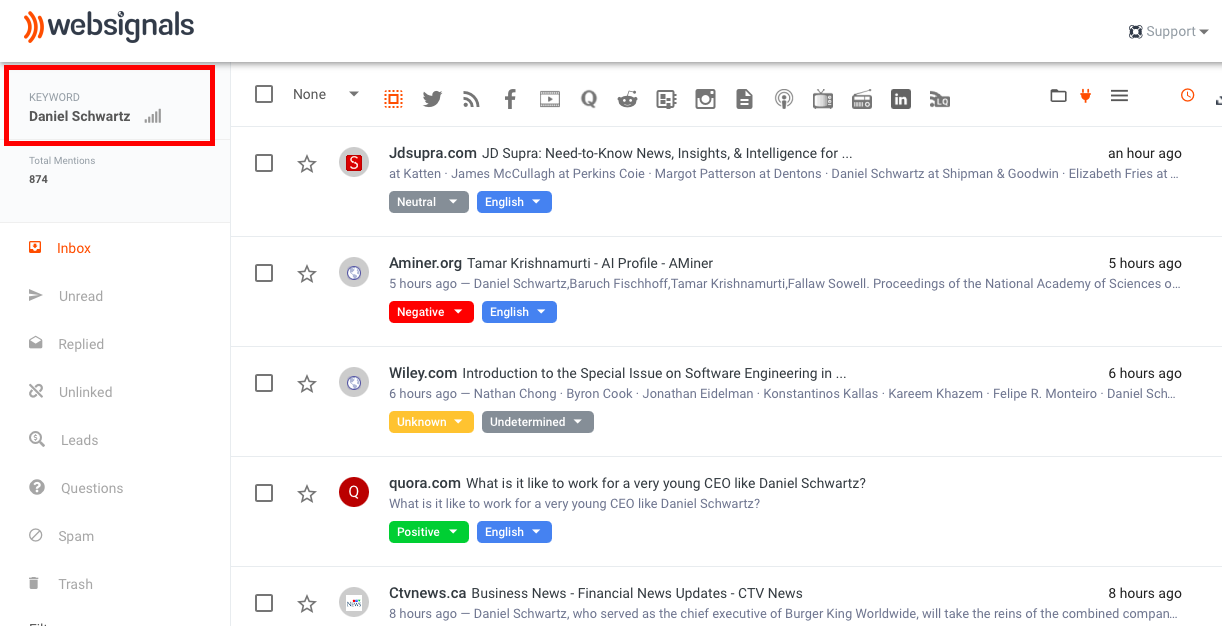 3. Customer Service
According to Microsoft, 90% of Americans use customer service as a factor in deciding whether or not to do business with a company.
Customers are the lifeblood of a business, and customer service is the first aid if any blood is shed (i.e., customer complaints).
However, several businesses often take customer service beyond just grievance redressal and go above and beyond to obsess over them.
Take Trader Joe's as an example. The privately-owned grocery chain has a cult following because it encourages its employees to go above and beyond their acts of kindness towards their customers.
Here's how WebSignals helps you unlock your way to exceptional customer service:
How to Improve Customer Service Using WebSignals?
Quickly Respond to Customer's Queries
Respond to your customer's queries instantly by searching for your brand's name and accessing 'Questions' from the left-side menu.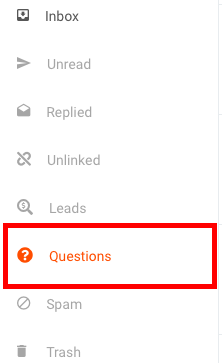 This section contains all the questions that your customers (or billions of people on the internet) have for your brand, making it easier for you to address them quickly by providing relevant answers/responses.
Address Positive & Negative Reviews
Handling queries is one thing. But when a customer posts a negative review about your brand or product, you have to handle it instantly because that's what good customer service is (also, because things can go viral on the internet within seconds).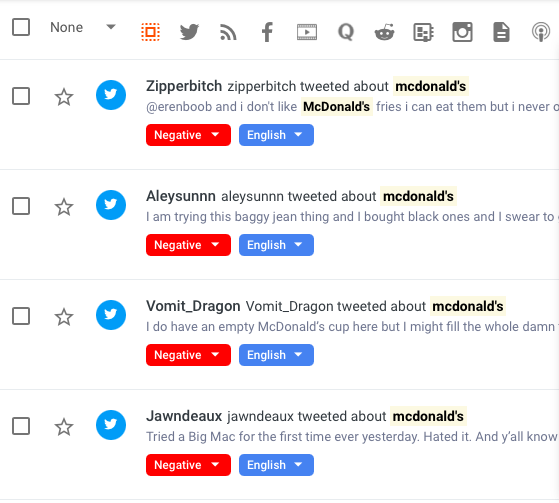 Not just negative mentions, you must respond to the positive ones as well, since they are your most loyal customers and have the potential of becoming brand advocates.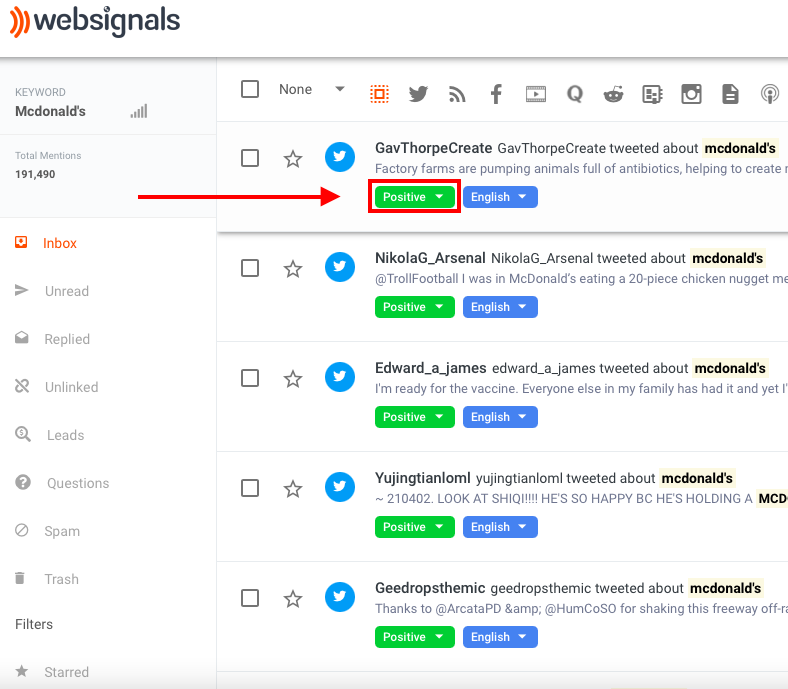 Respond to Hard-to-discover Reviews
Maybe your customer has posted a review of your brand but forgets to add a link to your website or tag your social media profiles. Now, how can you find such mentions? You cannot Google it because that can take hours or even weeks. So, how do you do that?
Use Case: Click on 'Unlinked' from the left-hand side menu to find all the posts, reviews, blogs, etc., where your brand or product was mentioned but wasn't linked or tagged. 
This helps you find out the results that otherwise would probably be lost.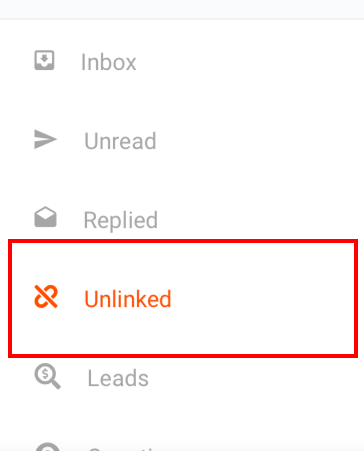 IMPORTANT. To conduct thorough backlink research for your website, you may use the free backlink checker tool by RankWatch.
Cultivate & Maintain Relationships


Retaining old customers can often be challenging, but it can generate a significant ROI in the long run. In fact, retaining

5%

of existing customers can increase your profits in the range of 25% to 95%.
Retaining and building long-lasting relationships with your customers is often the difference between just a profit-hungry brand and one that balances out its financials with creating a solid relationship with its customers.
Use Case: By searching for your brand on WebSignals, you can see who is talking positively about it online.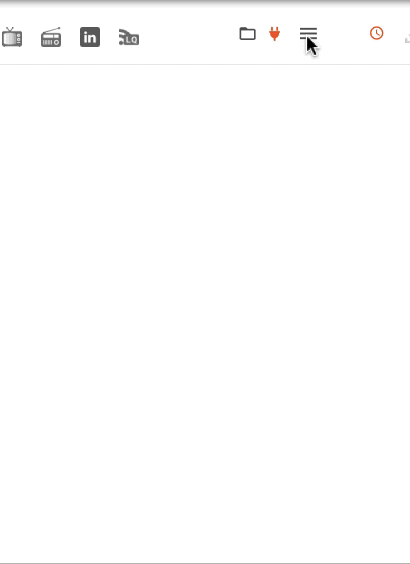 Encourage your customers' positive behaviour by providing regular assistance, freebies, and gifts to your customers, thereby creating a word-of-mouth network of brand loyalists
4. Brand Reputation Management
Monitoring online reputation can be very confusing and often overwhelming, as you may not know what sources and websites to examine.
WebSignals helps build and sustain your brand reputation by providing the necessary tools for your positive online presence.
How to Improve Your Online Brand Reputation?
Consistent Brand Monitoring
To build a positive brand online, being on the lookout for every mention of your brand irrespective of the platforms in real-time is crucial. It may sound overwhelming, but it is easier than you think.
Use Case: Create an alert for your brand name on WebSignals and add possible spelling mistakes in boolean operators (so you don't miss any mention), and select 'Up to Yesterday' in the Time Period filter. By doing so, you can narrow down your mention data to 24 hours and ensure consistent monitoring.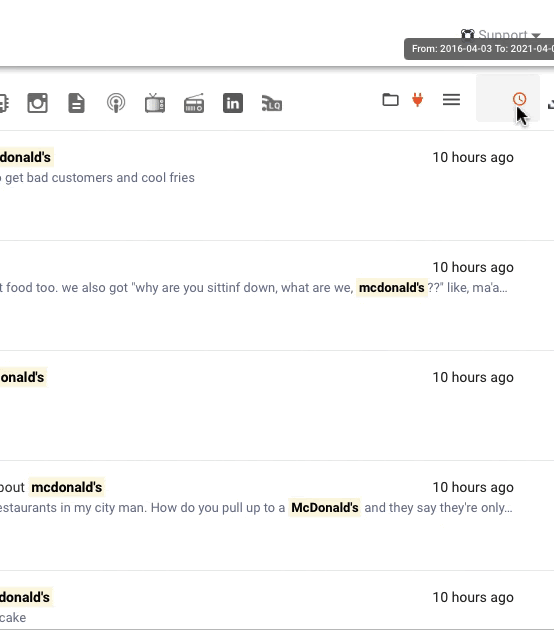 Also, WebSignals collects mention data in real-time, so you no longer need to worry about missing any mentions. 
Told you it was easy!
Handling Negative Mentions


Nearly

45%

of consumers say that they're more likely to visit a business if it responds to negative reviews.





Moreover, how you deal with your negative mentions speaks volumes about your business – whether you are in it for money or to handle your customer's grievances and complaints as well.
As you know, WebSignals allows you to filter your mentions down to those with negative sentiments. Search for your brand name and select 'Negative' under the 'Sentiments' filter, and WebSignals shows only the negative mentions of your brand in its feed.
Now provide solution-based responses to those mentions while apologizing for the inconvenience caused to the customer.
Responding to Positive Mentions
Responding to and encouraging positive mentions can often lead to exponential returns on investment while improving your online reputation.
It also helps you convert your casual customers into raving fanatics if you spoil them with freebies, gifts, vouchers, etc.
Use Case: Search for your brand name and select 'Positive' under the 'Sentiments' filters, and WebSignals will welcome you with a host of positive mentions. Now all you have to do is respond to them.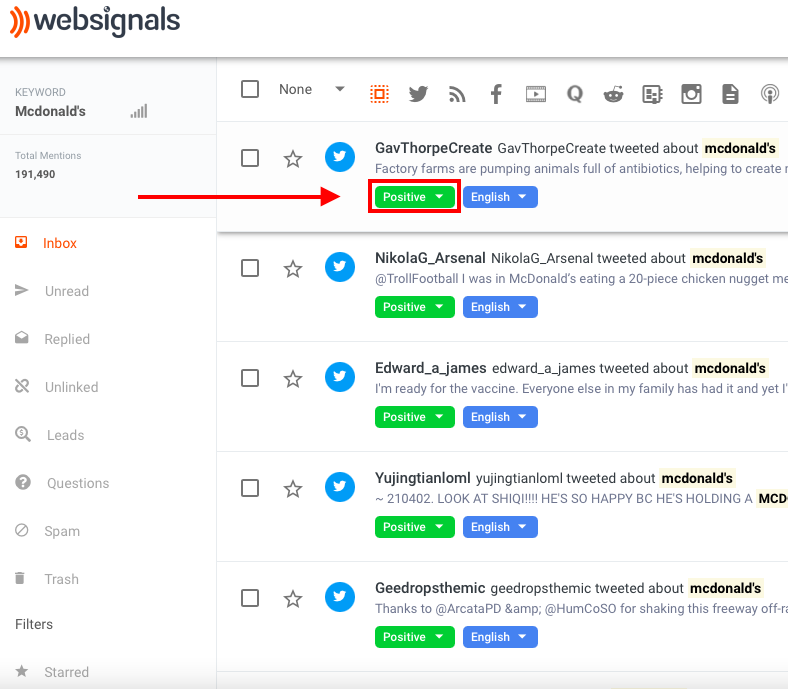 Brand advocates are the free word-of-mouth marketing agents for your brand. 
As per research, brand advocacy can help increase your marketing effectiveness by up to 54%.
But there's one caveat – to develop brand loyalty, you must have a killer product/service and cultivate a relationship with your customers so they trust your brand over competitors.
This can and has been done repeatedly by brands throughout history.
Use Case: Take Apple as an example. The endlessly long queues of fans eagerly waiting for a new iPhone launch since the preceding night. That is a clear reflection of brand advocacy because Apple is known for its obsession with creating quality products for its customers and providing excellent service in terms of technical assistance and support. I'm using a MacBook to write this article. This is brand advocacy.
You can encourage brand advocacy for your products and services, too. You just have to be there for your loyal customers. You must treat them with the utmost respect and care visible through regular assistance, instant grievance redressal, personalized care, etc., to establish your presence among your fanbase.
Search for your brand mentions on WebSignals and look for the positive mentions of your brand. This will help you get a sense of potential brand loyalists.
You may also look for people with large followings (influencers) mentioning your brand and turn them into brand advocates. To nurture relationships with influencers, you may go to the reporting dashboard and look at their followers, karma points, etc. and your brand mentions. 
Contact them, stay in touch, and keep providing them value through your offerings.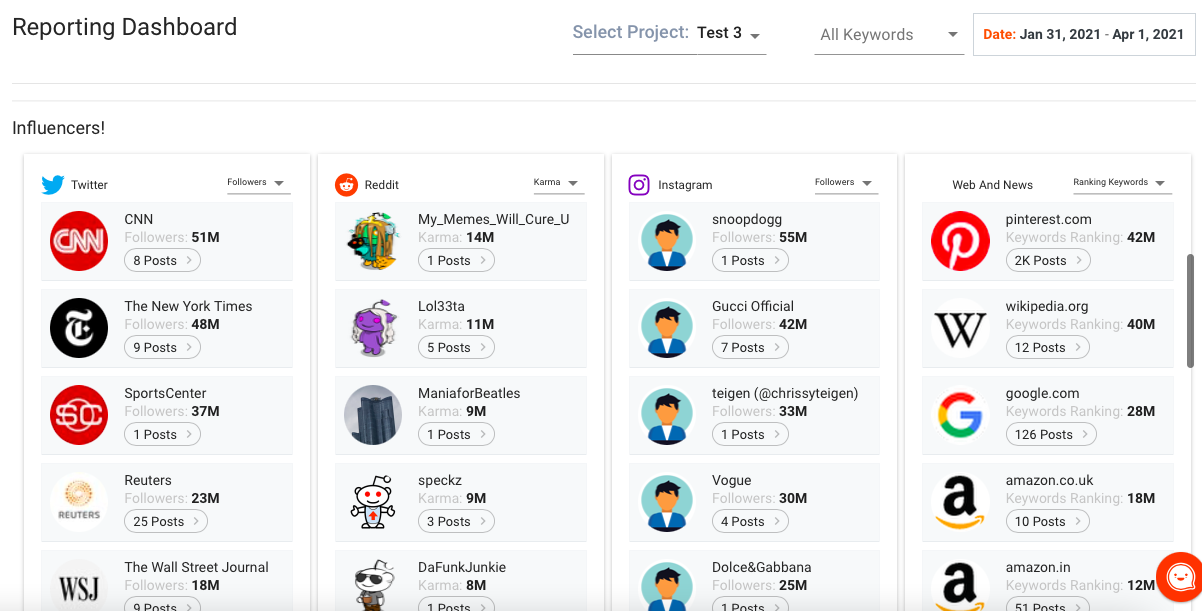 Monitor Competitor's ORM Practices
Looking at your competitors' ORM (Online Reputation Management) practices can be a profoundly knowledgeable experience – it helps gauge your place in the market in terms of reputation among your customers.
We can often be limited in terms of our creativity to respond to our customers. So, we can take inspiration from our competition and modify our ORM strategies.
Monitor your competitors' ORM strategies by studying how they respond to their negative and positive mentions. Also, analyze how they are encouraging brand advocacy.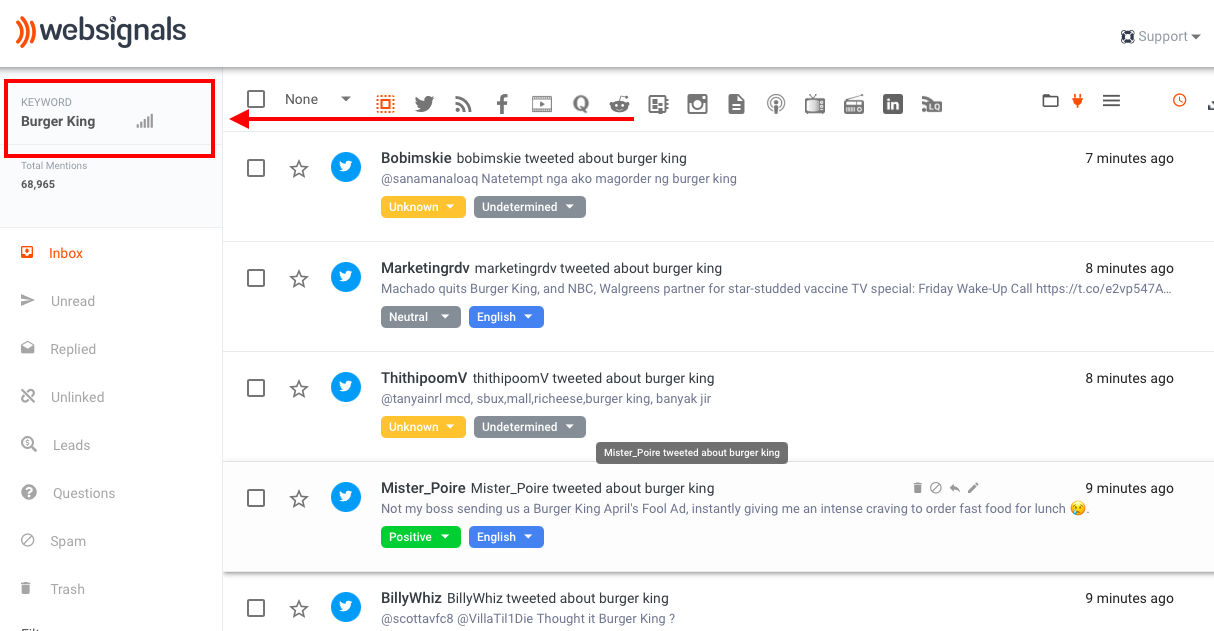 5. Market Research
Essentially, market research is about listening and observing your competitors, customers, and the industry, before making a move into a new venture.
It is standard practice to research and find nuggets of information from the market. It helps make informed decisions regarding your business moves and draft a solid plan of action in terms of your business strategies.
How to Conduct Market Research Using WebSignals?
Monitor Your Competitors Across Multiple Platforms
You may be focusing on one platform and your competitors on another.
It can get complicated real quick to track them over various platforms and social media sites. I mean, it could be done on your own, but frankly, the amount of time it will take is way better spent on focusing on your business results.
WebSignals allows you to monitor, observe and analyze your competitors' online behaviour across multiple platforms to see what approach they are taking in terms of business development, content strategy, influencer marketing campaigns and much more.
Use Case: Search for your competitors' name (yes, multiple), and you'll find a list of results to observe and analyze before starting a new business venture, project or even a campaign.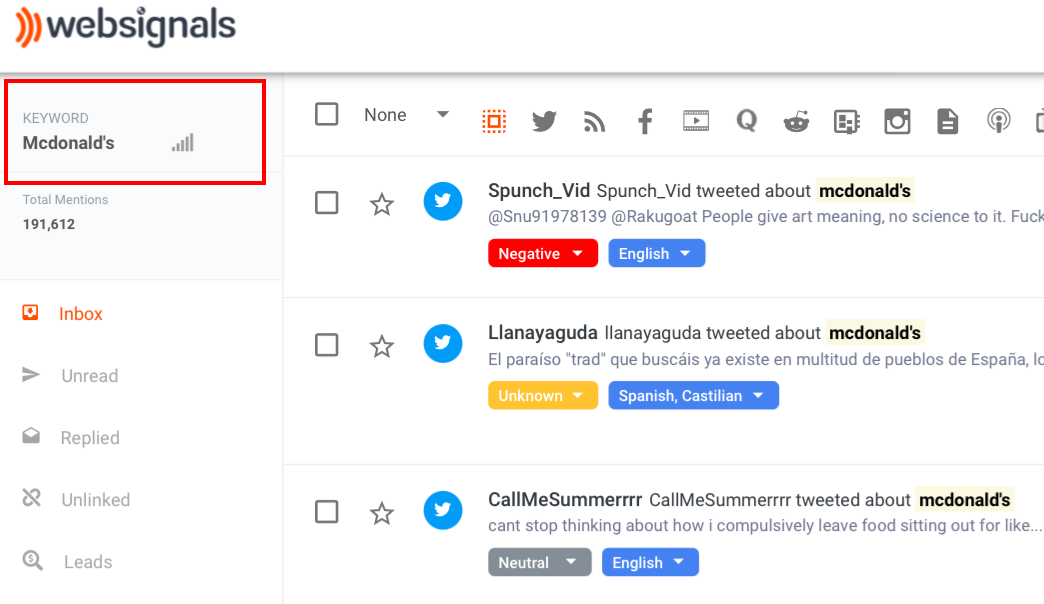 Study the Industry-specific Trends
Suppose you want to delve into a particular industry.
You'd have to study the trends, culture and practices of that industry. This helps you establish yourself as an expert.
Use Case: You can use WebSignals to study the industry-specific trends by searching for your industry, the famous players in it and its customer base, and observe how they interact with each other and how they respond to their peers and customers.
Additionally, you may use the content cloud feature to know about the popularity of your search terms in terms of their mentions.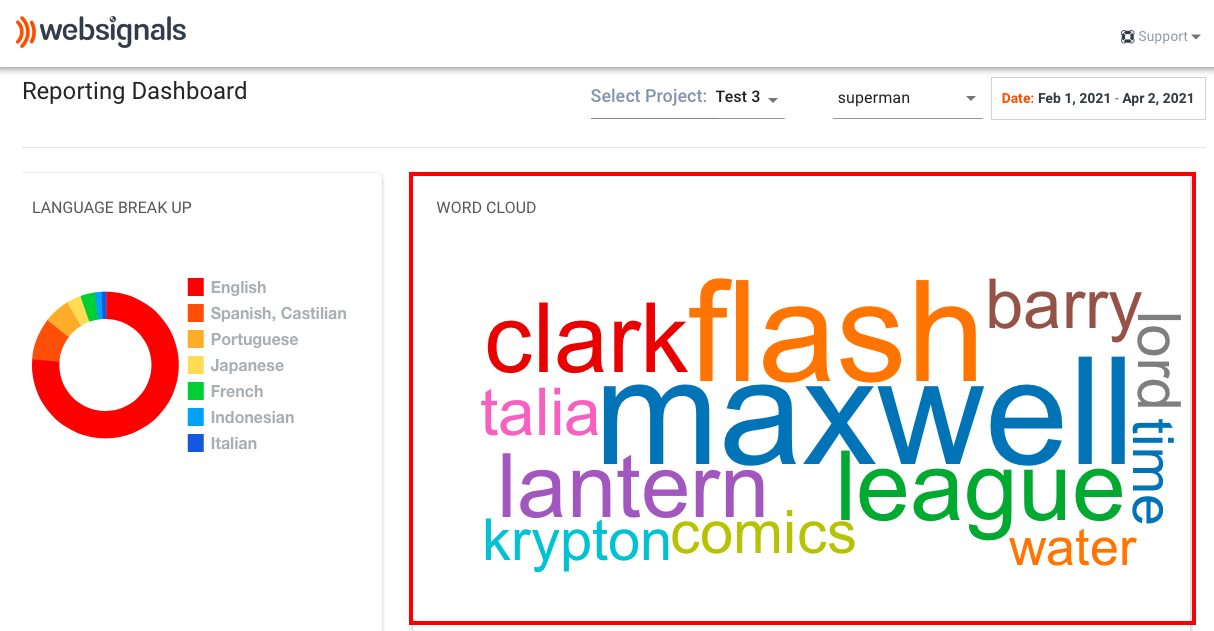 Follow Experts and Industry Leaders
Since market research is one of the cornerstones of the business research process, it becomes imminent to follow the experts' movements in an industry.
Use Case: To find industry leaders on WebSignals, search for your preferred industry. Now go to the reporting dashboard and look at the influencers, i.e. people with the most followers, subscribers, etc. on various social platforms, and keenly observe their movements.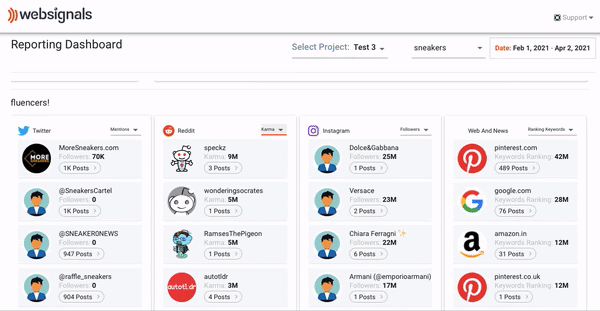 Additionally, you may set up an email alert for daily monitoring of the industry leaders.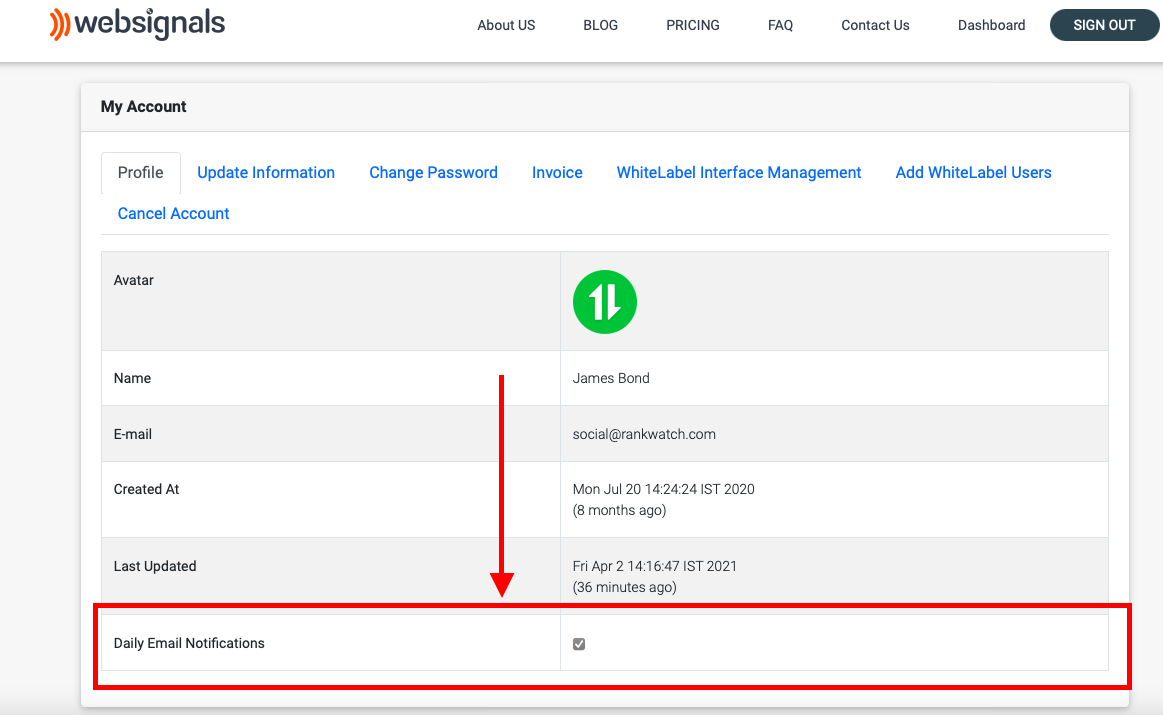 Market Research for Employees
Employees are the limbs of an organization – they do the manual, physical and mental work for an organization.
However, it is often complicated for a business to research and hire employees. Tracking their mentions and movements throughout various platforms is not an easy task.
Here's where WebSignals comes in as a saviour. It allows you to focus on running a profitable brand and leave the heavy lifting of market research on WebSignals.
Use Case: Search for your preferred employees on WebSignals and find out what people are saying about them online.
Alternatively, you may search through various niche and interest groups and find out prospective employees through the things they're passionate about.
For example, if you are looking for prospective employees for your fast-food chain, you may do so by searching for terms like burger lover or fast food lover to search for people who have mentioned these terms.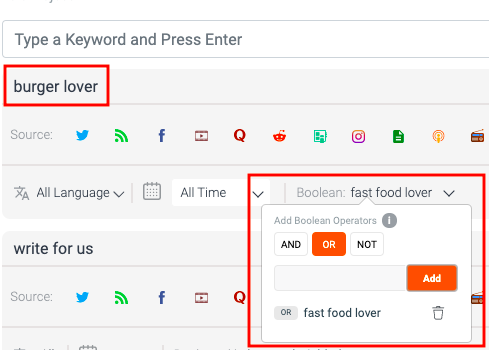 6. Link Building & SEO
Having a good SEO practice is like eating healthy – you have to do it regularly and keep an eye on its quality.
SEO drives a lot of eyeballs to your website without having to spend a single penny if you do it right.
But doing it right is where most get stuck. It is hard to follow the basic, tedious, consistent SEO practices. People often try various tactics to game the search algorithms and ultimately pay the price by having their site blacklisted or banned on search engines.
WebSignals allows you to become an SEO expert by tracking mentions of specific keyword mentions throughout the web.
Link Building is also an essential part of SEO, which shows search engines that our site is worth being pushed upward because many reputable websites link back to it as a source of their online content.
WebSignals can be used as an effective link-building tool for your website since it collects unlinked mentions, i.e. mentions of your search terms that don't link to your website.
You can use these opportunities to create quality backlinks for your website and rank higher on search engines.
Here's how to use WebSignals to build your SEO portfolio legitimately.
How to Find Link Building Opportunities Using WebSignals?
Finding your mentions on the web can be challenging in and of itself. Finding unlinked mentions, well, that's an entirely different game.
You may want to find out who mentioned you when and at what place to get an idea of your online presence and the buzz that your brand has created.
You can find the unlinked mentions of your brand on WebSignals by searching for your brand, the title of the post you are looking for, and clicking on the Unlinked tab. WebSignals will collect and curate your keyword mentions at all places that haven't linked back to your website, article, social media profile, etc.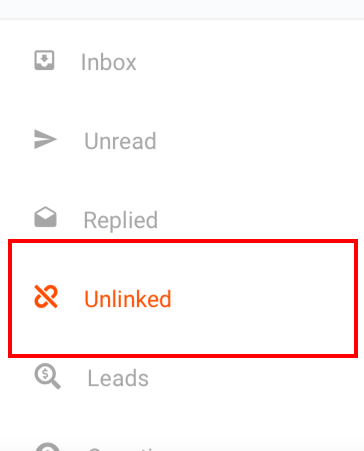 You may ask the authors of such mentions to link back to you if you find them compelling and of good quality.
Seek Guest Posting Opportunities
Guest posting is one of the sure-shot ways to increase your online reputation and build brand awareness.
Since guest posting can lead to huge engagement for your website and social media profiles, a lot of people flock on you to write as guest authors.
You can use WebSignals as a shortcut to access the ever-increasing repository of opportunities to make the best use of your guest-authoring-creative-juices.
Use Case: Search for phrases like write for us, guest author, or writing opportunity using the Boolean operator OR. Use the Boolean operator AND to add a niche of your expertise. Here we have taken SEO as a niche.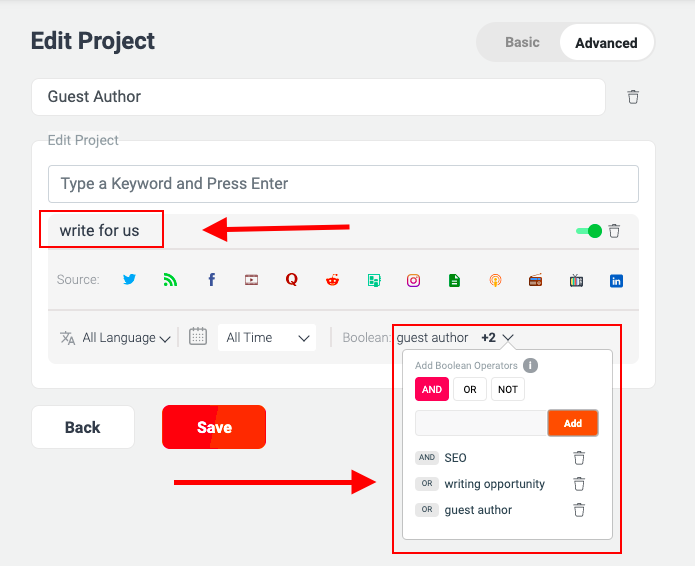 Find out what publications and blogs allow guest authors to post on their platforms, and make the best use of it by providing maximum value to the reader through your writeup.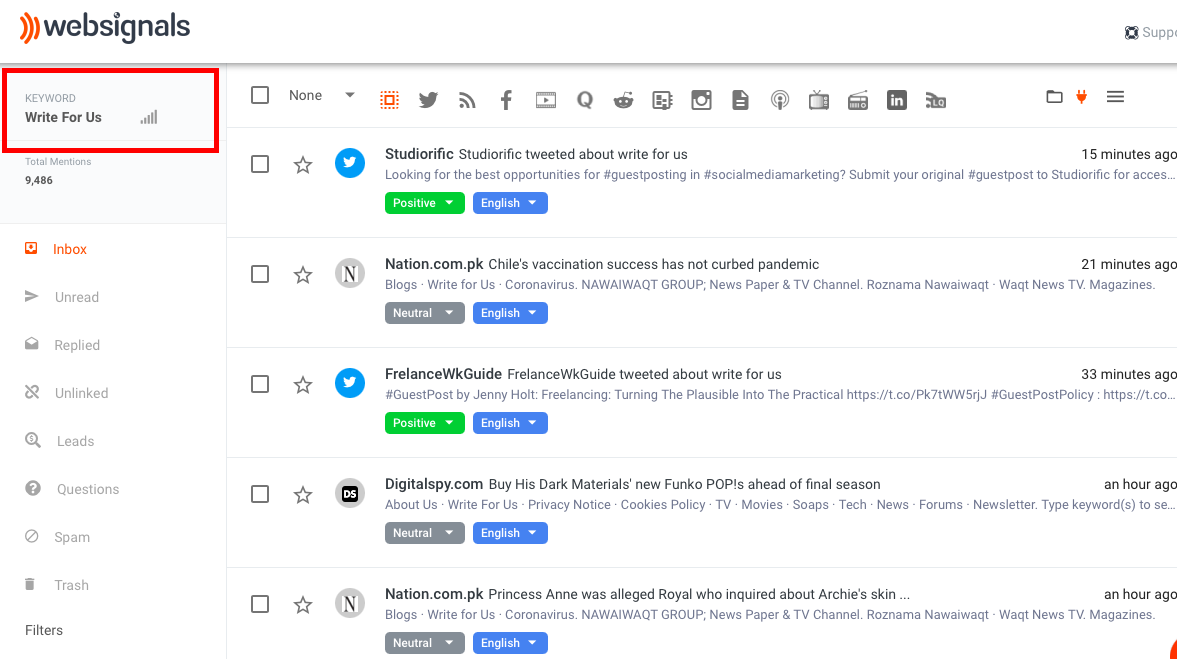 Discover Link Building Opportunities 
Link building is a tried and tested method to grow your search engine reputation.
If you want to grow your business, it helps if various sources, preferably reputable, link back to your website, articles, blogs and social profiles. It tells search engines that your brand is relevant and is worth crawling(checking for?) regularly.
To find the SEO quality on your website, you may use the free website analyzer tool by RankWatch.
Use Case: After you've checked your website for SEO related issues, you may search for your brand, article, etc., and go to the Unlinked section under your search query to find out who hasn't linked back to you and ask them to do that.
Another way to build links using WebSignals is to invite guest writers over to your website, blog, etc. and ask them to write for you by graciously offering them space on your website.
PR Sources Through News influencers
Search engines often rank news articles on the top pages simply because of their relevance to the general user.
Since news articles are ranked very high, the news influencers of particular industries and niche-specific journalists become the go-to sources for getting their information.
News influencers are always on the lookout for interesting content. If you provide them with a compelling enough reason that is contextual to their field of expertise, they'll be more than happy to write an article/review on your product or service.
Use Case: Finding suitable news influencers can be quite a task. Using WebSignals, you can find the most relevant news influencers for your brand by searching for a topic you want to rank higher on, going to the reporting dashboard, and finding the top news influencers writing on that topic.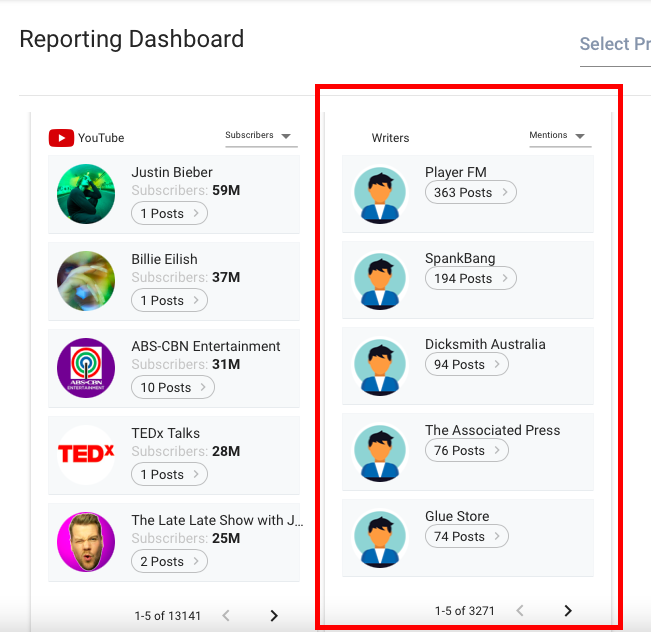 You may also search for a particular industry and see the top news writers in it.
Monitor Backlinks to Your Website
As mentioned above, the importance of backlinks to your website can't be overstated.
Backlinks are like the spine of your website. They help support your website by providing consistent traffic and brand awareness through redirects and search queries.
Use Case: You may monitor backlinks to your website through WebSignals by searching for your website name (URL) and look at the websites, articles, etc., linking back to your website.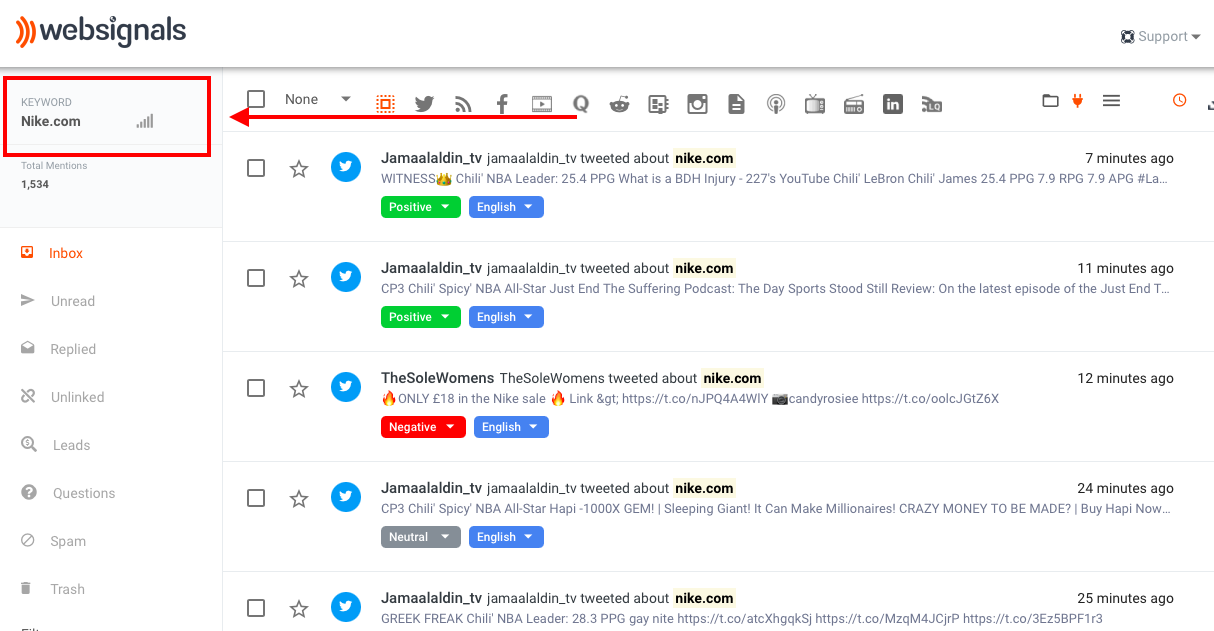 You can check the quality of your backlinks through the free backlink checker tool by RankWatch.
It is a commonly known SEO fact that building a good reputation online in terms of expertise, authority and trust in a particular niche helps you beget a good search engine placing as well.
If you write on the topics you have knowledge about and invite over writers that have expertise in their domains, you will naturally, over time, build a favourable position in terms of search engine rankings.
Use Case: Use WebSignals to build your online reputation by searching for your field of interest/expertise (sneakers in this case), looking at the mentions related to your keyword, observing trends and patterns, and coming up with your own article that piques your readers' interest.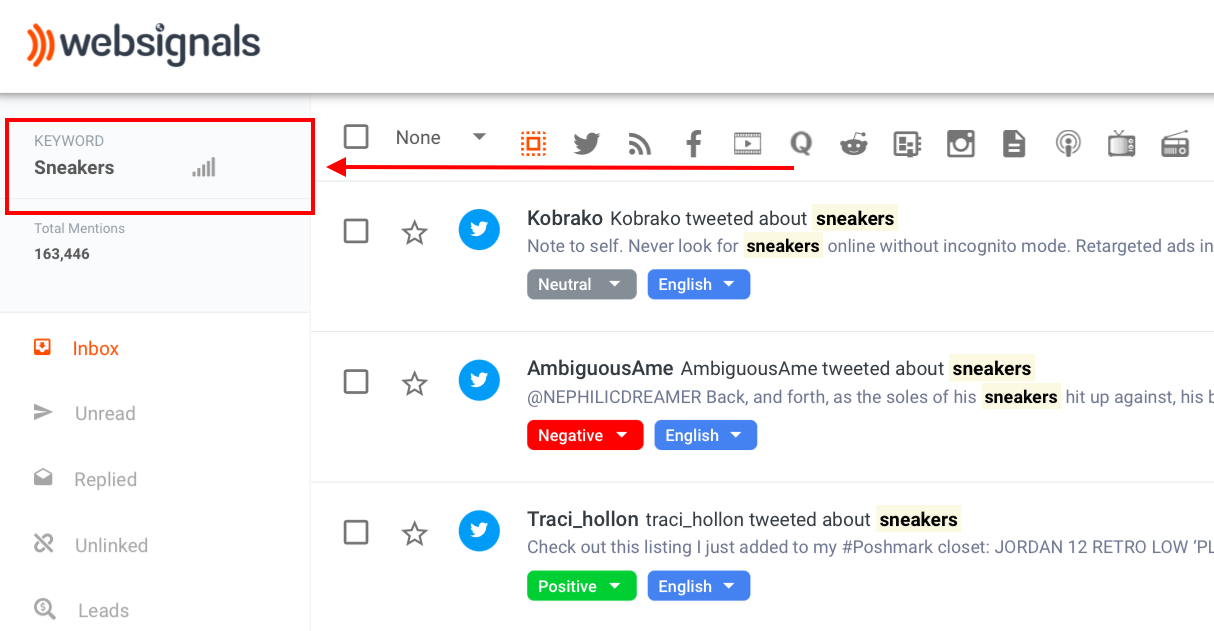 7. Influencer Marketing
Since the dawn of social media sites like Instagram, Facebook, Twitter, etc., influencers have been having a huge impact on their users' consumption and buying patterns.
An industry worth over $9.7 billion, influencer marketing is the name of the game in the modern internet era.
Where there's attention, there's potential business.
However, finding the right influencers for your brand can be a bit tricky sometimes.
Here's how to find the right influencers for your marketing campaign.
How to Find Influencers Using WebSignals?
Brand Related Influencers
Search for the popular brands in your industry, and look at the influencers being hired by them.
You may choose to follow such influencers over time to see what brands they associate with, the popularity of such campaigns, and how they drive results in terms of return on investment to their clients.
Use Case: To find influencers suitable for your brand on WebSignals, search for brands (McDonald's, here) that match your needs and aspirations, go to the reporting dashboard, and look for the influencers mentioning them and running their campaigns.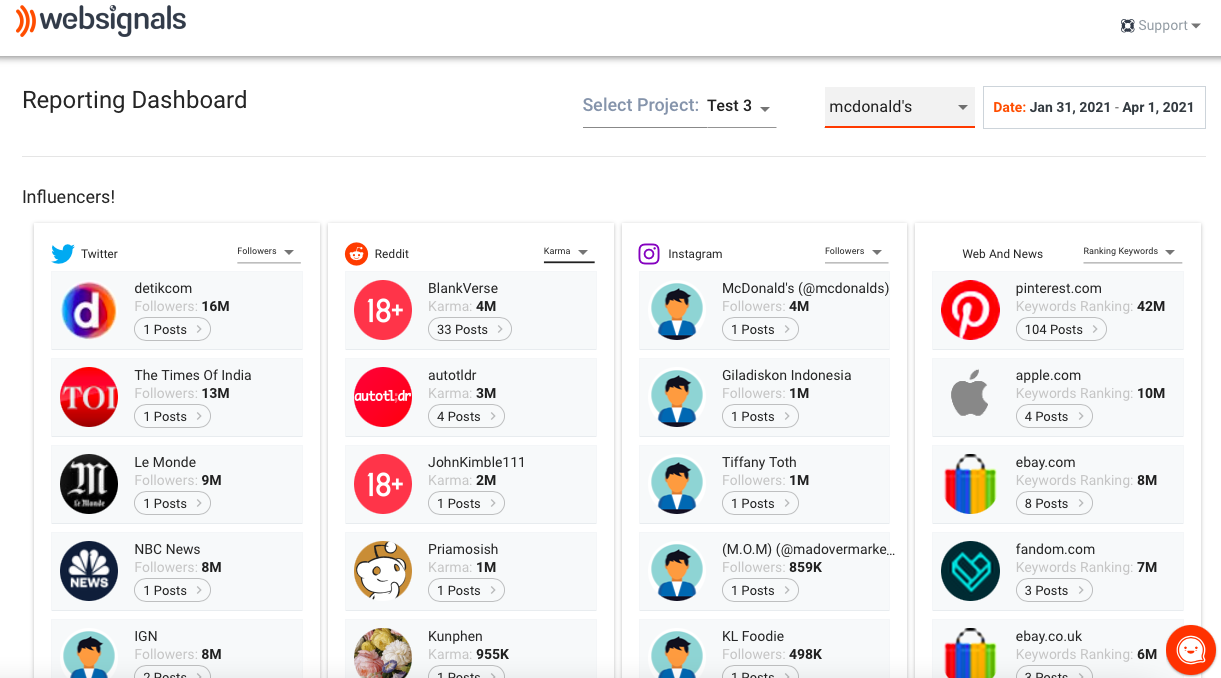 Industry-specific Influencers
To succeed in an industry, it is beneficial to find influencers who have a good reputation.
By niche-ing down, you make sure that you reach your target audience in the most efficient way possible, bringing you the best return per impression on your campaigns.
Finding such influencers is often an arduous task since Instagram doesn't allow you to sort influencers based on industries or niches. Here's where WebSignals can help.
Use Case: To find suitable influencers in an industry on WebSignals, simply look for the industry (SEO, for instance) you want to target or the topics and trends specific to that industry, go to the reporting dashboard and find out the best influencers for your campaigns.
Here we have targeted influencers mentioning the SEO niche.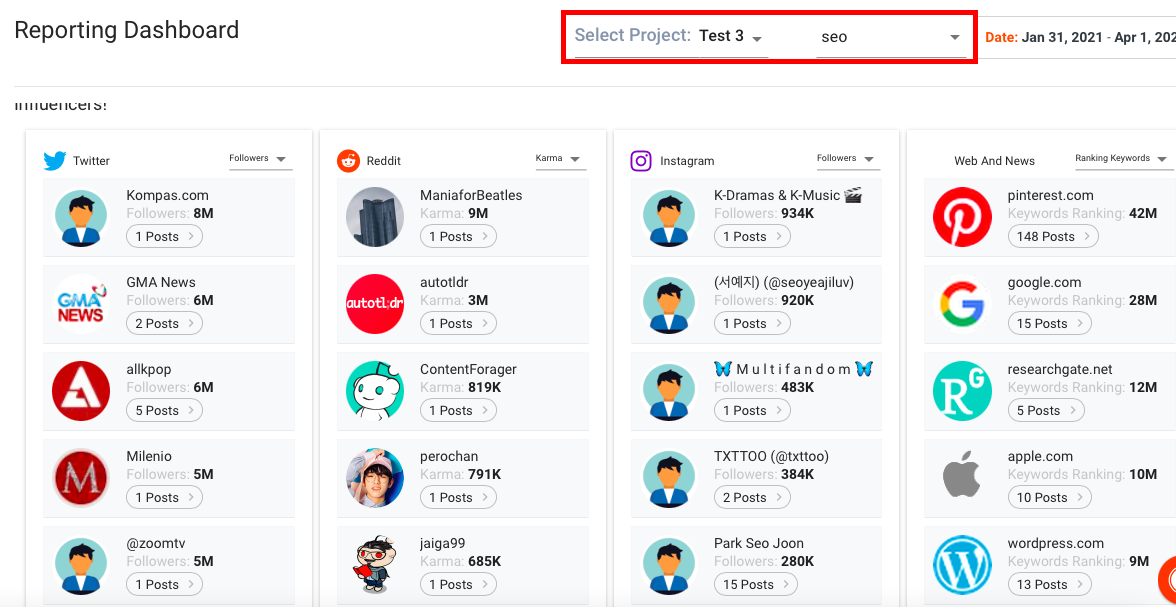 Note: The reason we're mentioning this feature, again and again, shows how flexibly it can be used in various campaigns – it is that good.
Monitor Influencers of Your Competitors
Your competition often provides you with an additional way to look at your own influencer campaigns.
Maybe a competitor has chosen influencer A over B, or suddenly they are hiring influencers of a seemingly unrelated industry.
Use Case: To find them in WebSignals, search for your competitor(s), go to the reporting dashboard to find suitable influencers mentioning them, and devise an informed strategy for your influencer campaigns.
Because of the influx of content creators on various social media sites, it might be unfruitful for you to choose mega influencers for your campaigns because they often do not get enough engagement on their profiles to justify the investment made on them.
Another thing that happens with big influencers is that they boast a general audience, which might not bode well in terms of your business results.
Micro-influencers on Instagram boast an average engagement rate of 3.86%, which drops to 1.21% for big influencers – a dip of almost 68%, a considerable measurement by any standard.
Use Case: To observe the micro-influencers related to your brand, search for a suitable keyword, go to the reporting dashboard (this is probably second nature to you by now), and find the micro-influencers covering those topics.
Observe the Trends in Influencer Marketing
Why are your competitors choosing one influencer over another? Why are suddenly vegan influencers being mentioned much more than usual (i.e. high in demand)?
Grab a snack, sit in front of your laptop (or desktop), and look for popular trends on WebSignals to find out what the big and micro-influencers are saying about various topics multiple influencers are converging on some of them. This might indicate new trends brewing in the industry.
Additionally, you may take a look at the Word Cloud, which contains a comprehensive collection of trending topics around your search query.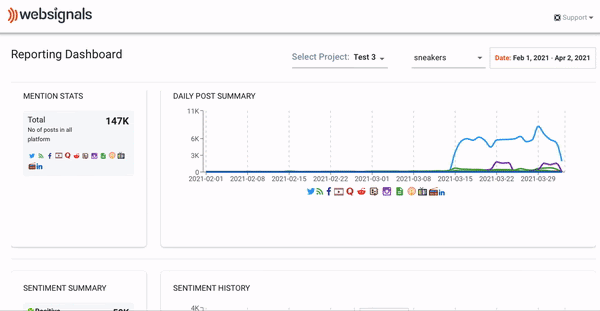 8. Lead Generation
Leads are like fodder for your business. 
You could work with your old clients indefinitely, but you have to keep finding leads for your business to grow.
How to find suitable leads, however, can often be a cumbersome process. From the vast repository of sources on the web, categorizing and picking them can feel like trying to find a needle in a haystack.
With its advanced lead generation features, WebSignals provides you with a never-ending supply of leads.
How to Find Leads Using WebSignals?
Discovering Potential Leads for Your Brand
Leads are in abundance on the internet, the biggest aggregator of information on the planet. Now, what leads you need for your business might be different from someone else's suitable leads.
Use Case: Search for a topic or a niche suitable for your brand, and select 'Leads' from under your search query. This will list out anyone who has either posted or shown buying interest for your search term.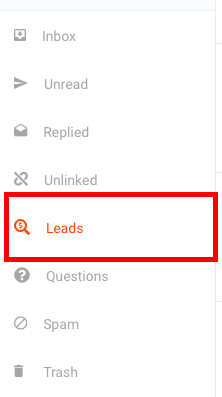 Secret Technique: You may also use the Leads feature to swoop potential leads of your competitors. Search for their name, and if a user shows buying interest, go on and offer them something of value to bring them to your product/service and viola, you got a customer! If your competition isn't using their leads, are they actually even theirs?
PS: Just keep this one among us, promise?
Snooping Potential Leads of Your Competitors
Your competitors can help you out by providing you with a seemingly never-ending supply of prospects looking to buy a similar product to yours.
Snooping on your competitors can be a brilliant strategy to gain new customers since they often have a similar taste to yours.
Simply look for your competitors on WebSignals and find out the best leads for them, and try and turn them into active clients/customers for your brand.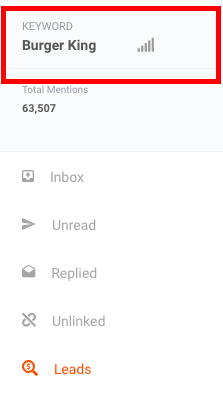 Find Industry-specific Leads
Finding relevant leads is not just a marketing gimmick. It is efficient for a business in terms of numbers to select leads in a specific industry.
Being focused on an industry helps you streamline the research and execution process for your business strategy.
Use Case: To look for such leads on WebSignals, search the industry you're interested in, go to Leads, and you'll be welcomed with a targeted lead set. This feature alone can go up to hundreds of dollars per lead in terms of collecting leads from a specific industry, and just look at how easily you can find them on WebSignals. Just a few clicks of keys and a mouse (or a touchpad :P)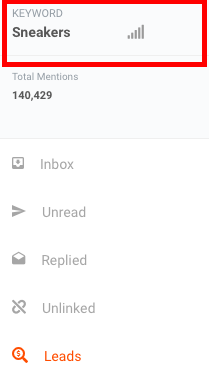 Acquire Targeted Leads with Boolean
More leads, yes, please.
If you're not satisfied enough with the sheer number and quality of leads offered by WebSignals, you can go a step further to make use of Boolean operators for your lead discovery process.
Use Case: To find targeted leads, search for a suitable keyword and use the AND and OR operators to find targeted and more compatible leads for your business.
Here we have targeted customers mentioning McDonald's and New York to look for potential customers for our fast-food chain.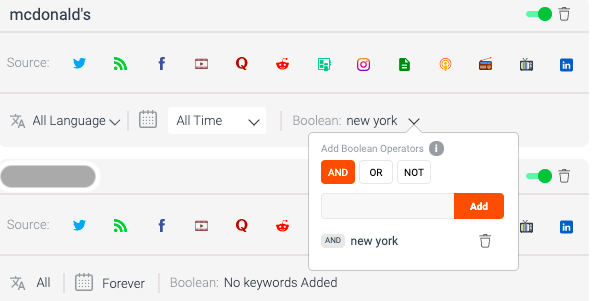 9. Content Ideas & Marketing
Content is the grey matter for businesses. 
It provides us with an array of multi-faceted ideas, some of which might be impractical. Still, the cost of putting them out is minimal, so the potential benefits reaped from open and well-executed content ideation and marketing strategy can lead a business to a level of unprecedented growth.
Let's take the example of Buzzfeed. They have built a media-publishing-conglomerate in a few years. People flock to them because they create interesting and often interactive content. They use GIFs and brainstorm several unique ideas for their articles to create a virality factor for their content. And viral it goes. 
According to their traffic update, just in March 2020, the cumulative views on their owned and operated websites was more than 1.2 Billion (That's a one with way too many zeroes).
How to Find Content Ideas Using WebSignals?
Track Mentions of Industry Relevant Keywords
Since you are running a business, it is often advisable to look around the industry for content ideas.
But that can often be a hefty task because there's an overwhelming amount of content on the internet, with more being added every hour. However, WebSignals can help you extract valuable content ideas in a jiffy.
All you have to do is create alerts for industry-relevant keywords and study the mentions. You can focus on both positive and negative mentions along with questions.
Use Case: Here, we have set up an alert for burger chains and their mentions throughout the web – across 122+ million mentions.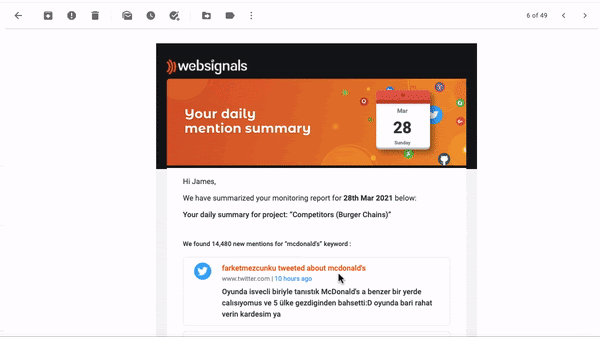 Track Experts Talking Shop
People who know what they're talking about can be a goldmine of information and have valuable knowledge to impart; therefore, it is advisable to follow industry experts and learn from them. 
Furthermore, these experts have a massive following and enough resources to conduct research and predict your industry's future.
Now, how would you find them?
Use Case: After creating alerts for industry-relevant keywords, you can access the Reporting Dashboard to find the relevant authors.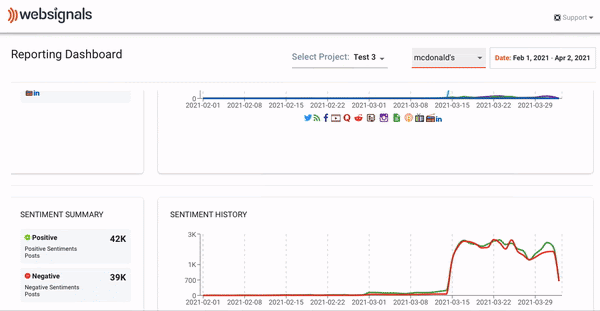 Monitor Mentions of Your Competitors
Would any point be complete without mentioning our dear competitors at least once or twice?
It's one thing to monitor our industry. It often becomes another game to monitor what is being said about our competitors and how competitors respond to them. Maybe they are using creative and clever ways to respond to their customers and use them as content marketing ideas.
Use Case: Take Wendy's, for example. It often responds to its customers in a frank and cheerful tone and trolls its competitors, which brings a smile to our faces, brand awareness, and ultimately business for Wendy's.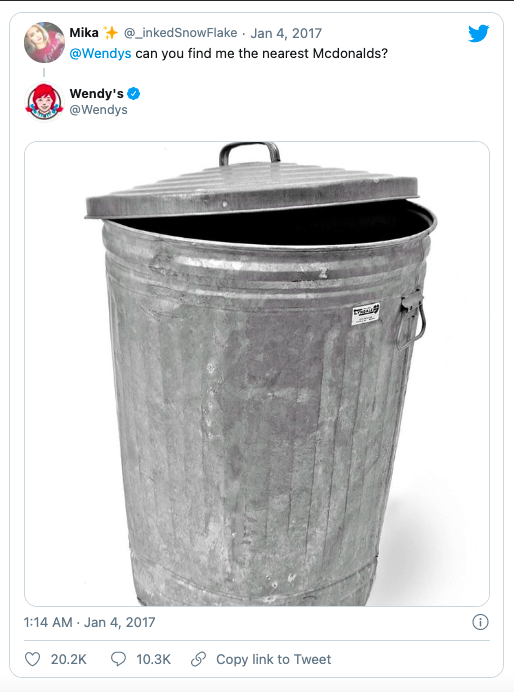 Source: Unmetric Blog
Monitoring competitors' mentions is simple on WebSignals. Just search for their name and see what people are saying about them, and maybe sneak in a fun (and snarky) comment replying to a post of your competitor or a customer mentioning their brand. Or go to a tweet of theirs and use your humour and charm to spread your brand's name.
How to do Content Marketing Using WebSignals?
Who Is Sharing Your Content?
Sharing a content piece is like a digital handshake – it bears no cost to your brand and creates a free networking opportunity.
Treat your sharers like you treat yourself. They will share what you've posted if it strikes a personal chord with them. So try to be as relatable as possible if you want to create shareable content.
Done with your viral post? Now you may want to see who among the internet diaspora are sharing your content. WebSignals to the rescue, again. Just search for your content title, and you'll be greeted with the millions (let's make it billions) of posts, articles and websites that have shared your content piece.
Use Case: Find the right influencers for your content marketing ideas by going to the reporting dashboard and choosing among a list of suitable influencers.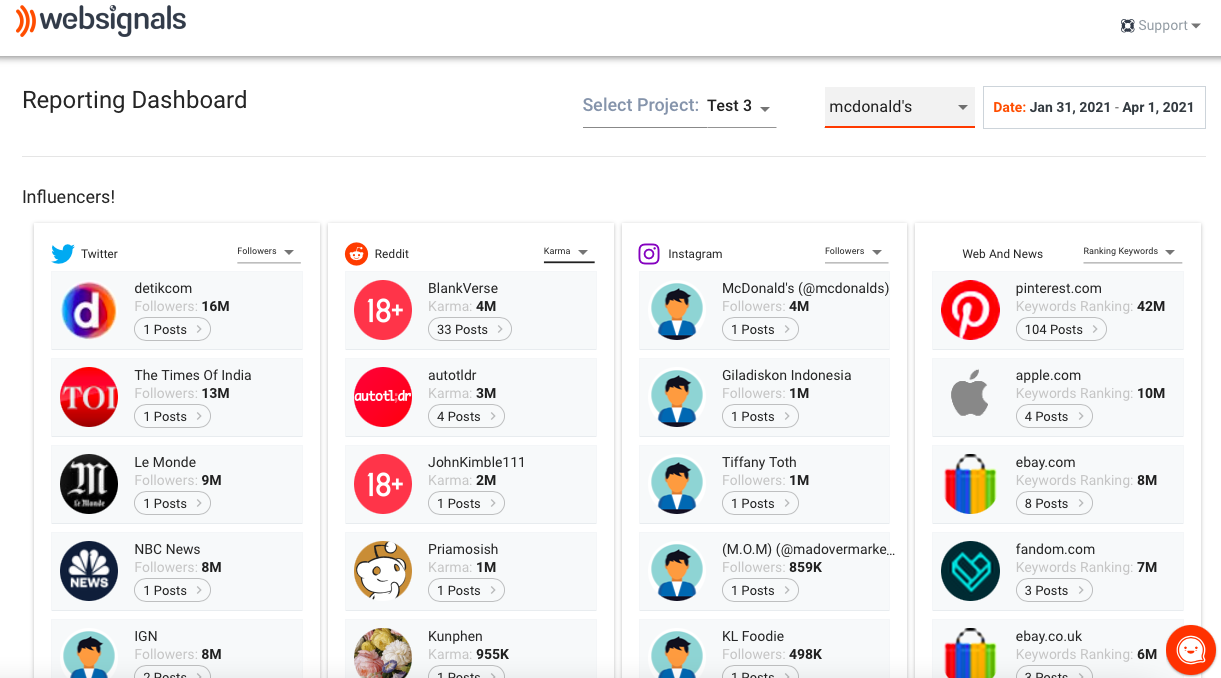 Collaborate with Content Creators
Now that you've created your viral masterpiece and want to continue on that journey, you may want to work with a fashion influencer who'd like your content.
Use Case: Search for your content title on WebSignals and find out the right influencer for your brand by going to the reporting dashboard and see which influencer suits your brand's values.
Following your gut is one way to create and make viral content. But when it is combined with ongoing trends, then it makes for the perfect shareable content.
You may choose to follow a trend, but with a twist unique to your way of creativity.
Use Case: If the season of Grammys is going on, and you are a comedian, you can search for Grammys, and you'll be presented with a host of replies to derive juicy humour from and use that as one of your performance pieces.
To find more such trends, go to the reporting dashboard, scroll down, and you'll see popular topics related to your search as a word cloud.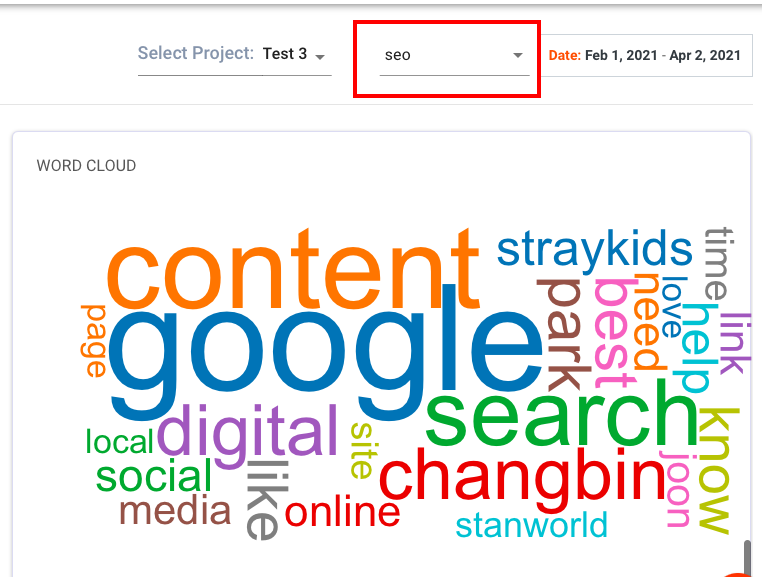 10. Plagiarism Detection
Keeping your content airtight in terms of copyright protection is a far gone thought in the internet era. 
However, there are certain ethical and moral grounds that we adhere to before taking inspiration from something and not just blatantly copy it. 
We ask for the author's permission to use their article and credit them too. In most cases, we link back to the original article/website. 
But not everyone is willing to abide by such basic ethics. Some lazy writers copy your content without permission, pass it off as their own, and push all your efforts down the drain.
To put a stop to that, you can use WebSignals to detect plagiarism.
How to Detect Plagiarism Using WebSignals?
A brand registers trademarked terms/phrases because they want to use them and create a unique brand identity exclusively.
Use Case: Create an alert for your trademarked term/phrase on WebSignals, exclude your website and other supplementary sources using Boolean operators and discover all the unauthorized users of your trademarked term/phrase.
Now, you can take legal actions against them.
Detect Copyright Infringement
Whatever is published on the web is legally protected as copyrighted content accredited to the publisher.
Use Case: You can find people/websites who've copied your content by setting up alerts for its excerpts or title, etc. on WebSignals, and regularly monitor your content.
Build A Unique Brand Identity
Now, you are aware of your content's copies and have reached out to those lazy writers to redact their content, and you can naturally emerge as an original, unique and expert figure for your brand.
A unique brand identity helps drive more traffic to your website while raking in numbers to your bank account as well.
WebSignals helps you here as well – since you now know what everyone else is doing, you can go on and differentiate your brand. 
Use Case: Search for your favourite topics (sneakers in this case), observe your trends and mentions, and find unique ideas to cut through the clutter.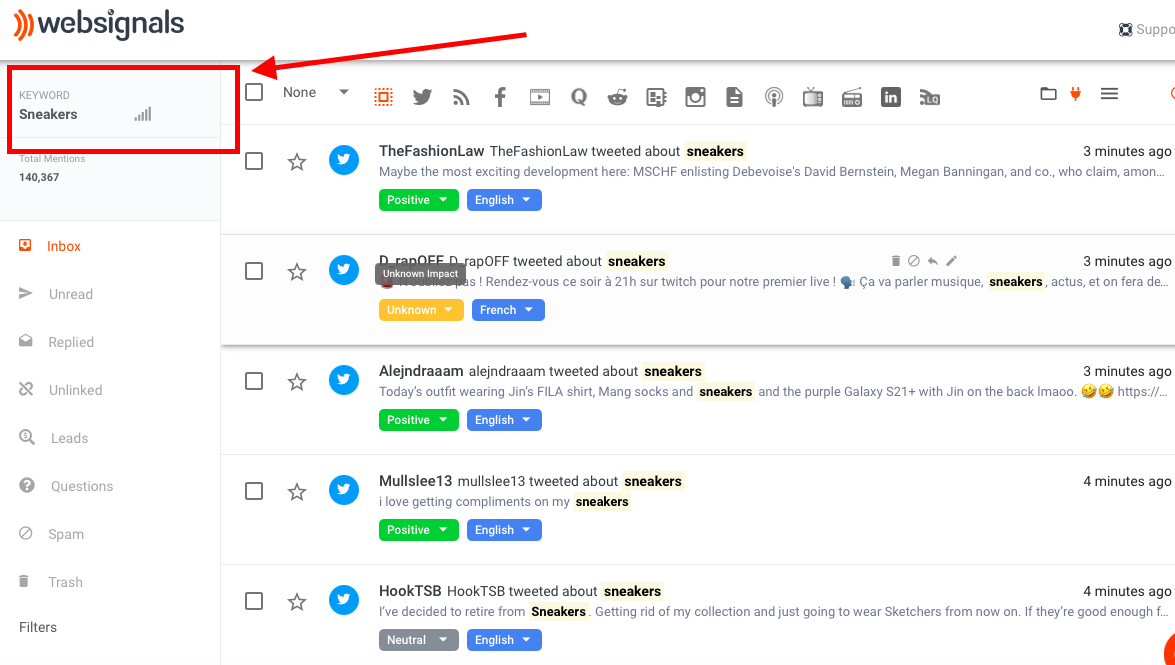 11. Informed Purchase Decisions
Why do our customers buy our product? What do they like about it? And, how can we increase its sales?
Asking basic questions like these allows us to help our customers make informed purchase decisions because they might be asking us these questions.
Informed customers will keep coming back because our product/service will genuinely make their lives better or grow their business.
WebSignals gives each user the power to make informed decisions.
How to Make Informed Purchase Decisions Using WebSignals?
A customer chooses to buy a product or service after thorough research because the internet provides access to such information right at our fingertips.
WebSignals helps you compare different competitors, industries, ideas, products, services, niches, sectors, etc. Frankly, the list can be endless.
Use Case: If you want to purchase a mobile phone, just search for your favourite brands, go to the reporting dashboard, and you'll be welcomed with a supply of mentions in the form of reviews, critiques, queries and conclusions. Observe them and decide between buying a product.

12. Start Your Own Business
If you are looking to work independently as a branding or ORM expert, why don't you start your own business? WebSignals will help you out.
How Can You Start Your Own Business Using WebSignals?
Many report creation tools in the market don't allow you to use your own brand name while generating reports for your clients.
Well, WebSignals isn't one of them – it lets you create reports in your own name, which contain a summary of mentions of your client, including:
Influencers

Daily Post

Sentiment History

Sentiment Summary

Language Breakup

Word Cloud (trending topics)
Use Case 1: Create a white-label report, go to Create Report, select your project name, upload your brand's logo, and viola, your report is ready. Here you'll find social media reach, mentions by source, and the influencers mentioning a brand.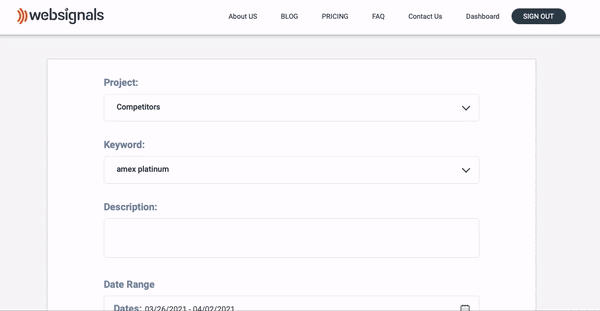 Use Case 2: You may also use WebSignals as a back-end for brand monitoring and social tracking services on your website – with your own brand name.
To know how to use WebSignals for white label services on your website, you may refer to this video.
Go on, pass yourself as an expert. We won't take credit for that. 😉
We won't mind if you do give us credit, though.
Online Reputation Management
Every business wants to have a good reputation online because, ultimately, that's where the customer's eyes are looking.
ORM can be a very fruitful career option as more and more businesses are becoming aware of the beast that is the internet.
You may use WebSignals for providing ORM services to your clients by taking action on the use cases mentioned above. Become an expert at them – present your skills as a value proposition to your prospective clients.
Conclusion
WebSignals is one of the strongest and most agile web monitoring tools in the market, which is equally helpful for large and small businesses.
You may call it a compact Swiss Army Knife – it assists in a wide variety of uses, from web monitoring, market research and SEO assistance to lead generation, customer service and even white-label reporting. What more could you ask for?
You no longer have to spend hundreds on different tools because now you have ONE that does it all for you, that too at a competitive price.
ONE tool to rule them all – WebSignals.