A full-funnel marketing strategy encapsulates all the stages of a successful marketing plan, ie. Awareness, Consideration, and Conversion. 
The influencer marketing funnel today has become a very mainstream choice for enterprises, start-ups, and digital agencies. This is because it accomplishes the end-to-end full-funnel marketing deployment with an unimaginable brand awareness, credibility, and purchase ratio.
This kind of marketing is driven by a high degree of audience engagement, potentially at a global scale across wide geographical boundaries. 
To harness the capability of social influencers and drive traffic to your website or social media pages, influencer marketing is the best effort on the table. Once they are on the site, you can approach them via call-to-action and ask them to leave their email with product and service requirements. 
Thanks to full-funnel influencer marketing, brands can increase their reach and offer customers an unparalleled experience. It is a true win-win scenario as not only do they get positive word-of-mouth and brand recognition, but they also effectively target the right audience and deliver real value to them. 
So let's talk about how full-funnel influencer marketing can drive a full-funnel content strategy and how a digital tool like WebSignals can get you to attain the market vision. 
How influencer marketing can drive a full-funnel content strategy
There are a few fundamental benefits of a full-funnel influencer marketing campaign that can drive phenomenal business responses and unimaginable Return of Investment (ROI). With innumerable key traits and functionalities, you can conventionally build up an easy path for audience engagement and influence them to purchase your products or services. 
Let's put them down in a chronological pattern:
Brand Performance Evaluation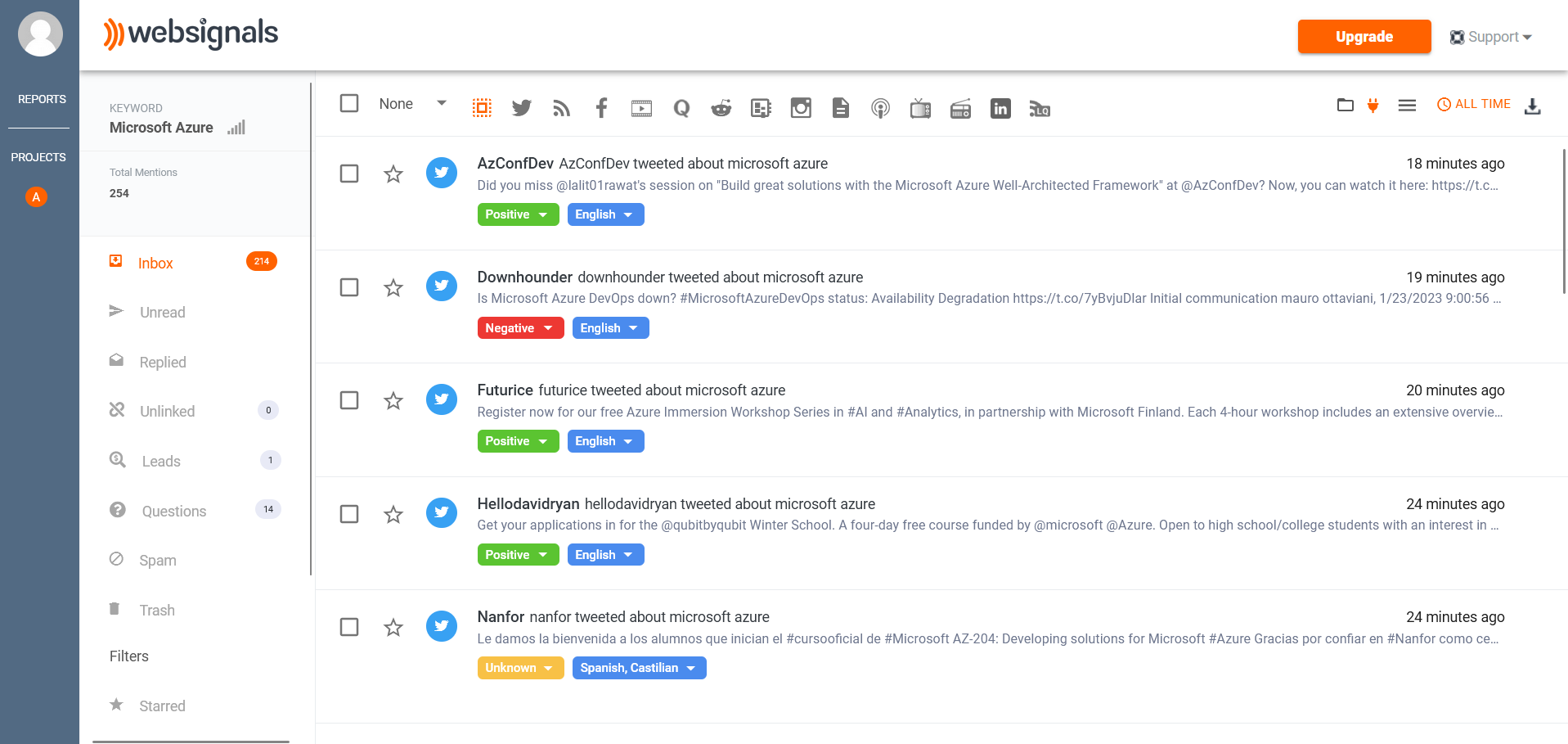 Monitoring the performance of the brand is the key factor to influencer content marketing funnel success. The stronger the image of the brand, the better will be the acceptance of your product and services in the market.
WebSignals, with the feature of Brand Monitoring, evaluates more than 122 million sources from all digital, media, and website channels and tracks your brand mentions in a single go. This will eventually lead to the growth of your business with higher market value and revenue generation. 
How to Initiate the Brand Monitoring Feature in WebSignals?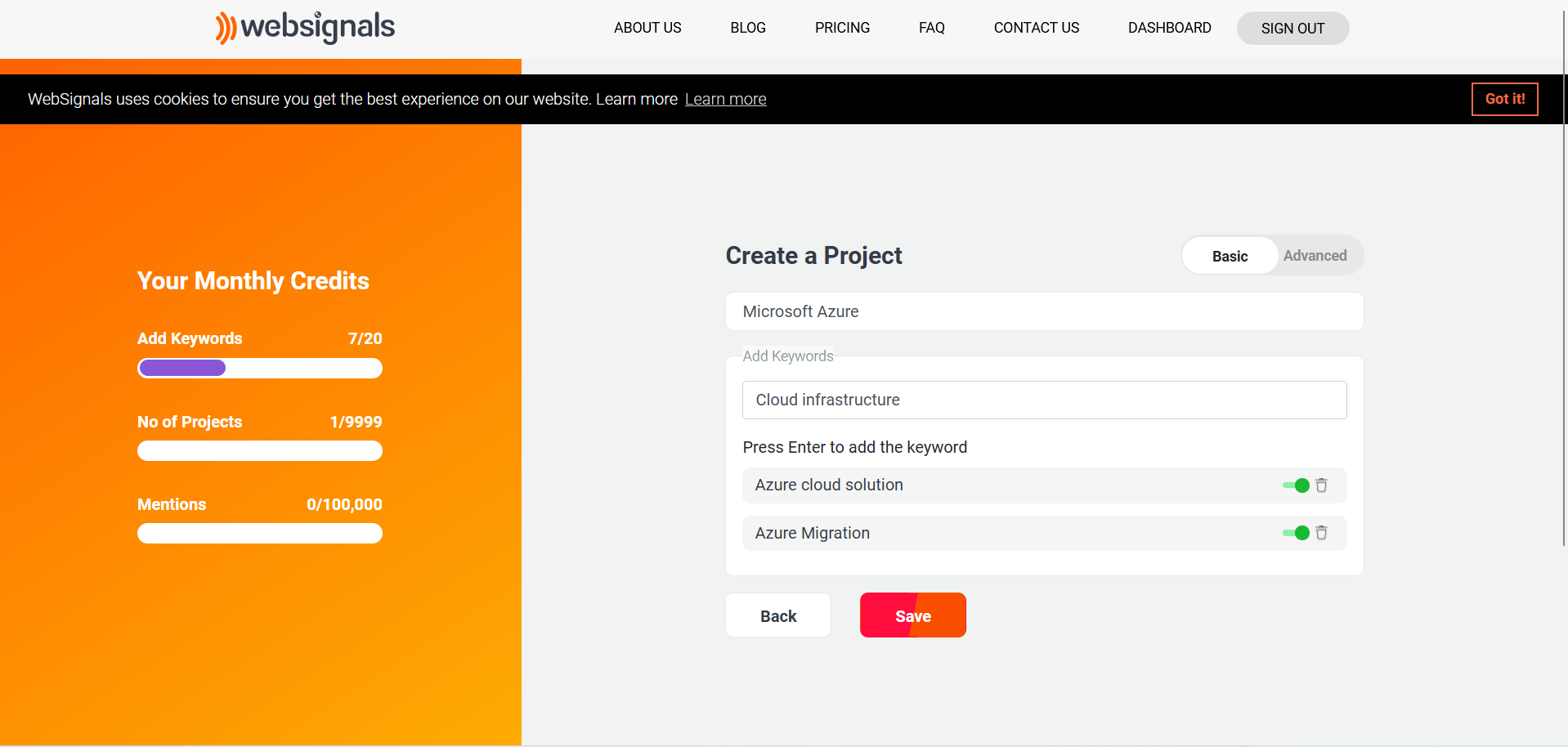 Step 1: Sign up or register to WebSignals
Step 2: On "Create Project," add the name of your project
Step 3: Add Keywords and press enter
Step 4: Click Save
Competitor Analysis
An intelligent business is one that regularly tracks the movement and operational competency of its competitors. To figure out every growing opportunity and use them for business success, you can use the competitor analysis trait of WebSignals and improve the business as per your feasibility. So, uplift your business growth with this immune booster feature of WebSignals.
How to Use the Competitor Intelligence Feature of WebSignals?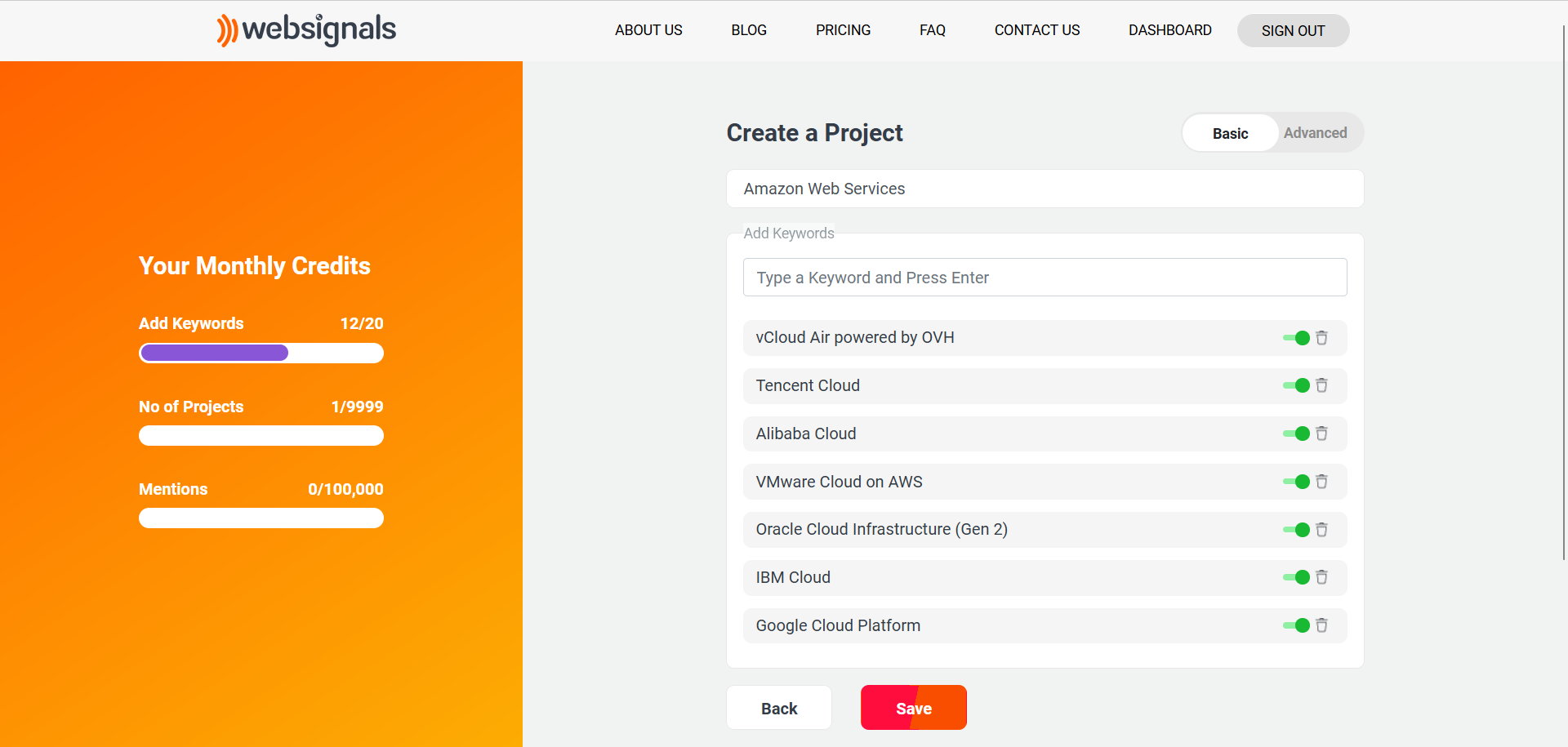 Step 1: Set the project with the competitor's brand name
Step 2: Click "Save" to submit the project
Step 3: On the very next page, you will get to evaluate your competitors
Hence, you can further analyze their positive mentions, negative mentions, online reputation, strategies, and respective influencers. On top of that, you will also get to monitor their C-level executive and social media performance. As soon as you get to the next page after submitting the project, WebSignals will start crawling the web in a structured algorithm.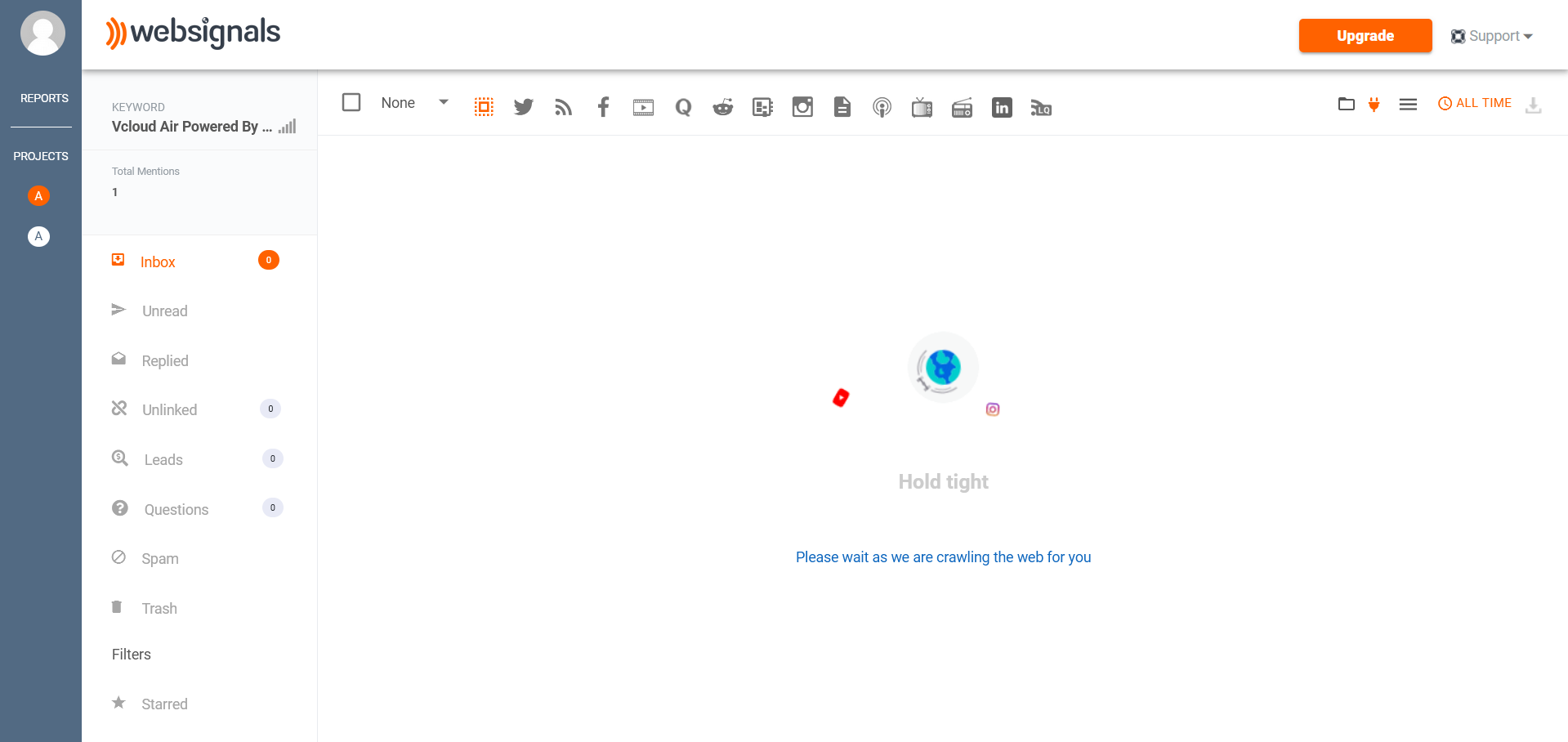 Brand PR Management
Brand reputation management is an essential feature of influencer marketing. WebSignals facilitates the best brand reputation with integral features available online for free and subscribed users. In order to get a holistic PR management of your brand, this tool has proven its effectiveness and gained many accolades from SEO service providers at a global scale. 
How WebSignals Escalates Brand Reputation?
Constant supervision and brand monitoring

Handle negative responses 

Respond positive mentions

Uplift brand advocacy
Conduct Best Market Research 
Without getting optimum research in the market, you cannot get your business to the peak of the influencer marketing niche. Fundamentally market research encapsulates observing and analyzing the customers and competitors. It not only offers you actionable insights but allows you to make informed decisions across the complete process of influencer marketing.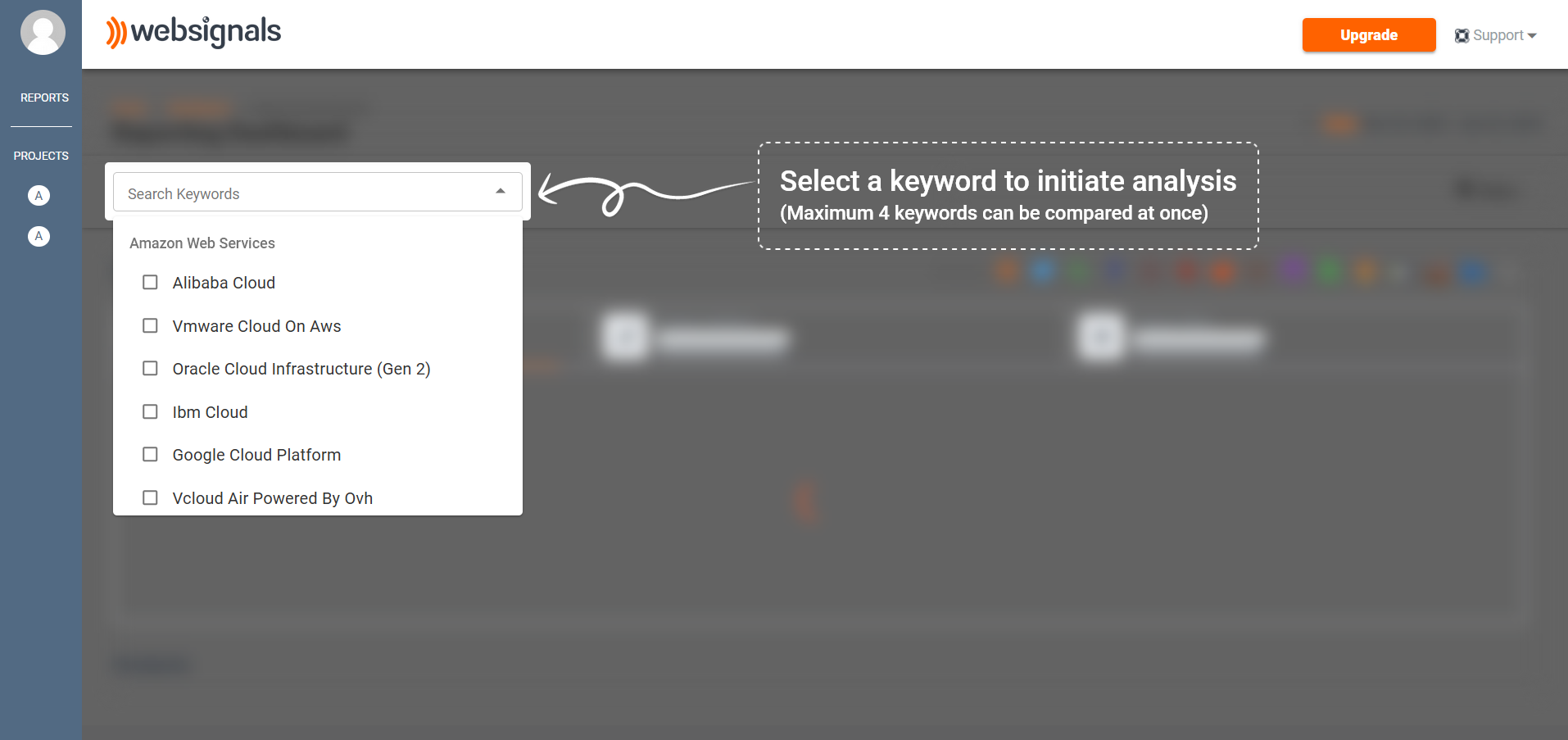 How to Conduct Proper Market Research?
Analyze competitors from multiple platforms

Incorporate the industry-specific trends 

Replicate the industry leaders
Strategize Influencer Marketing
Strategizing the entire influencer marketing plan should be the utmost requirement of any enterprise. Most successful businesses across the globe rely on the successful strategy of influencer marketing. On top of that, the rise of social media platforms like Facebook, Instagram, LinkedIn, and Twitter drives the best of it.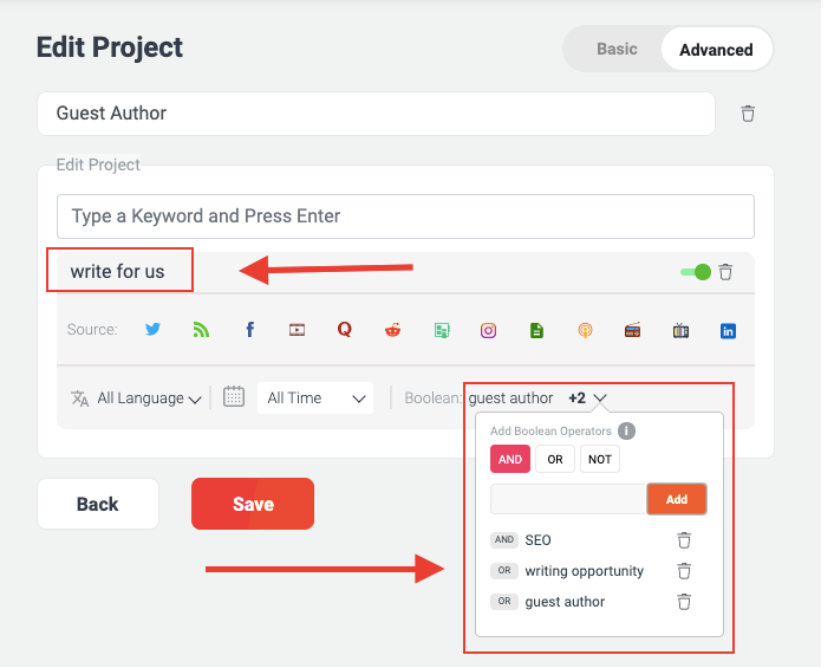 How to Strategize Influencer Marketing?
Find influencers related to brands

Get industry-specific influencers 

Find your competitor influencers 

Find micro and macro influencers
Why is it important for influencers to keep their content relevant?
If an influencer puts up relevant content as per the target audience of your niche, half the marketing job gets completed from your end. This leverages your brand with an added advantage to get an easy connection with your customer base. Thus, it is the sole responsibility of the influencers to create relevant content that would invariably resonate with the target audience and influence them to try the respective products and services. 
Why are Influencers Essential for Content Distribution?
According to a recent study by BuzzSumo, 66% of consumers trust influencer marketing over brand marketing. One of the biggest challenges in influencer marketing is figuring out how to drive traffic and engagement back to your website. This is possible when you subscribe to social media SEO software solutions like WebSignals. 
With a full-funnel content strategy, you can ensure that your influencers are incentivized to produce high-quality content for your brand and offer enough value to help them reach their audience wherever they go. 
Wrapping Up: Choose the Best tool like WebSignals
Before getting into the horizon of influencer marketing, you must get accustomed to a social media management and analysis tool that would help you to execute your marketing strategy in the best way possible.
A software solution like WebSignals is extensively being used across the globe from small-sized companies to giant enterprises. This offers you an end-to-end marketing solution when it comes to any social media platform. 
As a full-fledged social media SEO tool, WebSignals deploys the capabilities like:
Lead generation 

Identify Plagiarism

Influence Purchase Decision

Deploy Content Marketing Ideas

Suitable for both B2B and B2C business
Hope this information is useful to you!
Happy Reading!