In this comparative study, we are putting WebSignals, Brand24, Mention, Awario, and Brand Mentions to test.
So, if you want an in-depth analysis of the leading web monitoring tools based on performance and pricing, you've come to the right place.
For this comparative study, we compiled 5 keywords from Google Trends and monitored their mentions on all these web monitoring tools.
| | | |
| --- | --- | --- |
| S.No. | Keyword | Search Volume |
| 1 | Chadwick Boseman | 10M+ |
| 2 | Black Lives Matter | 1M+ |
| 3 | Kanye West | 1M+ |
| 4 | Pranab Mukherjee | 100K+ |
| 5 | Will Smith | 100K+ |
Why Use A Web Monitoring Tool?
Gone are the days when posting on social media was enough for brand awareness and engagement. 
New technologies have empowered brands to uncover valuable insights and create data-driven posts for higher engagement and conversions. Of such technologies, web monitoring tools are a blessing in disguise; they have catapulted brands to the next level of managing brand reputation and engagement online.
Here's why you should use a web monitoring tool:
Know your audience, understand what they want, and then deliver it.
Monitor mentions across the web and create action plans accordingly.
Identify influencers and approach them for promotion.
Discover potential customers and target them after studying the mentions.
Monitor your competitors and target their missed opportunities.
Effectively manage customer satisfaction and ensure a positive brand reputation.
Introducing The Competitors
WebSignals
WebSignals is a premium web monitoring tool for social listening and 360° brand monitoring with powerful analytics that matters for a business. You can track your brand mentions in real-time and your competitors' as well. With the massive database of WebSignals, developing your brand's online reputation becomes a cakewalk. 
WebSignals is brought to you by the same folks who created RankWatch – a popular SEO tool with features like Site Audit, Rank Tracking, Competitor Analysis, Backlink Analysis, Keyword Research, and White Label Reporting.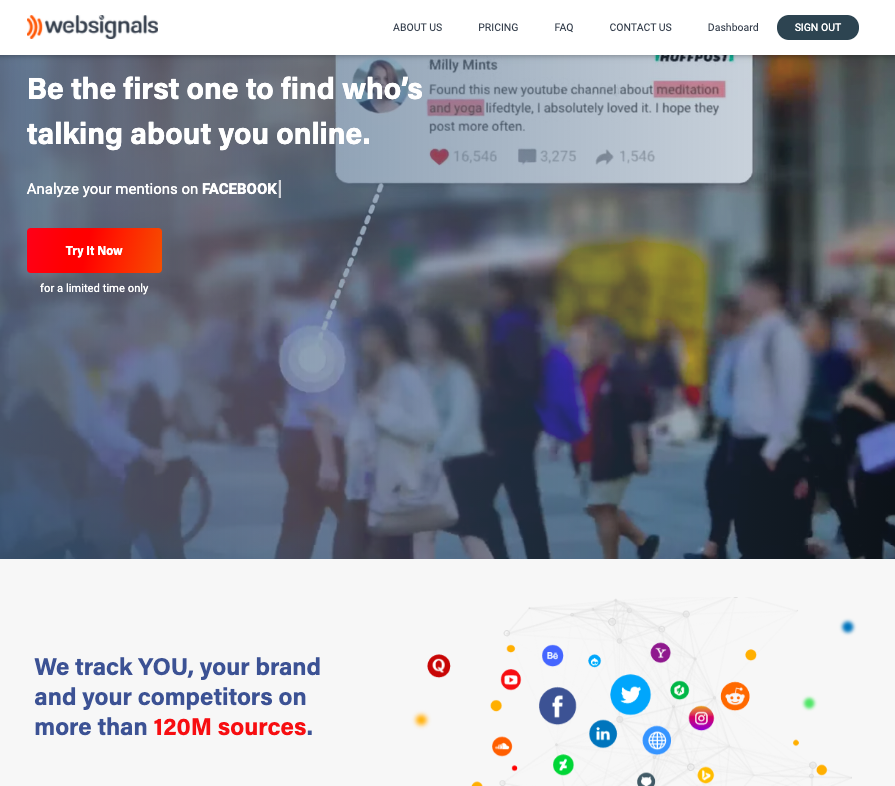 Awario
Awario is another popular social listening tool that allows you to gather insights on their customers and competitors. A bootstrapped company headquartered in Belarus has developed Awario. It started as a little pet project from the company that brought you SEO PowerSuite.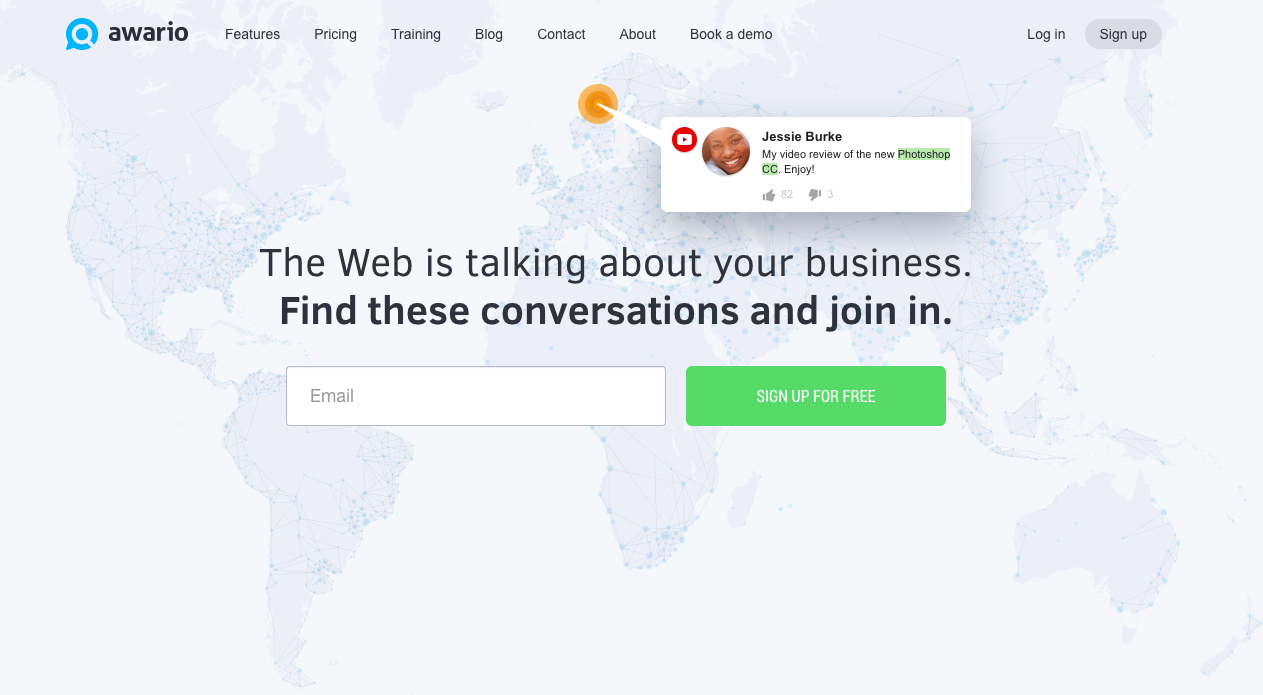 Brand24
Brand24 is a social media monitoring tool with analytics powerful enough to make monitoring easy and convenient. It monitors your brand mentions on the internet and analyzes your entered keywords on numerous levels that can be useful to your digital marketing strategy.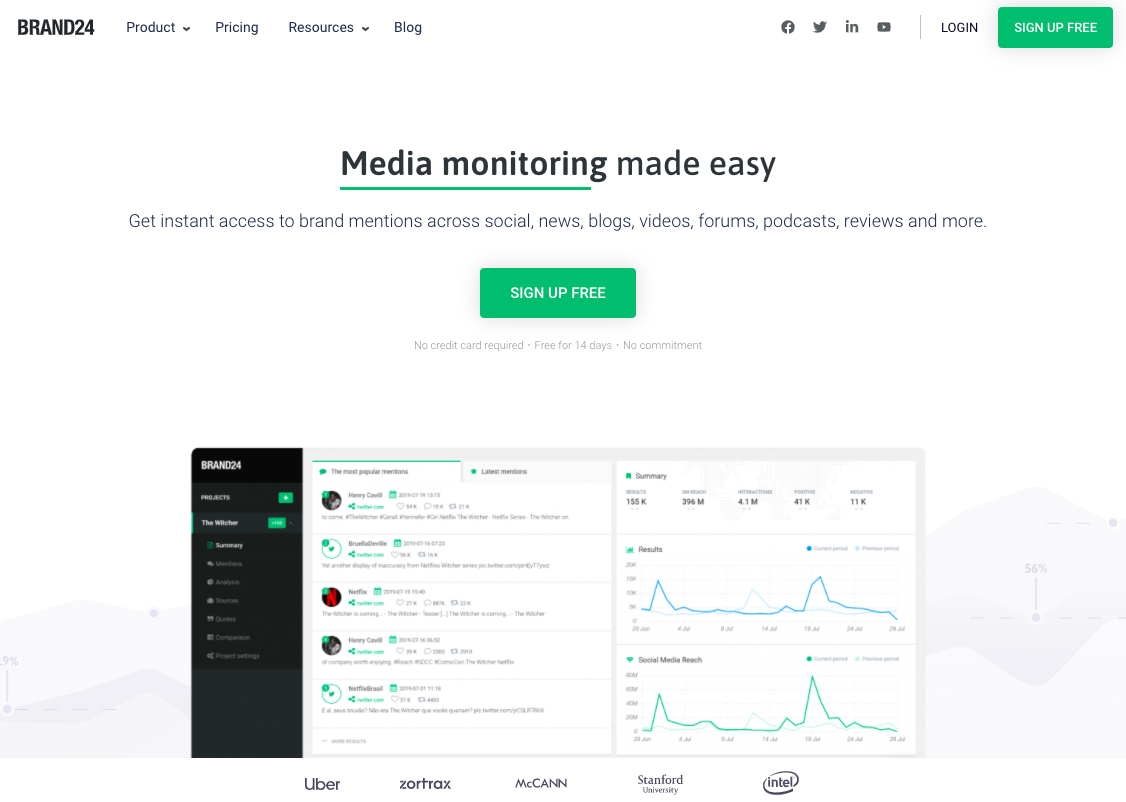 Mention
Use Mention to leverage social media and web monitoring to increase your brand awareness. Monitoring your brand mentions and competitors through Mention allows you to compare and analyze online conversations and ideate your content with valuable insights.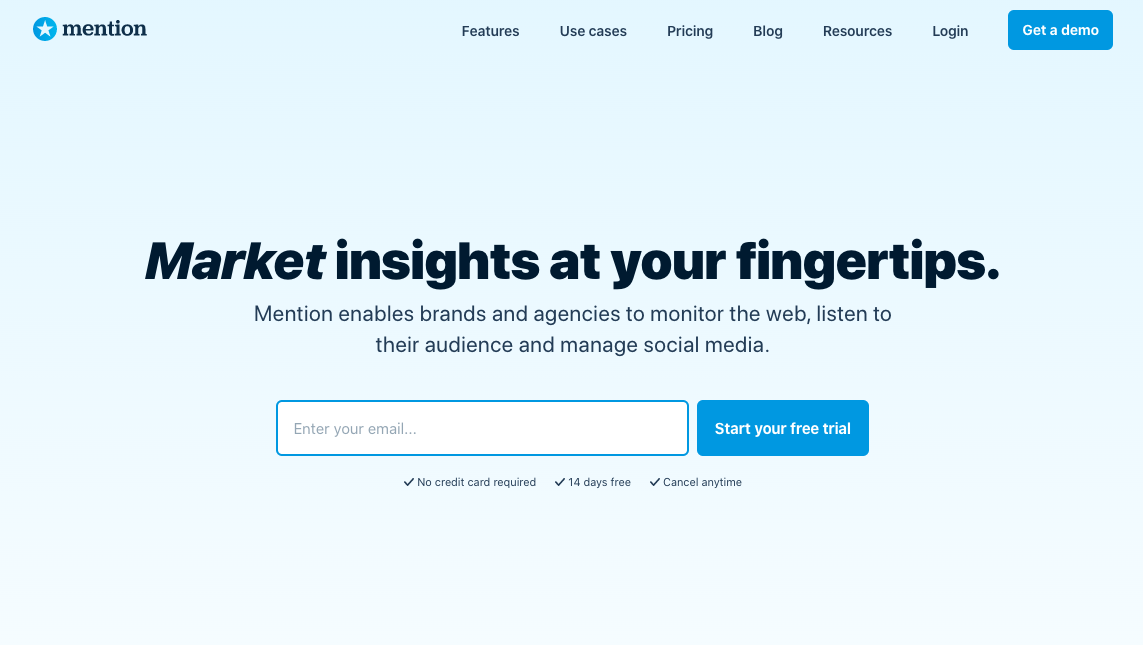 Brand Mentions
Brand Mentions is a web monitoring tool that commits to dig every corner of the internet to find all the relevant mentions about anyone or anything. It also allows you to spy on your competitors and help improve your online reputation through sentiment analysis of the mentions.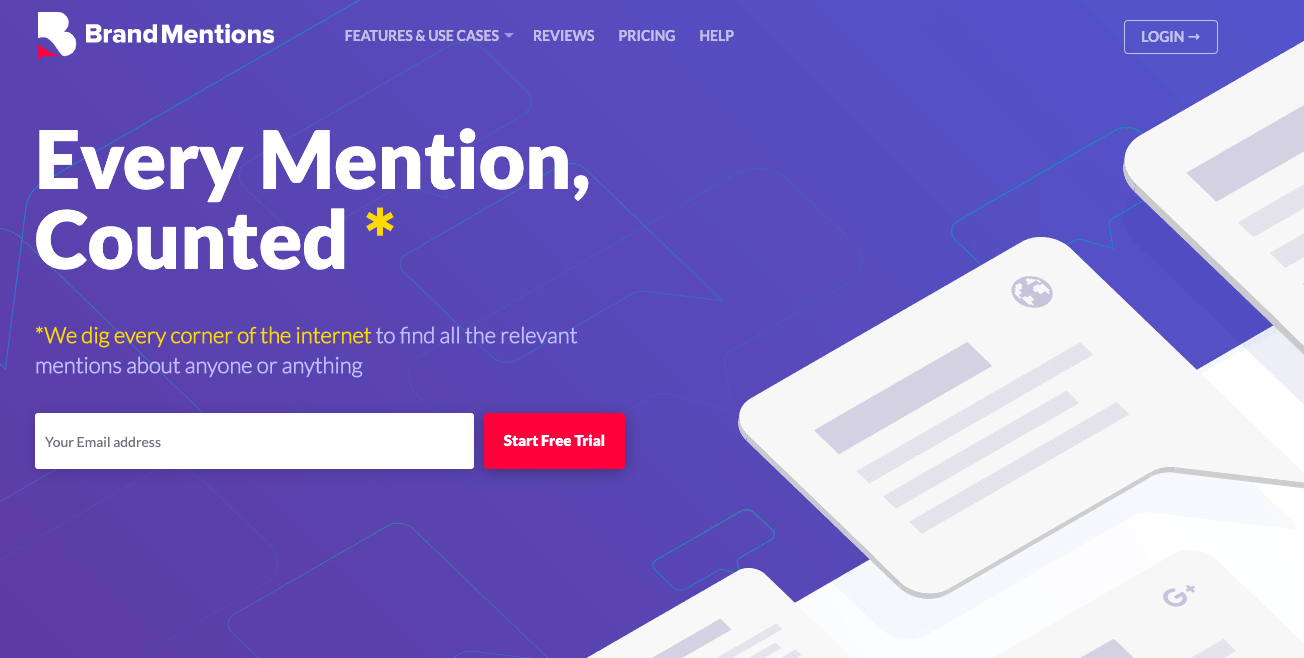 Before You Start…
Let me clarify certain things about this comparative study for better understanding:
Each social media monitoring tool updates the mentions in real-time that's why the numbers might differ from aggregated mentions.
The Mention tool does not provide the total number of mentions for its categories. So, to extract the numbers for each category, you need to export the report and filter it accordingly; therefore, you will find limited screenshots of the Mention tool in this study.
The number of mentions is hyperlinked to the associated tool's screenshot.
You will not find screenshots of 'Social Media Mentions' because it's a compilation of Instagram, Facebook, and Twitter.
The 'All-Time' is collected for each tool except Mention because its historical data is limited to 'Last 30 Days'.
WebSignals v/s Brand24 v/s Mention v/s Awario v/s Brand Mentions
Here's what we found after analyzing the mentions for 5 keywords through the leading web monitoring tools:
Total Mentions Collected by Web Monitoring Tools
We tracked the mentions of the keywords across the web monitoring tools to check which tool leads in terms of data.
*Click on the numbers next to each tool to find screenshots of the collected mentions.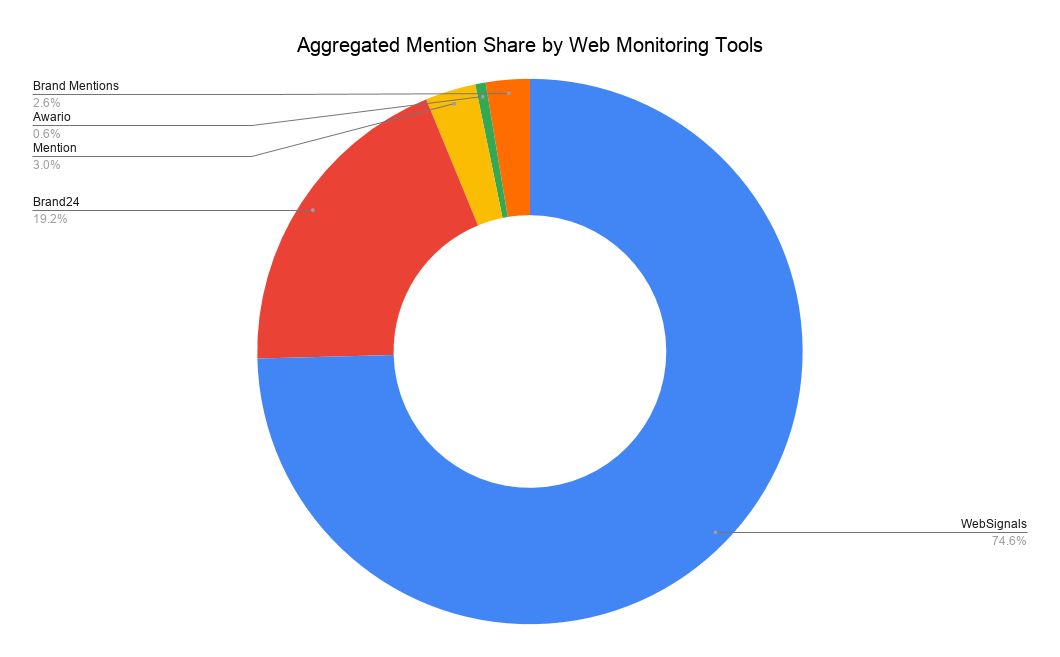 Based on our study, WebSignals' database surpassed that of Brand24, Mention, Awario, and Brand Mentions with more than 2,60,000 mentions.
WebSignals account for 74.6% of all the mentions collected for the five keywords. The second biggest database is that of Brand24 with 19.2%. It is followed by Mention, Brand Mentions, and Awario, which account for 3%, 2.6%, and 0.6% respectively.
Now, let's study each tool based on their performance.
Performance
Social Media
Social media is a trendsetter that can majorly influence a brand's online reputation and trust. Facebook, Instagram, and Twitter are the leading social media platforms with a combined user base of 3.9 billion. Tracking mentions on such platforms makes managing and positively developing your online reputation efficient.
All these brand monitoring tools track social media platforms for mentions, but WebSignals ruled out the rest with its massive database for each keyword. Mention and Brand Mentions closely competed with each other -Mention tracked more mentions for 3 keywords (Chadwick Boseman, Kanye West, and Pranab Mukherjee) and Brand Mentions tracked more for the other 2 (Black Lives Matter and Will Smith).
| | | | | | |
| --- | --- | --- | --- | --- | --- |
|   | WebSignals | Brand24 | Mention | Awario | Brand Mentions |
| Chadwick Boseman |  27,544 | 225 | 5,511 |  93 | 2,708 |
| Black Lives Matter |  108,219 | 138 | 426 | 207 | 1,930 |
| Kanye West | 46,602 | 142 | 3,328 | 110 | 2,514 |
| Pranab Mukherjee | 6,563 | 182 | 2,247 |  52 | 589 |
| Will Smith | 18,097 | 154 | 1,993 | 57 | 2,147 |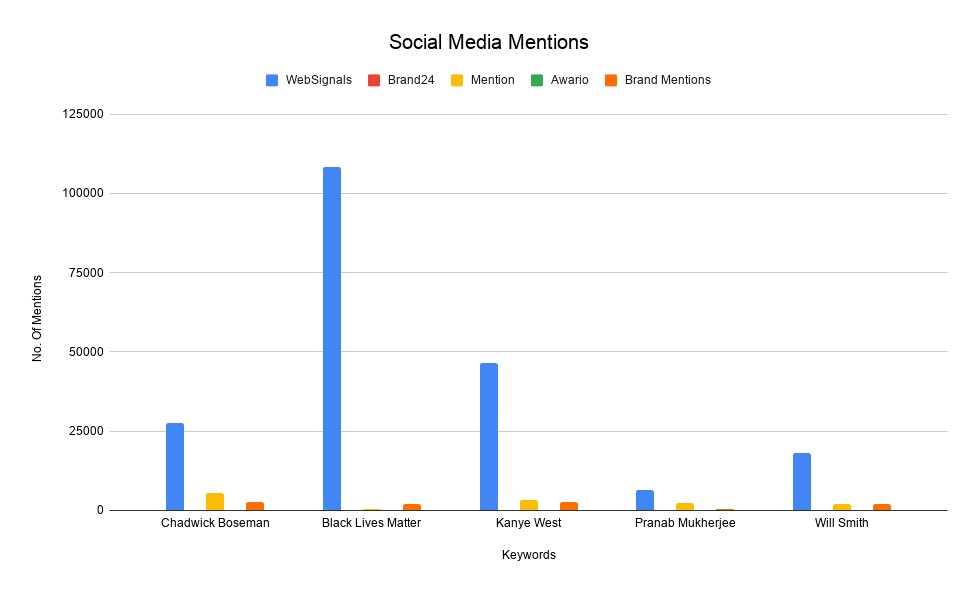 While WebSignals, Mention, Brand Mentions, and Brand24 monitored and compiled data for Twitter, Facebook, and Instagram, Awario showed the results for Twitter only.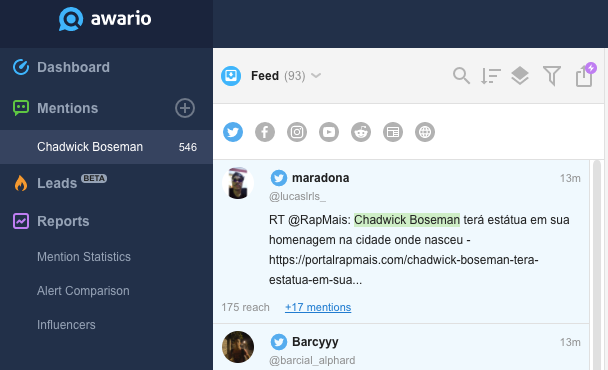 Facebook and Instagram had 0 results for each keyword.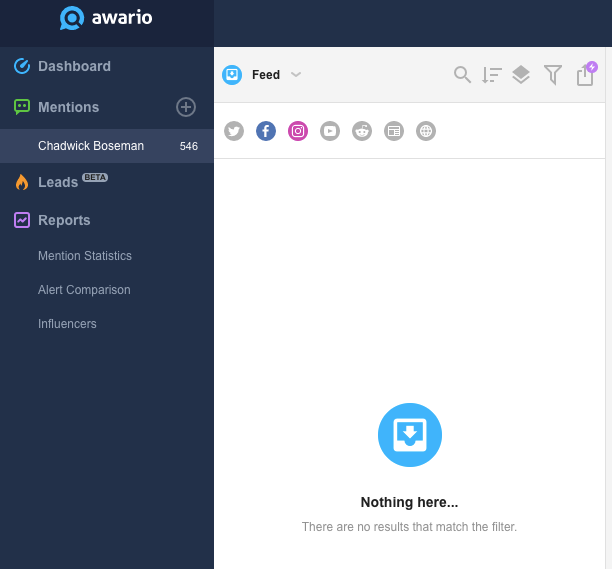 Videos
The surge in popularity of video content has gone through the roof. Speculations are video content will soon surpass textual content; however, it may be hard to believe, but the data implies otherwise. 
Compared to the 4.4 million blog posts published every day, 300 hours of video content gets uploaded on YouTube daily, and 5 billion videos are watched per day.
Based on the powerful traction received by video content, ignoring video mentions is not an option; therefore, every web monitoring tool ensures its efficient tracking. 
As per our research, WebSignals and Brand24 closely competed with each other, followed by Awario. Mention and Brand Mentions turned out less effective than the monitoring capabilities of its competition.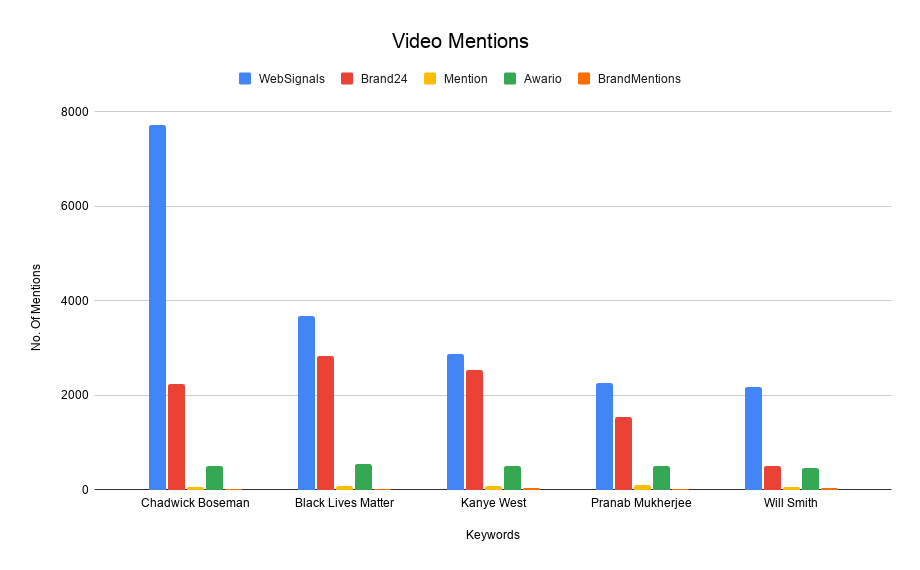 News
Getting mentioned on media websites can give your brand plenty of exposure. But if the mention has a negative connotation, your positive brand reputation can take a nosedive, which you must stop from happening.
Every web monitoring tool used for this study has categorized mentions on media websites separately, except Awario and Brand Mentions. Awario has bifurcated such mentions under 'News/Blogs'; therefore, the mentions include content from media websites as well as blogs.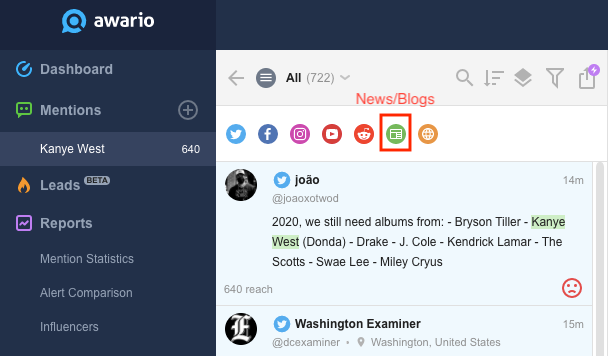 Even after combining News and Blog mentions, Awario showed zero results for all the keywords.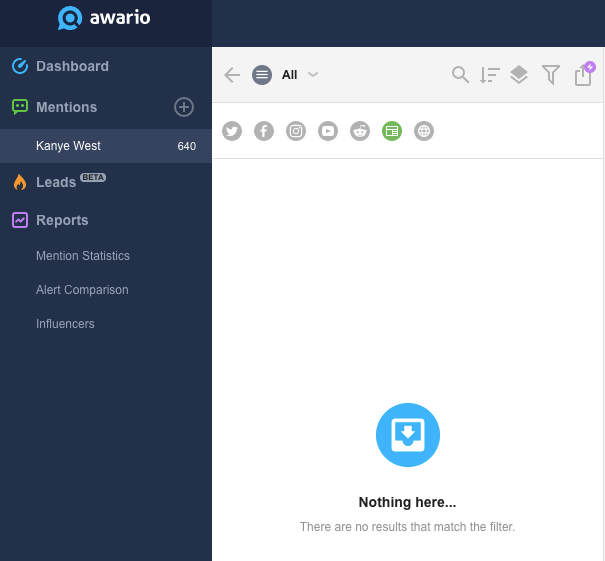 On the other hand, Brand Mentions does not track mentions on News websites separately. It has a single category called 'Web'.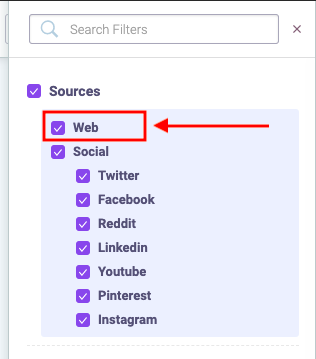 Even after we searched for the 'News' filter, zero results were found; therefore, no such data could be analyzed.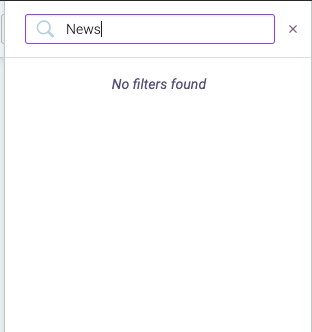 So, which tool tracked the most mentions on News websites?
WebSignals still has the most complete data with the monitoring of 83,972 total mentions in the News category.
| | | | | |
| --- | --- | --- | --- | --- |
|   | WebSignals | Brand24 | Mention | Awario |
| Chadwick Boseman | 21,425 | 3,519 | 140 | 0 |
| Black Lives Matter | 23,518 | 14,125 | 157 | 0 |
| Kanye West | 21,197 | 6,391 | 32 | 0 |
| Pranab Mukherjee | 7,377 | 1,595 | 513 | 0 |
| Will Smith | 10,455 | 2,826 | 8 | 0 |

Forums
Forums are the most legitimate form of UGC (User-generated Content), which Google keeps on the pedestal when ranking a website. The reason is pretty straightforward: forums allow users to voice their opinions about a product or brand. 
Staying on top of forums can gain a loyal following for your brand, but not responding to questions mentioning your brand, can plummet your reputation and rankings. 
Reddit and Quora are the most popular forums where people seek solutions; therefore, you'll find that WebSignals tracks the mentions for both the platforms and other forums separately. So, you don't miss out on any data that matters for your business and analyze it conveniently.

No-one in the competition offers such categorization. Brand24 and Mention list the mentions on Reddit, Quora, and other forums under the category 'Forums'.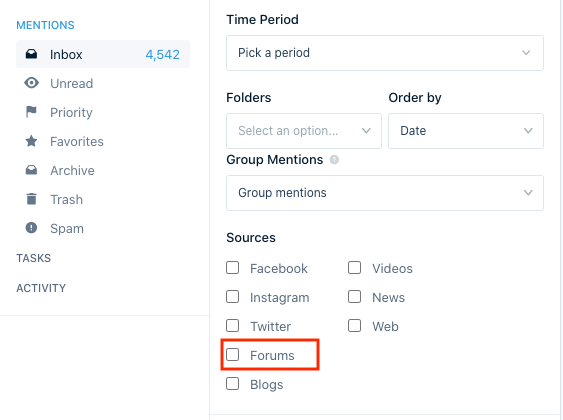 So, for a brand who wants to analyze its mentions on Reddit or Quora, using Brand24 and Mention is not a viable option.
On the other hand, Awario and Brand Mentions do not even have a 'Forums' category. They only track mentions on Reddit.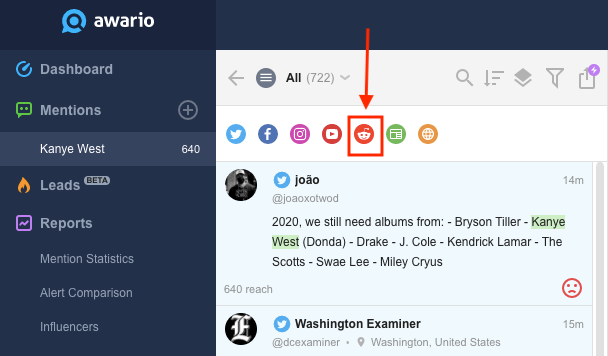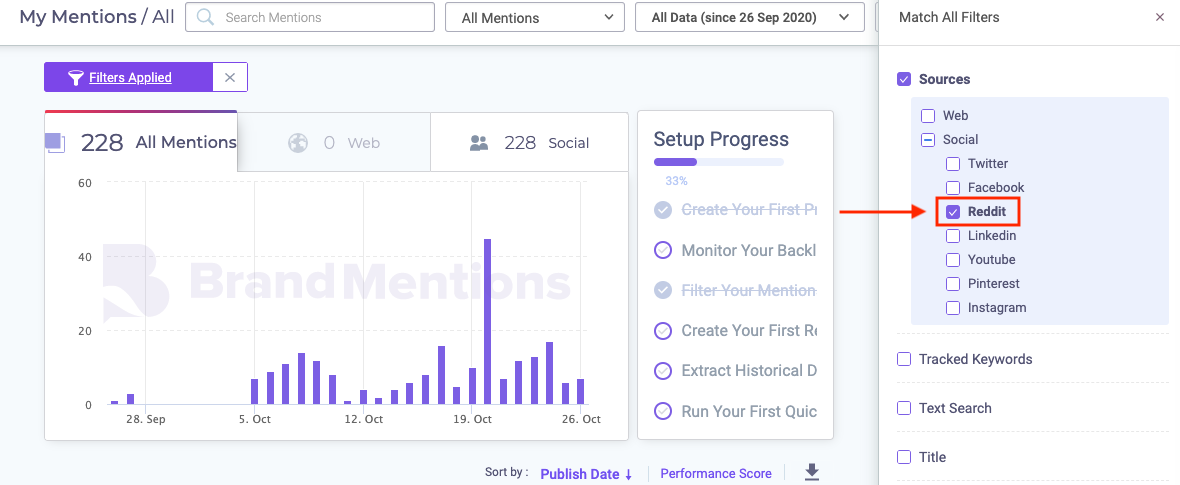 In terms of convenience, WebSignals leads the way. But, what about the data?
Let's combine WebSignals' total numbers of mentions on Reddit, Quora, and Forums and compare it with the competition's data.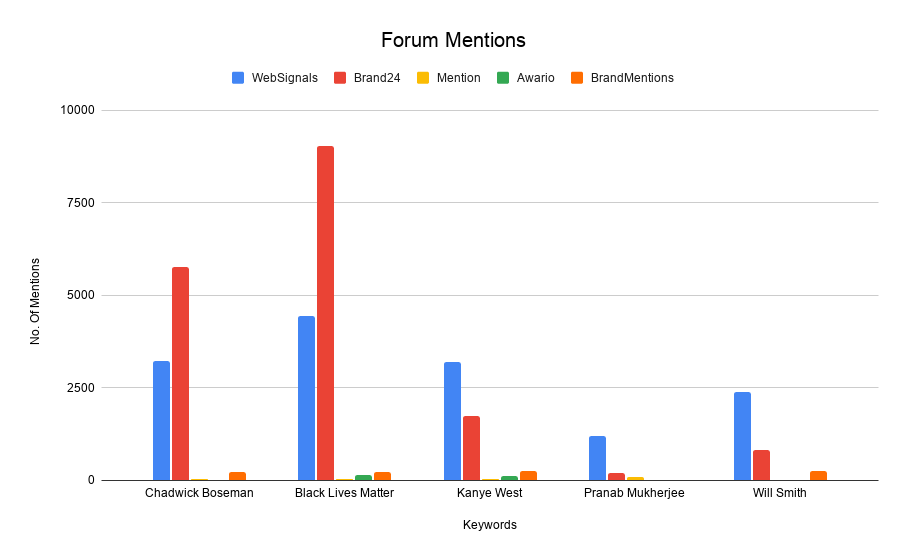 WebSignals collected more mentions for 3 out of 5 keywords. Brand24 has more data for the other 2. Brand Mentions, Mention and Awario still have the least extensive data.
Podcast
Podcasts are an emerging form of content with over 1 million shows and 30 million episodes. According to a study by SmallBizGenius, 144 million Americans listen to podcasts actively. It has become a popular medium where people debate on topics, discuss politics, films, and brands as well; therefore, a web monitoring tool cannot give the cold shoulder to tracking mentions on podcasts.
Out of the four tools, only WebSignals and Brand24 track the mentions on podcasts.


So, which one out of these two offers more data?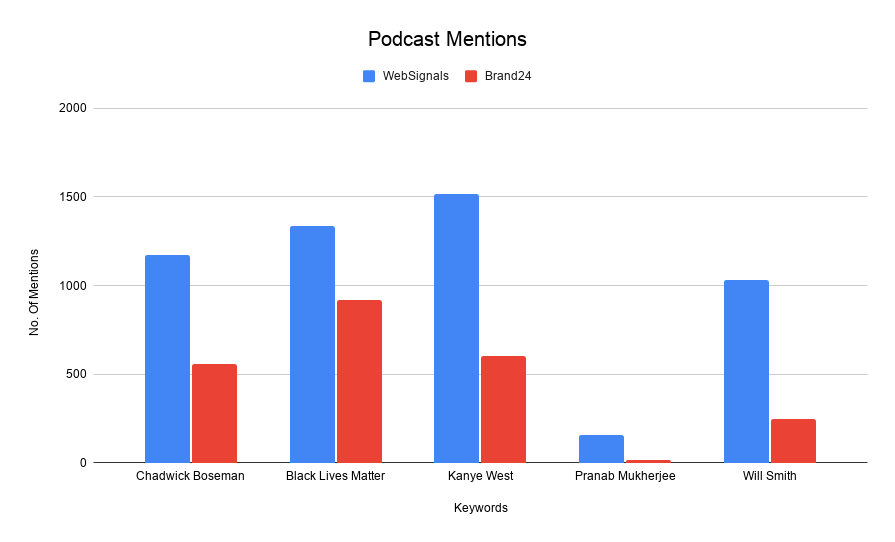 WebSignals was able to track and compile 5,212 mentions from podcasts compared to 2,343 by Brand24.
Web/Blogs
After tracking mentions on social media, videos, news, forums, and Podcasts what remains are other forms of content such as blogs.
There are more than 1 billion websites in the world, and over 4.4 million blogs are published every day. Every month, 400 million people read 20 billion pages on WordPress alone.
That's a powerful amount of data.
Imagine a mention about your brand with negative connotations, read by millions of people and Google. You'd want to handle that because it can affect your rankings, conversions, and reputation.
Brand24 and Mention are the only two tools which categorize blogs and web mentions separately.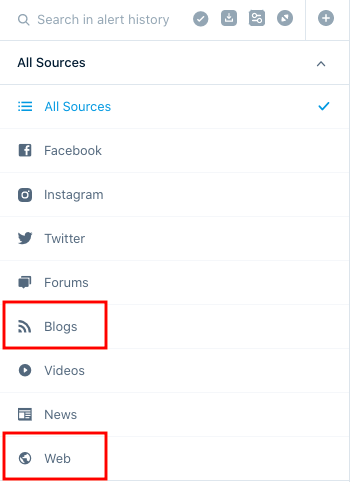 WebSignals lists them all under 'Web' and 'LQ Web'.
What is LQ Web?
LQ web stands for the low-quality web. It lists all the mentions on websites/blogs that Google does acknowledge as low in quality. WebSignals does not list 'LQ Web' mentions in its aggregated mention data.
As clarified earlier, while Awario compiles News and Blogs together, it lists the mentions on other websites under 'Web'.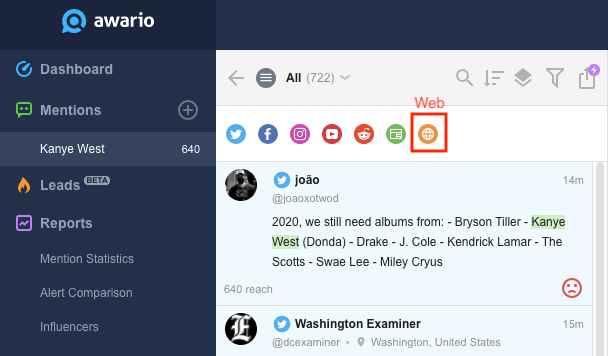 Since our aim is to discover the tool with more data, we combined the mentions collected for Blogs and Web by Brand24 and Mention. For WebSignals, we added LQ Web data to Web. 
Based on it, here's the final report:
| | | | | | |
| --- | --- | --- | --- | --- | --- |
|   | WebSignals | Brand24 | Mention | Awario | Brand Mentions |
| Chadwick Boseman |  13,269 | 8,244 | 98 | 0 | 667 |
| Black Lives Matter | 11,370 | 20,436 | 255 | 0 | 635 |
| Kanye West | 18,993 | 8,024 | 46 | 0 | 458 |
| Pranab Mukherjee | 7,259 | 3,621 | 645 | 0 | 524 |
| Will Smith | 12,439 | 2,832 | 7 | 0 | 609 |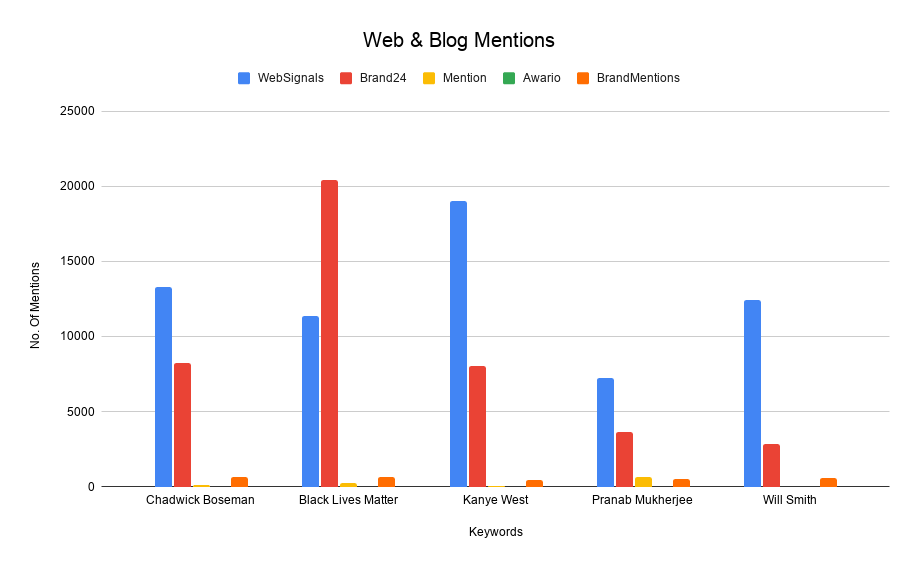 It's pretty evident that WebSignals still leads by providing extensive data for 4 keywords and a total of 63,330 mentions. It is followed by Brand24, which dominates 1 keyword with 43,157 total mentions. 
Brand Mentions and Mention come in third and fourth with 2,893 and 1,051 mentions respectively. Awario isn't a competition at all because it gathered zero mentions for each keyword.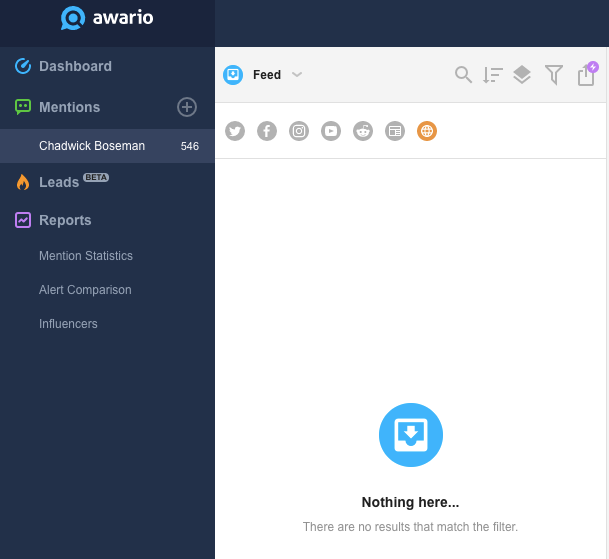 Offline Media
Is tracking mentions on social media, videos, news, forums, podcasts, and web/blog enough? Well, not quite.
A vast majority of people still consume content through TV and radio. So, tracking mentions on such platforms will (truly) provide you with a 360° solution to developing a positive brand reputation and growing your business.
Only two monitoring tools go beyond their online limitations to track offline media sources like TV and radio for mentions:
WebSignals tracks mention on these platforms in its free trial, but Mention does not. You must invest in a high-end plan of Mention to track your brand mentions on offline media.
Tracking mentions on TV and radio is quick and convenient through WebSignals. Click on the mention to expand it and you'll find that WebSignals has mentioned a suggested clip on TV and radio. The suggested clip contains the keyword that you are monitoring.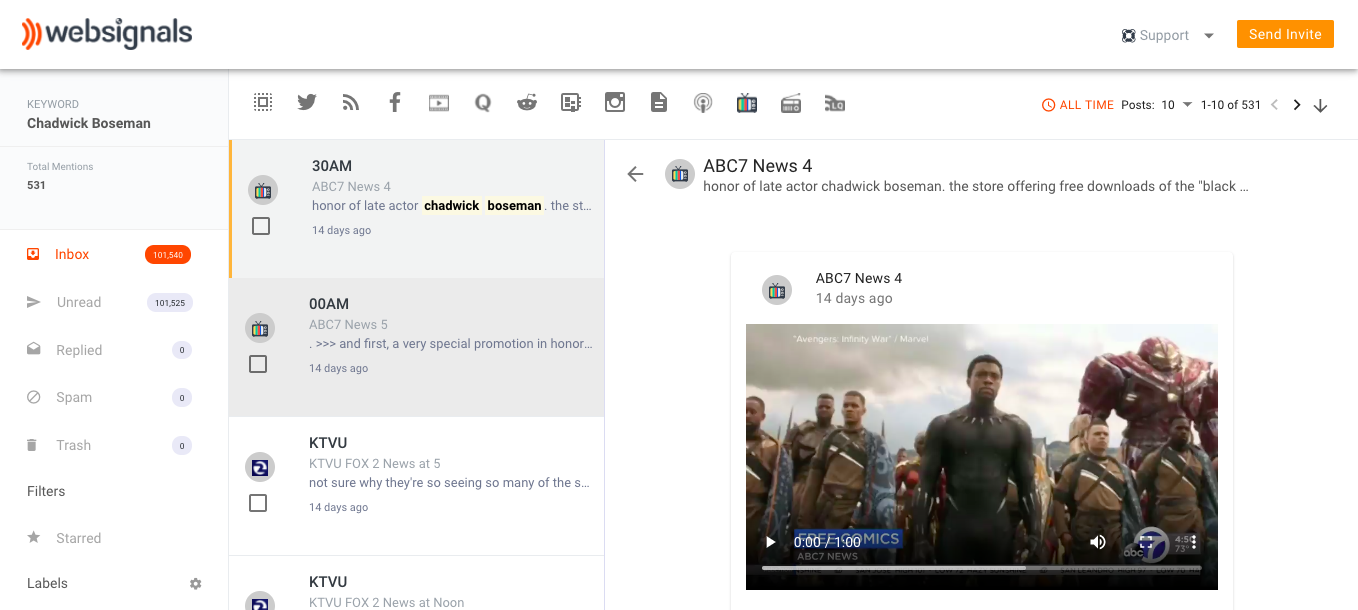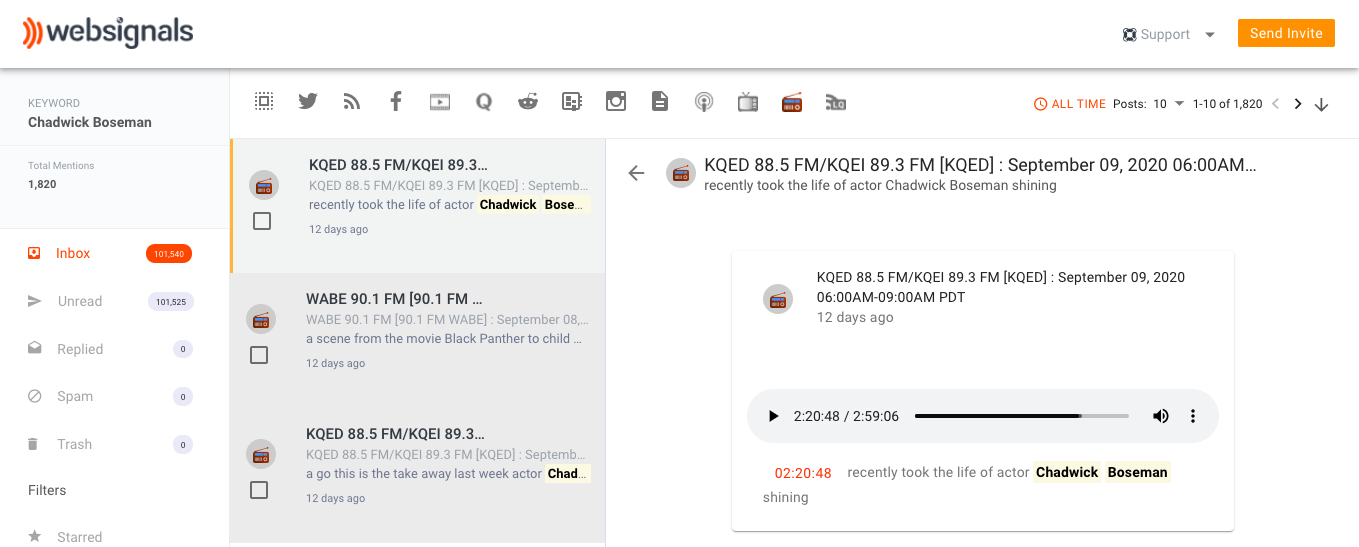 Since this study is based on the free trial of each web monitoring tool, we were unable to analyze Mention. However, here is the data for each keyword's offline mentions collected by WebSignals:
Pricing
Are these tools priced based on the data that they offer?
Let's find out.
| | | | | | |
| --- | --- | --- | --- | --- | --- |
|   | WebSignals | Brand24 | Mention | Awario | Brand Mentions |
| Packages | $29 to $249 | $49 to $199 | $29 to $99 | $29 to $299 | $99 to $499 |
| Total Mentions | 50K to 600K | 5K to 250K | 3K to 5K | 35K to 550K | 10K to 150K |
| Price($)/ Mention | 0.00058 to 0.000415 | 0.0098 to 0.000796 | 0.0096 to 0.0198 | 0.00082 to 0.00054 | 0.0099 to 0.00332 |
| Mentions per $1 | 1,724 to 2,409 | 102 to 1,256 | 103 to 50 | 1,206 to 1,839 | 101 to 300 |

These are the range of plans offered by each tool. Under $100, only WebSignals and Awario provide you with a sweet deal. Although, between the two tools, WebSignals surpasses Awario with a huge margin in keywords and the total number of mentions.
Moreover, for the same price, WebSignals allows you to track mentions on 4 more platforms including podcasts, TV, radio, and print.
Note: Every tool from this study offers a free trial version (Credit Card required for Brand Mentions). You can make use of it and decide upon the web monitoring tool that can work best for your business.
Which Tool Is Value For Money?
It's time to answer the question that compelled you to go through this study:
"Which of the following tools has the best overall value?"
Well, I'll give it to WebSignals.
The tool has a massive database and offers better insights about your mentions under affordable rates.
Every tool mentioned in this comparative study offers a free trial version. Use it to decide what tool is best for your business.